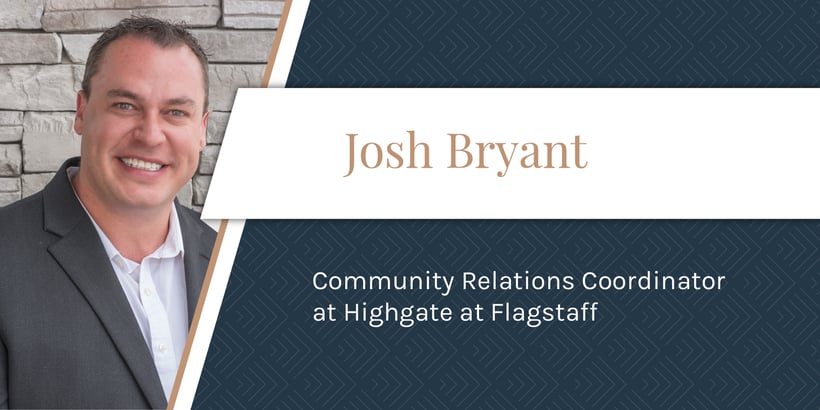 Josh Bryant has always been comfortable around seniors. "If anything, I feel more comfortable around their generation than I do my own," says Highgate at Flagstaff's Community Relations Coordinator (CRC).
Bryant lived with his grandmother growing up. Not only did he learn to respect his elders, but he also became skilled at giving insulin shots (she had diabetes) and making sure the house was safe (she had lost her sight).
But for Bryant, helping the aging adults in our lives is about more than care. It's about ensuring the best life possible for them now and into the future.
"Josh has worked in the senior living industry for many years," says Shelley Phoenix, Director of Sales for Highgate Senior Living. "I have seen him with the senior population and am very impressed by how much heart he gives when advocating for them. When I think of Josh, I think of Highgate's core values of devotion, integrity, and energy. Plus, it was a no-brainer to have Josh in the Flag market because for him that was returning home."
A True Senior Advocate
Born in Dalton, Georgia, Bryant moved to Flagstaff the summer before his junior year of high school. Although he had dreams of being a veterinarian — "We had many pets growing up," he says — Bryant is a people person at heart.
He moved to Phoenix to pursue his career in the senior living field, where he's been for nearly a decade. "I really love helping seniors," Bryant says.
But he sometimes felt like he wasn't always helping as much as he could. "With some other senior living providers, if you need financial aid or have high care needs, it's, 'Sorry, good luck!' That's what drew me to Highgate. Here, it's: 'Let me be a resource. Here's a number you can call.' We're true senior advocates."
A Local Resource
As Highgate at Flagstaff's Community Relations Coordinator — emphasis on the word "community," as in not a facility — Bryant connects with community members and medical professionals so he knows what resources are available. That way, when older adults and family members call Highgate looking for answers to their senior living questions or stop by the information center for the Highgate of Flagstaff community, he can be a great local resource for information on all aspects of senior living.
"If somebody calls and they need a resource, I can point them in the right direction," he says. "Whether they have questions about assisted living and memory care, options for couples or singles, or what to look for in a senior community, they can expect help."
That culture of advocacy runs from the top down at Highgate, Bryant says: "It's a team effort. The other CRCs will jump on the phone or a Zoom call and talk it out. It takes a village."
A Holistic Approach
Bryant is not only glad to be working for a company that treats its team members and residents like family. He's also thrilled to be living in Flagstaff again — this time with his wife and daughter.
"Flag has a small-town-community feel," Bryant says. "You're going to run into somebody here 14 times in a month if you want. You don't have to worry about locking your doors at night. "
Known as a place for holistic wellness, Flagstaff's core values align with Highgate's, too. "We take a holistic approach to care by getting to know each individual as a whole — mentally, physically, and emotionally, and we provide opportunities for physical activity, social engagement, intellectual stimulation, spiritual involvement, and fun."
But when it comes to finding the right senior living community, Bryant says it's all about the people: "Every home in a senior living community has four walls. It's really the people — the love and care they give — that make a huge difference."
Interested in learning more about Bryant and how Highgate at Flagstaff helps seniors live life to the fullest? Request more information from the Highgate team today!