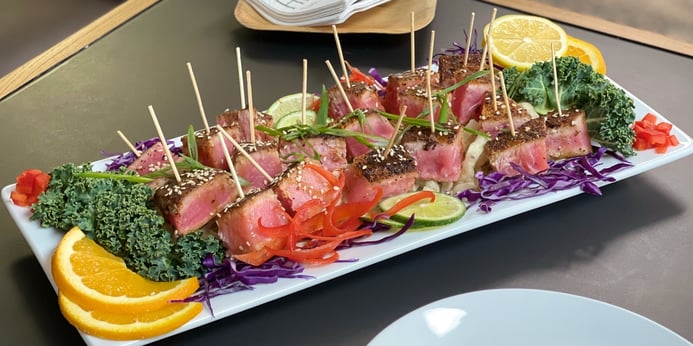 Don't ask Antonio Aizon his favorite thing to make in the kitchen. "It's like asking a famous painter what color they like most," says the Dining Service Chef Supervisor at Highgate at Flagstaff.
"If you were to walk in my kitchen right now, it would smell like the Togarashi-seared tuna I just made with roasted root vegetables, blackened salmon with a classic French remoulade, and seared chicken marinated in a balsamic-herb mix topped with a chipotle aioli. All in one meal I had Asian, Mexican, French, and Italian."
For the past 20 years, the Flagstaff, Arizona, native has been a chef in the city's best restaurants, hotels, and golf clubs. But the pandemic led Aizon to wonder about what else was out there. After meeting the Director of Dining Services for Highgate Senior Living, Khalid Iraqui, and hearing about his experience cooking in senior living, Aizon decided that he wanted to make a change.
"From that conversation, I realized how much Highgate values their team members," Aizon says. "It was like being adopted into a big family that devotes their heart, mind, and soul to better our communities. After that talk I had with Chef Khalid, I was really thinking about my future and all the years I have been in this industry without any real satisfaction. As I thought about it, I realized I can impact our residents with just a simple meal that I prepare with my heart."
Raised in the Kitchen
Aizon has always cooked from the heart. He grew up watching his dad cook.
"I thought it was so cool — cutting meats, sautéing, grilling," Aizon says.
From a young age, Aizon's parents allowed him to help them out in the kitchen. At Flagstaff High School, he joined the Culinary Arts Team, where he learned knife skills, technique, taste, appearance, safety and sanitation, organization, speed and professionalism. A highlight of the Career Through Culinary Arts Program is a competition, where students are expected to create a three-course meal in a 10-inch-by-10-inch area in less than three hours.
When he wasn't at school, he was working as a busboy at a local restaurant. One week, a few cooks called in sick, and Aizon asked the owner if he could step in. "They said yes, and the rest is history," he says.
Cooking Around Flagstaff
If you live in Flagstaff or the surrounding areas, there's a big chance you've eaten Aizon's food before. He's served as the executive chef at SAKURA Sushi Bar & Teppanyaki in the DoubleTree Hotel, making onion volcanos, flipping knives, and performing fire shows. Many customers left glowing reviews: "Antonio Aizon served me with the best meal I have ever had and he was entertaining for the whole family!"
He also worked as a sous chef at The Cottage Place restaurant, one of Flagstaff's first upscale restaurants, while it was owned by Chef Frank Branham and his wife, Nancy. Branham was Aizon's mentor in high school. The French restaurant won numerous awards, including Best Fine Dining and Wait Staff by the readers of the Arizona Daily Sun for several years running.
Before coming to Highgate at Flagstaff, Aizon was the executive sous chef at the award-winning Clubhouse at Pine Canyon, a luxury golf community and championship golf course. He's also worked as the chef of the Arizona Cardinals football team during their preseason program at Northern Arizona University.
"Antonio brings to the Flagstaff team passion, culinary skills, scratch cooking, French-trained, large-scale restaurant experience," says Highgate at Flagstaff Executive Director Leslie Blum.
Making a Difference
Aizon is looking forward to bringing his passion to Highgate at Flagstaff, where his commitment to making food from scratch fits right in with Highgate's dining philosophy. "When you make food from scratch, more times than not it will be nutritious and also very delicious," he says. "By making stocks and bone broths and using different methods and techniques that can really elevate the food, and with my experience with cooking a variety of cuisines, obtaining flavor without all the negative things is a guarantee."
In addition to cooking, Aizon is planning on hosting cooking classes, Dining with the Chef events, and other social gatherings. The community will continue to follow Centers for Disease Control and Prevention guidelines for opening the dining room. "But rest assured," Aizon says, "the food that we prepare is going to be the same for room service or tableside. The quality and presentation will be the same — I promise you that."
In February, Highgate at Flagstaff hosted two future residents, husband and wife Ron and Michele, for a Valentine's Day dinner. They enjoyed a filet with a port wine demi-glace sauce, two colossal shrimp on top of garlic mashed potatoes, and roasted spring vegetables.
"I love making people happy with their eyes, with their noise, and with their mouth," Aizon says. "If I can make a difference, even the slightest one, it would make my life meaningful on a daily basis."
To learn more about Highgate at Flagstaff's Nutritious, Delicious dining program, as well as our other signature programs, including our Holistic Approach to Wellness and Purposeful Living philosophy, download our Signature Programs Fact Sheet.