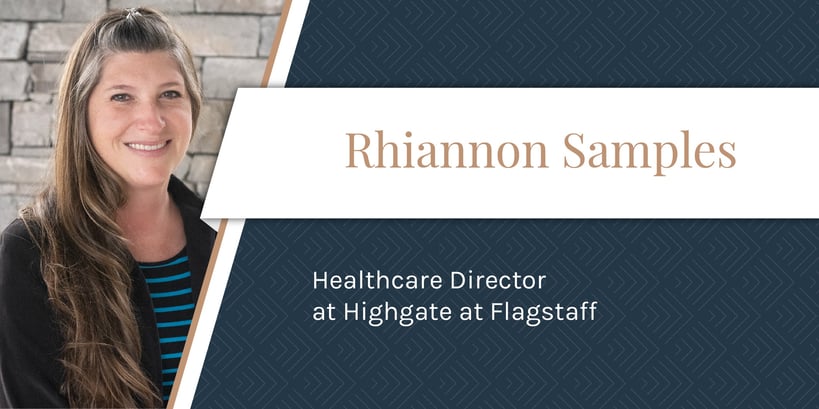 For nearly 20 years, Rhiannon Samples had new patients every day at the hospital where she worked as a nurse. As Highgate at Flagstaff's Healthcare Director, Samples now sees the same residents each day — and she loves it.
"I love having a group of residents who I can see every day, know exactly what's going on with them, know their life stories," Samples says. "It's something I've never experienced before. In a hospital, you have all these patients one day, and the next day you have all new patients. Here, you get to know someone for who they are. You can ask them how their day is going, how their family is doing, and if they need anything from you."
As the Healthcare Director, Samples oversees and manages each residents' health and wellness, medication programs, and day-to-day nursing activities. One minute she might be coordinating basic medical assistance; another she might be performing an assessment, calling a pharmacy or physician, or rounding on her residents.
"I really appreciate this new experience and feel like this is my home," she says
Treating Residents as Family
Prior to Highgate, Samples worked in in-patient hospital settings. A Flagstaff native, she got her start volunteering at a local hospital as a candy striper when she was 16 years old. Over the years, she's worked in OB/Peds, the ER, and the ICU. She's been an IV nurse and a charge nurse.
After nearly two decades, Samples was ready for a change. A friend told her Highgate was opening a community in Flagstaff.
"I met [Executive Director] Leslie and fell in love with it from the moment I stepped inside the building," Samples says. "I appreciate the sense of community, the ambiance, the environment, and the overall sense of care the community provides not only for residents but also employees. I really appreciate that they are employee-oriented as well as family-oriented. I have always treated my patients as someone's family member and have always been empathetic and caring. That is my philosophy. I roll that over into everything I do. I am here to serve."
A Holistic Approach to Care
As a nurse, Samples is trained to take a holistic approach to care. That means that she considers a person's body, mind, spirit, culture, background, and environment when delivering care. The approach aligns with Highgate's holistic senior care philosophy. At Highgate, Samples and her team of care partners get to know each person as a whole — mentally, physically, and emotionally. Care partners not only make sure the medications residents take are right and necessary, but they also offer alternative ways to enhance residents' well-being, quality of life, and sense of purpose.
"I appreciate how Highgate really tries to treat the individual as a whole, through a holistic perspective," Samples says. "They use aromatherapy, exercise, social interaction."
For example, Highgate care partners use aromatherapy and essential oils to help stimulate residents' appetite. If a resident doesn't have much of an appetite, a care partner might offer them a warm washcloth spritzed with peppermint and citrus essential oils, as opposed to supplements.
Another example: Care partners are trained to identify alternative ways to redirect memory care residents. They all carry lavender and sage lotions in their fanny packs. If they see someone who is exit-seeking, they might say: "Can you help me with this really quick? I need to rub some lotion into my hands."
In the process of massaging the care partner's hands, the resident gets some of the lavender massaged into their own, and the aroma and pressure on their palms help soothe them. This approach helps positively redirect a resident without having to medicate them.
Full Care for All
Emotional wellness is a big component of overall health, and Samples is happy to be able to provide emotional support to residents as well.
"There's one resident I've really connected with on an emotional level," she says. "They've gone through some trying times in the past year with COVID and have minimal family. To be that emotional support here — they come to me and know that I can be that safe space for them and be that emotional support — that's something I'm appreciative of."
In line with Highgate's Full Care for All philosophy, Samples recognizes that different people face different issues. Their health care should reflect that — and at Highgate at Flagstaff, it does.
"It is not a one-size-fits-all structure," says Leslie Blum, Executive Director of Highgate at Flagstaff. "Highgate takes the time to get to know each individual as a whole person to ensure that we are meeting all their needs on every level."
That means that couples with completely different care needs can live together. It means that services are customized for as much as a resident needs and not more than they want, and it means that older adults with high care needs can age in place.
If you're curious about Highgate's philosophy of care or if you want to meet Samples in person, schedule a tour today!