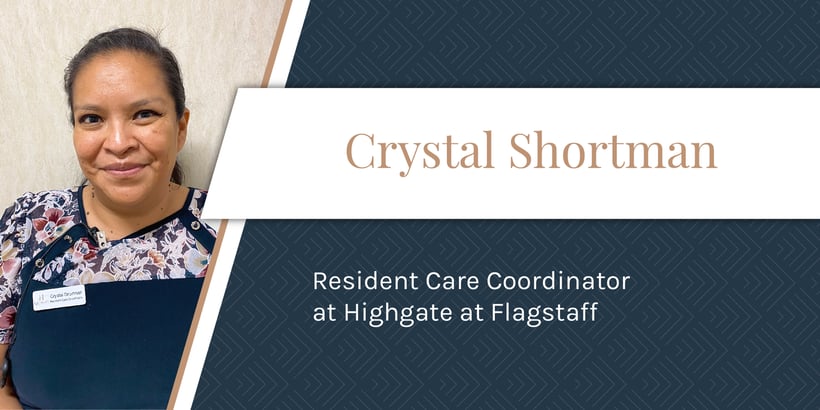 Growing up on the Navajo Reservation in Kayenta, Arizona, Crystal Shortman spent a lot of time with her grandmother.
From her, Shortman gained wisdom, passion, positivity, and inspiration.
"Since my grandma gave me so much, I wanted to be able to give back," says Shortman, who took a caregiver course in college at Northern Arizona University and has spent the past 22 years working in senior living as a caregiver, a medication tech, and resident care coordinator.

As Highgate at Flagstaff's Resident Care Coordinator, Shortman is responsible for leading and mentoring the team of care partners, working with the Healthcare Director to monitor residents' needs, and supporting residents in finding purpose and joy in the activities of daily living.
Here's how she does it.
Highgate Assigns Preferred Care Partners
One thing that attracted Shortman to Highgate at Flagstaff is the way the senior living community values the relationships that form between care partners and residents.
For example, Highgate assigns a preferred care partner to the same group of residents every day. That way residents can bond and feel more comfortable while that care is being completed. Having a preferred care partner reduces anxiety and allows the resident to have confidence that the care partner will know exactly how the task should be completed because they have done it many times before.
"The close bond care partners and residents form directly impacts each resident's physical, mental, and emotional well-being," Shortman says.
In addition, Highgate has high staff-to-resident ratios, and registered nurses assess residents more frequently than is required by state regulations.
Life Story Interviews Inform Care
As Resident Care Coordinator, Shortman oversees the creation of individual life stories. Through Life Story Interviews, the care partners and team members get to understand the history of each of the residents and are able to then share their story with other residents.
The interviews also help inform the customized service plans that Shortman creates, which are tailored to the likes, dislikes, issues, and interests of each resident.
At Highgate, care isn't simply focused on residents' physical health, though that's certainly an important dimension of wellness. Highgate offers a holistic approach to care, which means Shortman views each resident as a whole person. This individualized care speaks to Highgate's Full Care for All philosophy.
"Everybody has had a different step in life," Shortman says. "We have to adjust to their needs rather than what we think their needs are."
It means that couples with completely different care needs

can live together

. It means that services are customized for as much as a resident needs and

not more than they want

. And it means that

older adults with high care needs can age in place

.

Hiring Caregivers with Heart
In hiring care partners to be on her team, Shortman says she's looking for people who are empathetic, compassionate, knowledgeable, approachable, reliable, and understanding.
"Everybody here is devoted to the residents. They're the highest priority," Shortman says. "Our Executive Director is always picking up shifts, helping care staff work the floor. Everybody here is always willing to lend a helping hand."
For families that are searching for senior living for a loved one, Shortman says to pay attention to the staff: "How do they communicate with the residents? See if there's any conflict while they're serving in the dining room. Ask residents about their experiences."
If you're curious about Highgate's philosophy of care or if you want to meet Shortman in person, schedule a tour today!