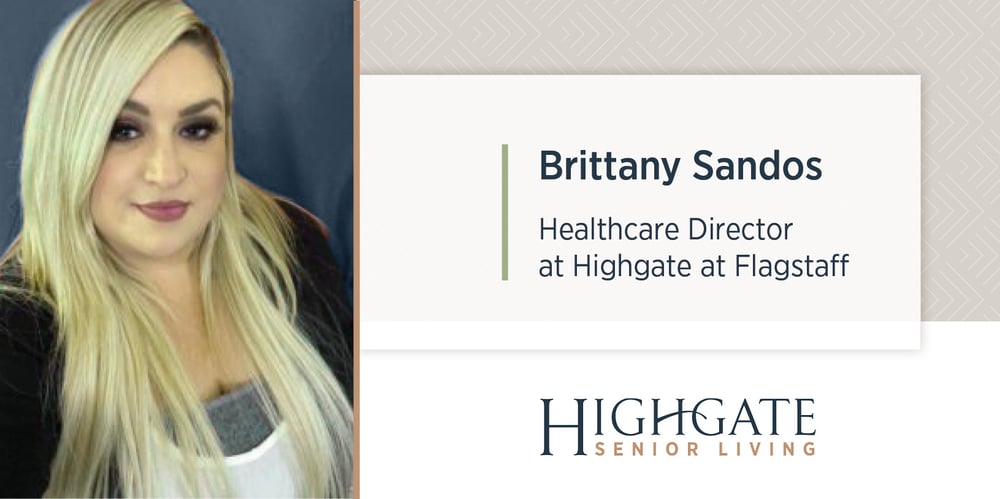 Health care is in Brittany Sandos' blood, but caring for seniors is in her heart. "I have found my home with Highgate," says Highgate at Flagstaff's Healthcare Director.
Born to an intensive care nurse and a respiratory therapist, Sandos always knew she'd end up in health care. When she was young, she thought she wanted to work in obstetrics and deliver babies.
After she had her own daughter, she pursued her bachelor's degree in nursing and worked in neonatal and pediatric intensive care as well as adult intensive care. Through her work in intensive care units, Sandos became familiar with hospice care, a special kind of care that focuses on comprehensive comfort care for people in the last phases of incurable disease so that they may live as fully and comfortably as possible. Hospice care, which can be provided in any setting — home, nursing home, assisted living community, or hospital — also provides emotional and spiritual support to the family and caregivers.
"My journey with senior living began when I decided to gain some experience in hospice," Sandos says. "We would have patients who lived in assisted living facilities, and I loved working with all of them. After working closely with these establishments, it opened the possibility to me of working in that field."
After living in Oregon, Texas, New Mexico, Florida, Nebraska, Pennsylvania, and the Virgin Islands, Sandos relocated to Flagstaff, Arizona, right before Highgate at Flagstaff's groundbreaking. When she saw the foundation of the role is superior and compassionate care, she knew it would be the right fit. "My calling in life is to serve in the most meaningful ways that I can."
Full — and Compassionate — Care for All
As the Healthcare Director of Highgate at Flagstaff, Sandos oversees and manages each residents' health and wellness, medication programs, and day-to-day nursing activities. One minute she might be coordinating basic medical assistance; another she might be providing wound care or mental health care. And later in the day, she might be focused on quality improvement practices and case management.
Sandos loves this combination of leadership and hands-on nursing. Prior to arriving at Highgate, Sandos served as a clinical preceptor for nursing students, role modeling professional interactions, demonstrating nursing actions, and giving timely and appropriate feedback to the student so they could see how the expert nurse solves problems and individualizes care.
This customized approach to senior care is central to Highgate's Full Care for All philosophy. "Full care for all means that anything the resident needs, we will provide," Sandos says. "Needs of care tend to ebb and sway through time. We continue to evaluate the needs of those we have here, making sure safety and autonomy are high priority. That helps give residents a sense of independence and control, and people are happiest when they can make their own choices. It's not just about physical well-being but also mental and emotional."
A Holistic Approach to Wellness
At Highgate, the Healthcare Director doesn't take a medicine-first approach. Rather, Sandos advocates for a holistic senior care approach when caring for residents, getting to know each person as a whole. Care providers understand that wellness encompasses the whole human being — mind, body, and spirit — and care for all eight dimensions of wellness for older adults.
For instance, if a resident wrestles with feelings of anxiety, they might also experience gut-health issues or have difficulty breathing while they're feeling overwhelmed. Sandos and her team not only make sure the medications residents take are right and necessary, but they also offer alternative ways to enhance residents' well-being, quality of life, and sense of purpose.
Another example: If that same resident participates in a water aerobics class a few times a week, they'll enjoy the physical benefits of building strength and improving circulation as well as the social benefits of meeting other people and the emotional benefits of relieving stress.
A Community, Not a Facility
Another big part of Sandos' job is working with residents' families. "The families are part of our focused care," she says. "One of the things I enjoy most in my career is making connections with the residents and their families and taking time to go above and beyond for them. We're a community, not a facility."
That's another aspect to Highgate that drew her in: Highgate hires with heart and treats residents and team members like family. "Highgate was such a special place right from the beginning for me," Sandos says. "Every person on the team is friendly, caring, and welcoming. The culture of Highgate is that everyone works hard and works well together — and that is not always easy to find. Seeing the amazing team environment made me feel excited and ready to start my journey working with wonderful people who care so deeply for those they serve."
Interested in learning more about Sandos and how Highgate at Flagstaff helps seniors live life to the fullest? Request more information from the Highgate team today!