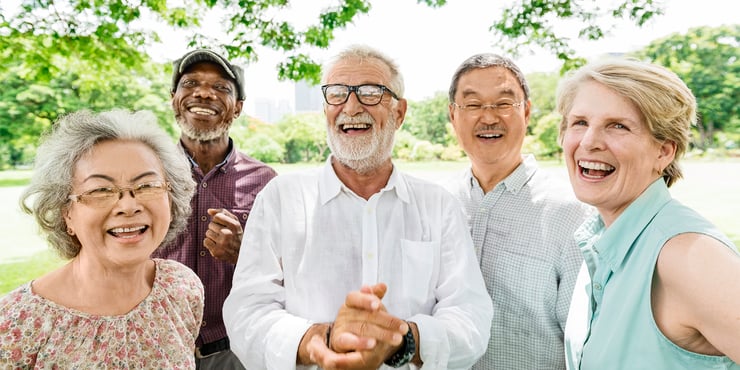 The pandemic played a powerful role in reminding us just how important human interaction is, and the important role relationships play in our mental health.
However, making new friends as we get older is more complicated than it once was for a number of different reasons:
As we age, experiencing the loss of friends can take an emotional toll and lead to avoidance of forming new friendships
Seniors generally have fewer opportunities to meet new people, especially if they no longer drive
"Given the overwhelming evidence that friendships are important for our emotional and physical health, it is well worth investing in creating a social support [system] that reflects who we are at that moment in time, the kind of life we want to live, and the support we all need and deserve," says Therapist and Friendship Researcher Miriam Kirmayer.
Signs an Aging Parent Might be Ready to Make New Friends
Have you ever found yourself talking away the day with someone in their 70s, 80s, or 90s? Their stories and the life they have lived are fascinating, but putting themselves out there to form new friendships can be intimidating, no matter their age.
Your parent may be ready to make new friends but might not know how to go about it. Or, they simply might just need some help finding new ways to meet others their own age.
Here are some signs mom or dad may be ready to expand their social network:
Your parent indicates they are lonely. This may be either in discussion or through their actions (like a noticeable increase in phone calls to you or other siblings).
Your parent is spending more time telling stories that revolve around friends they used to spend time with.
Your parent reminisces about activities they used to enjoy that they no longer participate in.
How to Help a Parent Expand their Social Network in Flagstaff
The easiest way to expand a social network is to begin with your parent's existing network. If your parent is involved in a church, identify what activities other seniors at your parent's church participate in. If your parent has visited the local senior center, identify activities that others at the senior center participate in. If you are looking for some fresh, new ways to find activities in Flagstaff for a parent, take a look at some of these activities.
Is it Time for Change?
Socialization is one of the greatest benefits senior living communities have to offer.
Having friends is essential for our health and emotional well-being. However, making friends the older we get isn't typically as easy as it once was. Creating a new network of friends might be easier said than done — especially if your family has limited availability to help a parent do so.
If you have concerns that your parent is lonely, isolating themselves, or is even a little depressed, now may be the perfect time to help them find new activities in an environment where it's easier to make new friends.
Looking to learn more about Highgate at Flagstaff? Request more information today.