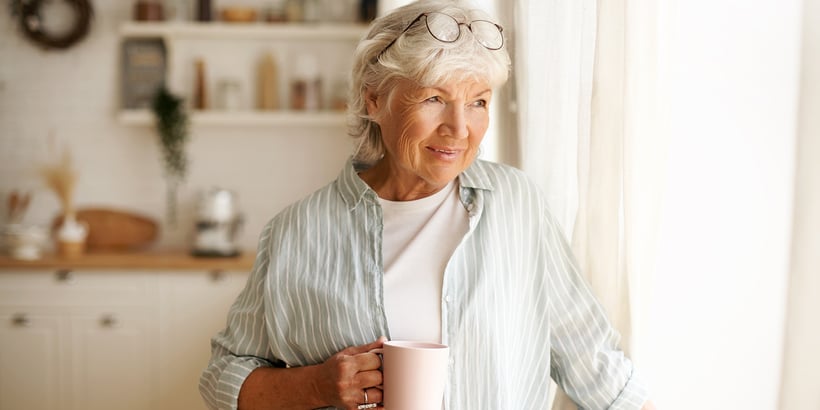 Whether you're getting ready to help your loved one move into a senior living community or you want to help give their suite a facelift, spring is the perfect time to revive their living space. Not only is April National Decorating Month, but transforming their new home into a comforting oasis can do wonders to help ease new residents into their new environment.
"Decorating doesn't have to be expensive," says Highgate at Flagstaff Executive Director Leslie Blum. "I've seen our families get super creative with ​​collected treasures and mementos, vibrant colors, and some of their older furniture. I love it when residents play up their personal style to make the space unique to them."
If you're still in the process of downsizing and packing, it can be hard to know what to bring — and what not to bring — to a senior living community. Do you pack all of Mom or Dad's heirlooms? Or do you get all new furniture to make the transition feel exciting and special?
Here are three expert tips from the Highgate at Flagstaff team.
1. Decorate According to Their Personal Style
Does your loved one like bold, bright colors? Or do they prefer a more modern, minimalist style? No matter, decorate according to their personal style so it reflects who they are and how they've always lived.
Although you can't paint your suite at Highgate at Flagstaff, there are lots of ways to add color to a room without painting. Use colorful throw pillows. Fill the suite with plants. Highgate at Flagstaff's Maintenance Manager can even help you hang colorful artwork.
"We suggest adding your loved one's own artwork, lamps, throw pillows, bedspreads, and window treatments to add personal flair," Blum says.
2. Bring Smaller Heirlooms
Downsizing can be an incredibly emotional experience for older adults and their families. Often, it isn't simply about decluttering. Downsizing can bring up feelings of sadness or grief, stress, and anxiety for all involved.
"Some families are tempted to bring a number of items that are better left behind: jewelry that they never wear anymore, throw rugs, large furniture," Blum says. "Instead, we recommend bringing smaller items like treasured family photographs, a beloved collection, or a favorite quilt to make the space feel like home."
If your loved one is simply not ready to part ways with some of their treasured items, get creative. Encourage them to pass down family heirlooms to the younger generation. Invite the recipient over and present it as a gift. Making this a joyful occasion makes it easier to part with family heirlooms.
3. Let Your Loved One Go Shopping
When it comes to furnishing an assisted living suite, it can sometimes be hard to fit your loved one's oak six-piece bedroom furniture set. Instead of splitting up the set or bringing only furniture they currently have, some residents and families find it fun to shop for new furniture and furnishings.
"Some of our residents do jump at the chance to purchase new bedding or furniture when they move to Highgate," Blum says. "A new couch, flat-screen TV, comfy recliner, or bedding set can signify a fresh start in their new home. Although this isn't the norm, if your mom or dad wants to buy new items, indulge them as long as the costs are reasonable. It's their home and they should have input on how it is decorated."
Get More Expert Tips
The Highgate at Flagstaff team is made up of experts and care partners who have worked in senior living for over 20 years.
For more tips, articles, guides, checklists, and more, join our mailing list. You'll get things like advice for family caregivers, checklists to help you stay organized, and information about living in Flagstaff delivered right to your inbox.