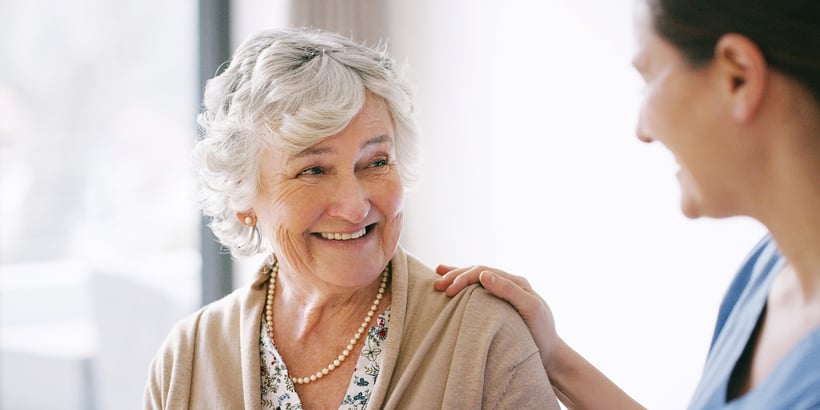 Do you ever wish you could try out assisted living for a month — just to see what it's like without committing? Well, at Highgate at Flagstaff you can.
Assisted Living and Memory Care Trial Runs
A respite stay is a temporary stay at an assisted living or memory care community for an aging loved one. They can vary from just a few days to several weeks or even months, depending on your needs and your parent's needs.
There are lots of reasons you might want to book a respite stay:
You need a short break from caregiving to focus on your own health and wellness.
You're ill.
You plan to go on vacation.
You want to use it as a test for a long-term move to a senior living community.
A respite stay allows you to take a break from your daily care routine and recharge your batteries while ensuring your loved one receives the same high level of care you have been providing.
"At Highgate at Flagstaff, respite residents live in fully furnished suites, enjoy three meals a day, housekeeping and laundry services, personalized care, and medication assistance," says Executive Director Leslie Blum. "They also have access to all of the amenities and programs available to full-time residents. Most importantly, they will be supported in living as independently as possible and encouraged to stay mentally, physically and socially engaged while having their daily needs taken care of by specially trained staff in a safe and secure environment."
Benefits of Respite Care
It can be difficult to begin a conversation about respite care and get your parent on board. It helps to be able to talk up some of the benefits of respite care.
They Get to Connect with Other Seniors
Although respite stays are designed to provide you a break, it benefits your parents too. It allows them to meet and socialize with other seniors.
A growing number of the senior population is facing isolation, depression, addiction, anxiety, and safety concerns while living home alone. Respite stays at assisted living communities offer a chance for seniors to immerse themselves in a warm, welcoming environment where they can meet other people their age and engage in activities geared toward seniors.
They Get an Inside Look at Senior Living
If you've been trying to start the conversation with your aging parents about making the move to a senior living community, but have been met with resistance, a respite stay might be just the thing you need to tip the scale. A 30-day trial run can be seen as a compromise, allowing your parents to maintain a sense of control while easing them into a more permanent senior living environment.
While many adult children feel guilty about bringing their parent to a senior living community for a respite stay, the truth is that your parent may enjoy the break as well. They might look at it as a vacation from their own home and routines and may want to take advantage of amenities they don't have at home — a gym, a vibrant activities program, professional chefs, and more.
It Encourages Their Independence
When considering a respite stay, it's important to involve your loved ones. Research shows that the more people are actively involved in their health and health care, the more likely they are to have better outcomes.
"Let your parents have a voice, from deciding how much time you'll be away to where they'll stay when you're gone," Blum says. "Ask what is important to them and what they are concerned about."
Through shared decision-making, your parents will be more likely to understand their health conditions, be informed about decisions that need to be made, understand the advantages and disadvantages of their options, and make the decision that's right for them.
You Get a Break
Due to the high stress associated with caring for a loved one, family caregivers use respite stays as an opportunity re-energize so they can provide good care and maintain a healthy balance in their life
Many adult children feel guilty about taking even a short break from caretaking, which is why they sometimes invent ways to rationalize the decision, but trust is important in your relationship with your parent. Don't throw that away because you don't feel you've earned the break — you have. Tell them why this time away is important — for both of you. Explain why it makes sense, and remember that it's OK to admit you are overwhelmed or burnt out. Your relationship as their child, and their caregiver, can only improve as a result.
A respite stay can also offer you time to figure out a more sustainable caregiving solution.
Want to learn more about respite care at Highgate at Flagstaff? This fact sheet details the levels of care offered; the number of studios, one- and two-bedroom apartments, and companion suites available; and the outstanding team members dedicated to making life at Highgate joyful and fulfilling.