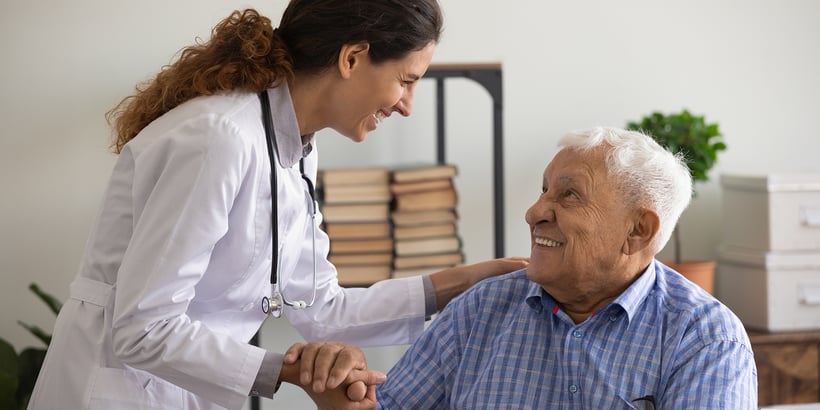 Nearly one-third of older adults visit at least five different doctors each year. Their primary care doc — the one who usually refers to specialists and coordinates all the care — is an essential member of the team that helps their older patients stay healthy.
Whether your loved one just moved to a new city, changed insurance providers, or had a bad experience with their doctor or medical staff, it's incredibly important to help them find a primary care doctor who you both feel comfortable talking to.
"Not every doctor who practices primary care has special knowledge in older people," says Crystal Shortman, the Resident Care Coordinator at Highgate at Flagstaff. "For that, you'll want to see a geriatrician."
Do You Need a Geriatrician?
If your loved one needs a new primary care doctor, you might proactively decide to work with a geriatrician to ensure your loved one's primary doctor has a baseline to reference if any changes should occur down the road.
Geriatricians take a more holistic approach to managing health care and improving their patients' physical and mental well-being and independence.
"For example, a geriatrician may check in on their patients' social health," Shortman says. "Seniors are at increased risk for loneliness, isolation, and injuries in the home. As part of their health care, a geriatrician may inquire about family support, living conditions, or the ability of a patient to perform daily self-care tasks."
In many cases, a primary care physician might not have the time to sit with older patients to get a detailed picture of their health or have the intricate knowledge of geriatrics to ensure their treatment plans are age-appropriate. They also tend to be more knowledgeable about the resources and supportive services that are available to older adults.
For example, a geriatrician can be helpful if you:
Suffer from multiple medical conditions (a geriatrician has special training in how these conditions interact in seniors)
Find that treatment for one medical condition negatively affects a second condition (a geriatrician can help anticipate problems and put a care plan in place)
Are experiencing functional decline or physical frailty (geriatricians are trained to know the difference between the signs of normal aging and those of more serious illness)
Manage multiple medications (geriatricians are trained to recognize side effects and drug interactions in seniors)
A respite stay is a temporary stay at an assisted living or memory care community for an aging loved one. They can vary from just a few days to several weeks or even months, depending on your needs and your parent's needs.
How to Find the Right Doctor
If your loved one is in the midst of a move, you probably have a lot on your plate. However, it is worthwhile to spend time finding a doctor you both can trust. Here are a few tips you can use to help your search go more smoothly.
1. Review Health Insurance Policies
If your parents use an insurance provider to cover their medical expenses, their choice might be limited to a specific predetermined list of in-network physicians. Start the search for a new physician by reviewing your family member's insurance network. Create a list of in-network geriatricians and internal medicine physicians who are accepting new patients. Don't assume every doctor accepts Medicare, either. Some don't. If your loved one has a secondary insurance provider, be sure to review that network, too.
2. Ask Around
Sometimes getting a referral from a person you trust is the best way to find the right primary care doctor. Ask your friends, families, and co-workers who have seniors in their life for referrals to primary care physicians. Ask other health professionals you know, including your loved one's previous provider or your local pharmacist.
It's a good way to learn how empathetic and understanding the physician is with seniors. If someone you respect and trust has a positive experience with a doctor, it's possible you and your loved one may like that particular physician.
3. Think About Logistics
Does your parent still drive, or do they rely on others for transportation? Will you want to find them a doctor who is close to your home or office so you can attend appointments with them?
When looking for a new primary care physician or a geriatrician, it's important to consider location and office hours. What days and times does the doctor see patients? Do they offer virtual office visits?
It's also a good idea to check what hospital the doctor admits patients to. Picking a highly rated doctor who is only affiliated with a low-rated hospital might not be the best choice.
4. Ask Questions
Once you have a shortlist of physicians you're considering, give the one you think is best a call and make an appointment to interview them either over the phone or in person. Consider asking questions like:
What kind of patients do you typically see? Do you have many older patients? Do you have experience treating patients with my condition?
How do you feel about involving my family in care decisions?
Can I call or email you or your staff when I have questions? Do you charge for telephone or email time?
What telehealth services do you offer?
Are medical labs and tests conducted in the doctor's office, or will I need to travel elsewhere to have these done?
What are your thoughts about complementary or alternative treatments, such as … ?
How long will I be able to meet with you typically?
"Make sure the doctor gives you a chance to ask questions and that they are really listening to you," Shortman says. "Do you understand what the doctor is saying? Are you comfortable asking them to say it again?"
What If You Can't Find a Geriatrician
Fewer than 8,000 physicians are certified geriatricians. Fortunately, Flagstaff, known as a "smart place to retire," is home to a few of them. If you're struggling to find a geriatrician, here's what to look for in a primary care physician:
Has substantial experience with conditions that are common for elders, such as heart disease, high blood pressure, diabetes, stroke, osteoporosis, and depression
Has a good reputation for prescribing appropriate medications and managing the interactive effects of medications on elders
Is knowledgeable about home health services and senior living communities and when to use them
Makes recommendations about regular screening tests such as mammograms, bone density tests, and stress tests
Can work with you to coordinate all of your health care needs, particularly referrals to specialists and coordination among specialists
No matter what neighborhood your parent calls home, finding a physician who can help manage current and future challenges is important to aging well. If your loved one is relocating to Flagstaff, download our Flagstaff, Arizona Relocation Guide for Older Adults, which includes information on local health and wellness services.