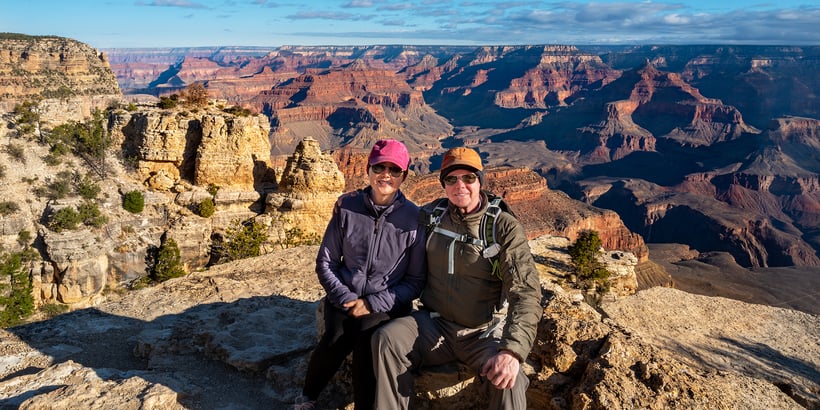 Flagstaff is an amazing city in and of itself, but it's also an ideal launching point for day trips all over northern Arizona.
Nearby attractions include some of the most iconic places in the American Southwest, including Grand Canyon National Park, Meteor Crater, and Montezuma Castle. With so many cultural attractions, Flagstaff is a four-season hub of activity.
Whether your parents are in town for a visit or you're in town to visit them, there are many excellent day trips to take with a senior parent that you can do from Flagstaff.
"Flagstaff is such a unique part of the world with so many different natural attractions within reach," says Highgate at Flagstaff's Community Relations Coordinator Josh Bryant, who grew up in Flagstaff and lives there with his wife and daughter. "There are so many great adventures to be had in the Flagstaff area!"
For example, Highgate at Flagstaff's Life Enhancement Specialists are planning a variety of outings and day trips to cater to the many unique interests their residents have.
Here's a look at five Flagstaff day trips to take with a senior parent.
Grand Canyon National Park
About 80 miles north of Flagstaff, the Grand Canyon National Park offers plenty to do, regardless of age or activity level. When planning Grand Canyon trips for seniors, accessibility is a priority. Fortunately, you don't have to hike to see the canyon, as there are a variety of guided shuttle and bus tours that can set you up for a successful sightseeing trip.
The historic Grand Canyon Railway, for example, departs daily from Williams, Arizona, and travels 65 miles to the South Rim of the Grand Canyon. It's a trip back in time on lovingly restored rail cars with entertaining musicians and the antics of cowboy characters. Located about 45 minutes from Highgate at Flagstaff, riding the rails to the canyon is just one part of an unforgettable Grand Canyon experience.
The park also features Park Ranger Programs, several visitor centers and museums that present exhibits and provide park information, and scenic drives.
Petrified Forest National Park & Meteor Crater
Located 108 miles east of Flagstaff in the greater Painted Desert, Petrified Forest National Park features things to do for different interests and abilities. Best known for globally significant Late Triassic fossils, the park takes about one hour to see on a self-guided drive starting at the South Gate off Highway 180 up to the North Gate on I-40. There are fossils, badlands, buttes and mesas, ancient petroglyphs, wildlife and wildflowers, and vast vistas — and you can see so much just from your car and a few stops at overlooks. At the Painted Desert Visitor Center, you can spend another hour watching the park film, grabbing lunch or a snack, and visiting the Painted Desert Inn Museum.
Next, head to Meteor Crater, the world's best-preserved meteorite impact site on Earth. The result of a collision between an asteroid traveling 26,000 miles per hour and planet Earth approximately 50,000 years ago, Meteor Crater is nearly one mile across, 2.4 miles in circumference, and more than 550 feet deep. It is an international tourist venue with outdoor observation trails, air-conditioned indoor viewing, widescreen movie theater, Interactive Discovery Center, unique gift and rock shop, and Astronaut Memorial Park at the Visitor Center located on the crater rim.
Montezuma Castle National Monument
Montezuma Castle National Monument contains one of the best-preserved cliff dwellings in all of North America. The five-story, 20-room structure was once the home of prehistoric Sinagua Indians more than 600 years ago. Located an hour south of Highgate at Flagstaff, this 1,670-acre park hosts about 750,000 visitors each year.
You can plan to spend a couple of hours attending daily ranger talks and walking the paved third-mile trail around the castle. The sidewalk is flat and even, accessible by wheelchair and walker. Depending upon the time of day, there is some shade.
If you want to extend your trip, there are also many other nearby attractions, including Tonto Natural Bridge State Park, Fort Verde State Historic Park, and Verde Valley Archaeology Center.
Walnut Canyon & Sunset Crater
The 3,600-acre Walnut Canyon National Monument was established in 1915 by President Woodrow Wilson to protect the ancient dwellings carved into the area's cliffs. Archeologists believe that ancient people lived in the cliffs thousands of years ago.
The 30-minute round-trip Rim Trail, an easy, paved, and fairly flat 0.7-mile round trip trail, offers visitors stunning canyon overlooks. There is also an ADA accessible viewpoint of the canyon from the Visitor Center, where you can spend a quiet moment with the canyon.
Next, drive to Sunset Crater Volcano, whose eruption about 1,000 years ago forever changed the ancient people, flora, and fauna. The Bonito Lava Flow is the more accessible of the park's two flows. The Bonito Vista Trail is accessible for wheelchairs, walkers, and strollers. Walk across a field of cinders on this paved trail for an expansive view of the Bonito Lava Flow and surrounding volcanoes.
Most visitors also drive through the 34-mile scenic loop that winds from Highway 89 through Sunset Crater Volcano and Wupatki National Monuments. The scenic loop leads you from the high Ponderosa Pine forests of Sunset Crater, down nearly 2,000 feet in elevation to the red rocks and painted desert vistas of Wupatki.
Sedona via Oak Creek Canyon
Sedona sits just 30 miles from Flagstaff. The highlight of the day trip is the breathtaking 25-mile scenic drive up Oak Creek Canyon, which includes a dramatic overlook, several tight switchbacks, and a meandering shaded highway along the roaring Oak Creek. Historic landmarks along the way include Midgely Bridge, which crosses Wilson Canyon; Indian Gardens, where early settlers farmed; the site of burned-down Mayhew Lodge, which attracted presidents and movie stars; and an old lodge where Zane Grey wrote Call of the Canyon.
Once you get to Sedona, plan to spend a few hours exploring all that Sedona has to offer. Stop by Red Rock State Park, where you'll get a great view of Cathedral Rock — the most photographed place in Sedona. Visit the breathtaking Chapel of the Holy Cross located in the buttes of Sedona and easily accessible from the road.
Highgate's Life Enhancement Program
​​Thanks to Highgate's Purposeful Living philosophy and Life Enhancement Programming, residents — no matter what age or what ailment — are supported in living meaningful and fulfilling lives.
Upon move-in, every Highgate resident will participate in a Purposeful Living interview, which is designed to highlight what lights them up and fuels their passion. These conversations shape the core of the community's Life Enhancement Program. The calendar reflects the interests and passions of our residents, and each day will offer the opportunity to engage mentally, physically, socially, and spiritually.
Request more information to learn more about Highgate's signature programs and see what's on the community's calendar.