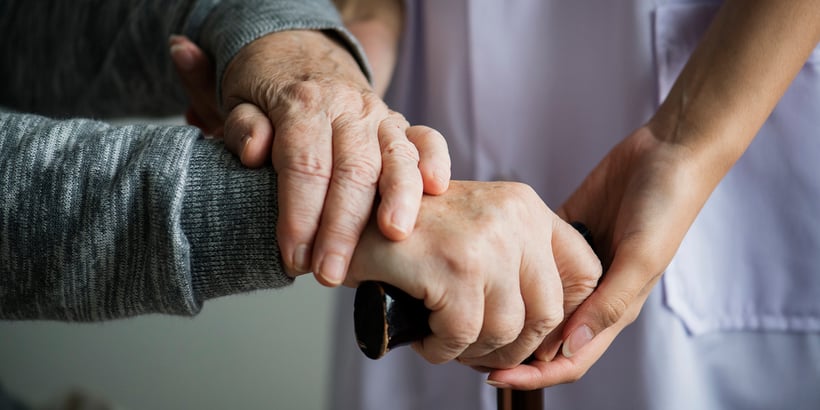 Surgery is hard on anyone. But if your aging loved one is facing a surgical procedure, the medical experts at Ernest Health in Flagstaff say it's even more important to take proper precautions during their recovery at home.
People usually take longer to heal as they age, and older adults have a higher risk for complications after surgery. Loss of mobility is not only challenging physically, but it can also impact a person's mental and emotional health if they were previously used to more independence.
If your loved one is recovering at home, it's critical that you're aware of the most common hazards, especially the ones that are often easy to overlook. You'll also want to help support their resilience when challenges arise. Here are four tips for family caregivers who are helping an older loved one recover from surgery at home.
1. Get the Home Ready with Safety in Mind
According to estimates by the U.S. Consumer Product Safety Commission, nearly 1 million people over the age of 65 are treated in hospital emergency rooms for injuries associated with the products they live with and use every day.
Are your loved one's bathtubs and showers equipped with non-skid mats, abrasive strips, or surfaces that are not slippery? Are their rugs and runners slip-resistant? Are items stored on top shelves of cabinets?
Before your loved one returns home from the hospital, assess their living environment and take note of anything that could obstruct their movement through their home.
Maybe you need to move their bed closer to their bathroom, take away heavy furniture they could bump into, or make sure their medication is easily accessible. Be sure to clear pathways and remove any throw rugs or other items that could cause a fall or slip. Place remote controls, phones, books, and other frequently used items within easy reach.
2. Prepare to Help with Transfers
When your loved one returns home, they might need help getting in and out of bed, the shower, or the car. Here are some transfer tips from the experts at Ernest Health:
Bed transfers: When approaching your bed, have your loved one stand with their back to the bed. Then have them back up until the back of their knee touches the bed. Then bring their other leg forward. Remind them to move their body as one; do not twist.
Car transfers: Put the seat as far back as it will go. Follow a similar procedure to the bed transfer: Have them stand with their back to the car. Watch their head while they sit. Have them lift their legs in one at a time.
Tub bench transfers: Install at least one (preferably two) grab bars in each bathroom for support. Have your loved one back up until they feel the tub bench behind them. Have them reach back for the bench with one hand first, then the other. Then sit down.
By taking proper precautions, you can help them reduce the risk of injury.
3. Support Their Mental Health
For many older adults, changes to their body that come with aging can give rise to difficult emotions, such as sadness, anxiety, and lowered self-esteem, which in turn can lead to social withdrawal and apathy.
That's why the experts at Arizona Elder Care talk about the importance of cultivating resilience despite illness and injury. If your loved one can remain hopeful about the future and exhibit resilience when challenges arise, it can help reduce depression and mortality risk and increase their quality of life.
Support your loved one's emotional wellness by being a place where they can express their feelings. Give them the space they need to be sad without attempting to cheer them up. Listen to them and allow them to vent their emotions and feelings as much as possible.
To help your parent achieve a more positive outlook on getting older, encourage them to focus on what they can do, not what they can't. Help them set goals with realistic timelines, and celebrate when they reach their goals.
4. Talk About the Future
The most common reason people move to assisted living is a change in their health status.
"I recently worked with a family that had just started their search," says Executive Director of Highgate at Flagstaff Leslie Blum. "The situation was incredibly stressful for the family. Their loved one had been living at home alone when they had a fall and sustained a significant injury. Following a brief hospital stay, they were moved to rehab. After a couple of weeks, the family was informed they had about two weeks to find placement. Because their loved one had improved, rehab services were no longer warranted, but they did not feel like home would be a good option. So the search for assisted living was the next step in the process, with just two short weeks to make a decision."
You don't have to wait for a huge change, though. Moving to assisted living when you have no other choice left can leave you feeling like you've missed out on a lot of opportunities.
"Some families will start their search when they begin to notice changes in their loved one's abilities to maintain optimum health and complete daily tasks with the ease they used to," Blum says.
As your loved one ages, they might need more assistance with things like medication management or getting in and out of the shower safely. Having a second set of eyes and hands is one of the many benefits of living in an assisted living community.
"Families and seniors should start their search early, even before the need arises," Blum says. "You want to have time to be able to tour communities, learn what they have to offer, and determine which would be the best fit. Being proactive gives you the opportunity to make a quality choice."
Interested in learning more about Highgate at Flagstaff? Download our Community Fact Sheet. It explores the features and amenities that make Highgate at Flagstaff feel like home — only better. It also offers a look at what a typical day at the senior living community looks like.