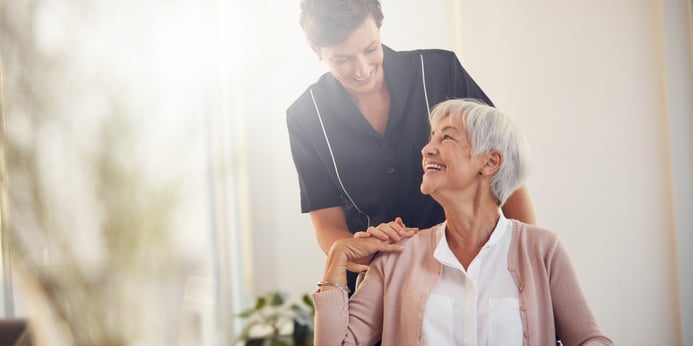 It's hard to know when to bring up assisted living.
It's a touchy subject, and you might be worried about how it will affect your relationship with your loved one.
But what is even harder is dealing with a crisis or an unplanned event that forces you to make last-minute care arrangements.
Leslie Blum would know. With over 18 years in the senior living industry, the Executive Director of Highgate at Flagstaff has helped many families navigate the move to assisted living.
"I recently worked with a family that had just started their search," Blum says. "The situation was incredibly stressful for the family. Their loved one had been living at home alone when they had a fall and sustained a significant injury. Following a brief hospital stay, they were moved to rehab. After a couple of weeks, the family was informed they had about two weeks to find placement. Because their loved one had improved, rehab services were no longer warranted, but they did not feel like home would be a good option. So the search for assisted living was the next step in the process, with just two short weeks to make a decision."
If you want to have time to make the right decision with your loved one and for your family, take a look at some clear signs that indicate when living in assisted living might be better than living at home.
1. Changes in Health
The most common reason people move to assisted living is a change in their health status or a health change for a spouse.
Many older adults have chronic medical conditions, such as heart disease or Alzheimer's disease. As your loved one ages, they might need more assistance with things like medication management or getting in and out of the shower safely. Having a second set of eyes and hands is one of the many benefits of living in an assisted living community.
For example, if your mom struggles with memory loss and often forgets to take her medications, a professional can ensure that she is getting the proper dosage at the appropriate times. If your dad has trouble with mobility, his care plan can be specifically arranged to make getting around easier for him.
You don't have to wait for a huge change, though. "Some families will start their search when they begin to notice changes in their loved one's abilities to maintain optimum health and complete daily tasks with the ease they used to," Blum says.
2. Home Maintenance Responsibilities
Another common reason people choose to move into assisted living is to have freedom from home maintenance responsibilities. Keeping the house clean, mowing the lawn, making dinner — almost all of that work gets moved off of your loved one's plate, and many day-to-day concerns become someone else's job.
In assisted living, your loved one would have the freedom to pursue a passion project or visit with the grandkids. It might seem counterintuitive, but many people find that they have more independence and freedom in assisted living than they did living at home.
3. Shrinking Social Circles
Senior isolation is a serious problem, especially during the coronavirus pandemic. Although it's normal for social circles to shrink with age, lack of companionship is associated with depression, heart problems, and addiction in older adults.
Does your mom still participate in her book club, even if it's now held virtually on Zoom? Has your dad cut back on meeting his friends at the local restaurant for coffee?
Moving to an assisted living community can offer them the opportunity to form active friendships and to partake in regular outings. Even during COVID-19, Highgate's Life Enhancement Coordinators and Community Relations Coordinators have helped residents get connected, develop new hobbies or interests, and stay active.
4. Poor Nutrition
These days, going to the grocery store can feel more like a burden than a chore. Health conditions like arthritis and Parkinson's disease can make it harder to cook. And cooking for one and dining alone can take the enjoyment out of mealtime.
As your loved one ages, it can be more difficult for them to get the nutrients they need.
Another benefit of assisted living is that meals are provided — and many are prepared by award-winning chefs. The meals are nutritious, delicious, and can meet the changing dietary needs and personal preferences of each resident.
5. Caregiver Burnout
Providing care for a loved one will inevitably change your relationship with them. Relying on others to help with personal care can feel invasive and even humiliating for many seniors. The more often you have to leave work early to take your loved one to a doctor's appointment, the more likely you are to feel negative and resentful.
There may come a point in time when it's best to let others take on the responsibility of caregiving. In an assisted living setting, there are team members like care partners, nursing staff, wait staff, and activity directors who see them daily. It's their job to care for your loved one, and do so through love and passion.
Once you're able to shift your focus from being a caregiver, you'll get to have a relationship with your loved one that is defined by making new memories, reminiscing about old ones, and spending quality time together.
It's Not 'Too Soon'
If you're reading this article, chances are it's time to start looking for assisted living. Because here's the thing: It may never feel like the "right" time for your loved one to move to assisted living.
Blum shares a story about a woman who moved into a Highgate community shortly after she was diagnosed with dementia. "At the time, this resident was not necessarily 'ready' to leave their home but knew that at some point she would need to make the move and wanted to choose the place that could meet her needs in the future and one that felt like home. Highgate was the perfect fit. She was able to remain independent, and as her needs changed, we were able to change with them. She lived with us in our community for more than 10 years."
Moving to assisted living when you have no other choice left can leave you feeling like you've missed out on a lot of opportunities.
"Families and seniors should start their search early, even before the need arises," Blum says. "You want to have time to be able to tour communities, learn what they have to offer, and determine which would be the best fit. Being proactive gives you the opportunity to make a quality choice."
To get more resources about caregiving and senior living, join the Flagstaff mailing list. Our emails highlight our most recent articles, checklists, and guides on everything from assisted living search tips to dining and nutrition tips for aging adults.