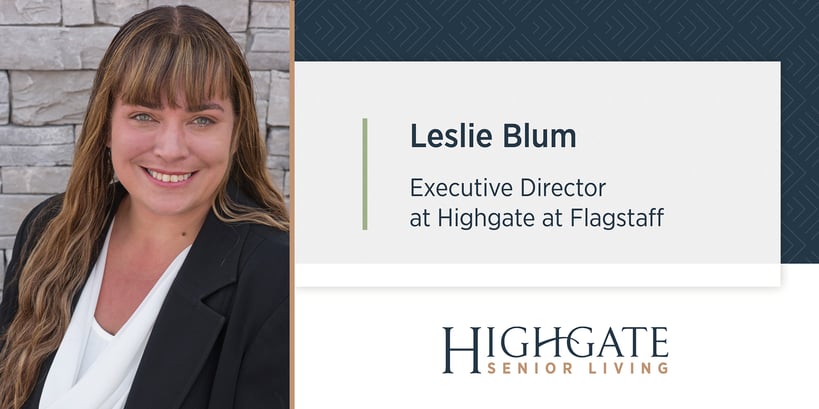 There is little Leslie Blum hasn't done at Highgate. After more than 18 years with the premier senior living provider, she's opening its newest assisted living and memory care community in Flagstaff, Arizona.
From Summer Job to Career Purpose
Blum needed a summer job, so the 15-year-old applied to work at a local nursing home in Vancouver, Washington. "I was the official paperwork filer," Blum says. The next summer, she worked in housekeeping. When she turned 18, she enrolled in a Certified Nurse Assistant program.
Her summer job had turned into her career purpose. "I love to have the ability on a daily basis to make a difference in someone's life," Blum says. However, Blum wanted to find a company that was as committed to making a difference as she was.
"When I first walked into Highgate to fill out an application, it just felt like home," Blum recalls. "It reminded me of walking into my grandparents' home. There were people visiting and laughing in the living room and the dining room. You could still smell the delicious aromas from the lunch that had been served. Friendly team members smiled and greeted me."
Blum knew she found the right fit. Over the next two decades, Blum worked her way up through the ranks, becoming Administrative Assistant, Medication Assistant, Care Partner, Manor Supervisor, Assistant Executive Director, and Executive Director. Along the way, she worked at Highgate at Vancouver, Highgate at Bozeman, Highgate at Great Falls, and Highgate at Prescott.
When Highgate Senior Living decided to develop Highgate at Flagstaff, CEO Marjorie Todd knew just who to call.
"Leslie is the perfect candidate to provide leadership for our newest community," Todd says. "Over the past 18 years of service to residents all across Highgate, Leslie has done it all. She has been a caregiver, a receptionist, and a dementia specialist. She has cooked for residents, provided hands-on care for residents, and has been a true advocate who understands the uniqueness of each resident she has had the privilege to serve."
When Highgate at Flagstaff opens its doors in spring 2021, Blum will serve as its Executive Director, bringing her passion and expertise to Northern Arizona.
Bringing the Highgate Approach to Flagstaff
Although Blum has spent the majority of her career with Highgate, she's worked in a variety of health care settings. What sets Highgate apart is its approach to care.
"What is unique about Highgate compared to other places that I have worked is its person-centered approach to care," Blum says. "It is not one-size-fits-all. Highgate takes the time to get to know each individual as a whole person to ensure that we are meeting all their needs on every level."
When a new resident moves in, someone from the Life Enhancement Team — known as the activities program at other senior living communities — will stop by to conduct a Life Story Interview and Purposeful Living Interview. The Life Story Interview helps team members better understand the history of each of the residents and share their story with other residents. The Purposeful Living Interview helps team members understand what brings meaning to each resident's day and elicit ideas and information that allows them to plan programming for the residents so they can continue to live a life of purpose.
This holistic philosophy takes into consideration how psychological, physical, and social needs contribute to the overall well-being, quality of life, and sense of purpose of residents. Caregivers go above and beyond their normal duties to ensure residents are healthy — not just physically but also mentally and spiritually — by seeking opportunities to create memorable moments and enhance the lives of residents.
"It's more than just care," Blum says. "Highgate provides a purposeful way of life."
Looking Forward to a New Community
In her new role at Highgate at Flagstaff, Blum is looking forward to building a nurturing environment for both the residents and staff.
"As a tenured leader in our organization, she has trained many new team members and assisted Highgate across our organization," Todd says. "Her commitment to serving our residents holistically is unwavering. It takes a hands-on leader to open a brand new assisted living and memory care community."
This is exactly how Blum describes her leadership style: "I am a hands-on leader, meaning I am not afraid to jump in and help. At Highgate, we're family. We are there to support one another in everything that we do — for both our team members and our residents."
For Blum, it always goes back to the residents: "I love to be able to put a smile on our residents' faces, to sit and laugh with them, and to be there when they just need to talk."
Interested in learning more about Blum and how Highgate at Flagstaff helps seniors live life to the fullest? Request more information from the Highgate team today!