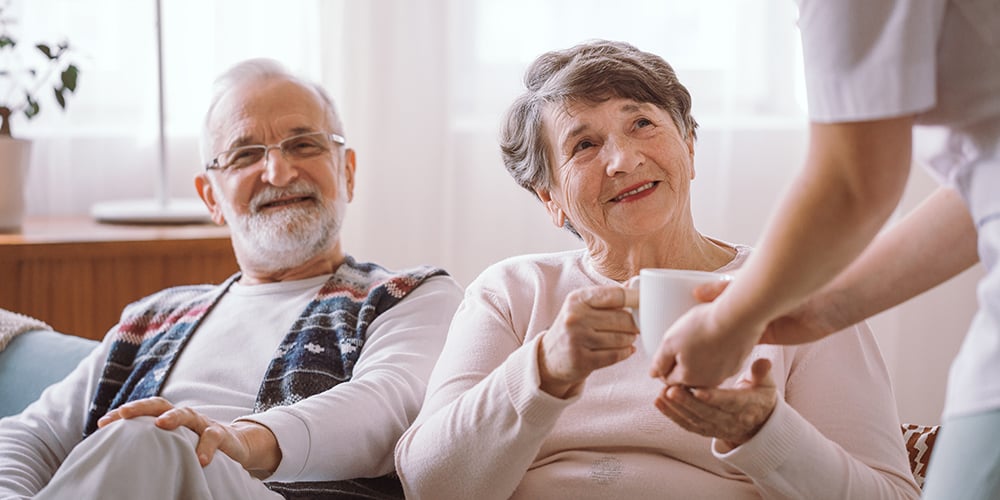 Marcie Suppe knows how to hand out pills. She's a registered nurse, but as Highgate Senior Living's Director of Resident Services, you're much more likely to find her handing out washcloths spritzed with peppermint oil, massaging a resident's hands with lavender lotion, or sitting with a resident and having a cup of tea.
"Many assisted living communities — well, many environments actually — are one-trick ponies, and the trick is to go to the doctor get a pill," Suppe says. "That's not always necessarily the best thing. For someone who is agitated, maybe it would be much better to do a hand massage with lavender lotion or listen to music to calm down or give them something to do like folding laundry."
Highgate Senior Living advocates for a holistic senior care approach when caring for residents, getting to know each person as a whole — mentally, physically, and emotionally. Care partners not only make sure the medications residents take are right and necessary, but they also offer alternative ways to enhance residents' well-being, quality of life, and sense of purpose.
What does holistic senior care really mean for Highgate residents? How does Highgate deliver on this commitment to support its residents holistically first? What might you see in communities that don't adopt this same approach?
Here is a behind-the-scenes look at Highgate's holistic senior care philosophy and why the best senior living communities don't just hand out pills — they help care for their residents' mind, body, and soul.
"Our residents don't need a sleeping pill."
At Highgate, care partners aren't just caregivers. They're also detectives.
For instance, if a resident is agitated or exhibiting disruptive behavior, care partners at other assisted living and memory care facilities might just think, "Oh, that's such an aggressive resident!"
At Highgate, care partners recognize the residents are just trying to communicate a need, and they act as detectives, figuring out what the resident is trying to tell them. This philosophy helps train the team to think outside of the box and find solutions to what someone else may consider a "behavior": Are their shoes uncomfortable? Do they need their nails clipped? Instead of just giving residents more medication, care partners stop and remember that they are human beings with needs.
Another example: If a resident is up wandering around at night, many assisted living or memory care facilities would give them medication to help them fall asleep.
"Our residents don't need a sleeping pill," Suppe says. "They need to wind down. So what we do is we tell the night-shift folks to sit with them and have a cup of tea or bring them into the common room and give them a snack and let them watch TV. It's all about spending time with people and finding out what they want rather than medicating."
"Washcloths promote cleanliness, and with the right essential oils, they can also increase appetite."
Many older adults struggle to get proper nutrition. Some seniors experience a lack of interest in food due to a reduction in their senses of smell and taste. Others are taking medications that can cause a reduction in appetite or other related symptoms, such as bad tastes in the mouth.
Some physicians prescribe Ensure or Glucerna dietary supplements, to boost nutrition. Not at Highgate.
Suppe says they'd rather use real foods to enrich the diets of their residents rather than supplements. Highgate offers individualized meals based on the resident's preferences and identifies natural ways to increase fiber and protein in each residents diet.
Additionally, Highgate care partners use aromatherapy and essential oils to help stimulate residents' appetite. For example, if a resident doesn't have much of an appetite, a care partner might offer them a warm washcloth spritzed with peppermint and citrus essential oils.
"Washcloths promote cleanliness, and with the right essential oils, they can also increase appetite," Suppe says.
As a result, some residents tend to eat more, which can enhance their nutrition and may help eliminate the need for supplement shakes or drugs.
"We'll try anything that will comfort our residents."
Holistic senior care is an integral part of Highgate's Positive Approach to Memory Care, too.
For example, care partners are trained to identify alternative ways to redirect memory care residents. They all carry lavender and sage lotions in their fanny packs. If they see someone who is exit-seeking, they might say: "Can you help me with this really quick? I need to rub some lotion into my hands."
In the process of massaging the care partner's hands, the resident gets some of the lavender massaged into their own, and the aroma and pressure on their palms help soothe them. This approach helps positively redirect a resident without having to medicate them.
"We'll try anything that will comfort our residents," Suppe says. "And a lot of family members like that we don't go straight to medication."
Suppe acknowledges that family caregivers who are caring for a loved one with dementia at home might rely on the medicines prescribed by doctors to help curb emotional outbursts or behaviors such as wandering.
"It's understandable why a family member caring for them at home might feel like they need to use them," she says. "But in a safer environment like ours, it's OK if a resident wants to unpack clothes or rummage through drawers or the refrigerator. There's nothing that's going to hurt them. It's OK if they're not in a chair."
Adds Megan Wilson, Community Relations Coordinator at Highgate at Billings: "Staff members get to know the residents and identify what aromas help with calming or sleep. We also use music therapy by playing music from their childhood."
"We want to make sure medications are correct, necessary, and at the lowest possible dose."
"Highgate's holistic care philosophy isn't in opposition to traditional medicine," Suppe says. "It's all about finding balance."
"Elderly patients are often seeing multiple specialists and returning to the community with new prescriptions from each of them," she says. "The team members at the community is a sort of clearinghouse through which these new medications pass so that there is someone ensuring that your parent isn't needlessly taking excessive drugs."
Advocacy is a key element of holistic health care. Care partners monitor how medications are interacting with one another and if the overall treatment plan is benefiting the resident.
"We want to make sure medications are correct, necessary, and at the lowest possible dose," Suppe says. If the on-site care team suspects the medications aren't correct, "We'll get right on the phone to the doctor and see what we can do about it right then or, in some cases, just monitor the resident for a couple of weeks to see how they react to the new prescription."
Adds LaTresh Walker, Director of Healthcare at Highgate Temecula: "I really love our holistic approach. It's what attracted me to Highgate — and a lot of times, that's what attracts families to Highgate, too."
Thanks to Highgate's holistic senior care philosophy, residents are supported in obtaining and maintaining optimum health for their body, mind, and spirit.
To learn more about Highgate's three other core philosophies, download Each Day to the Fullest, a guide to Highgate Senior Living's unique approach to senior care.