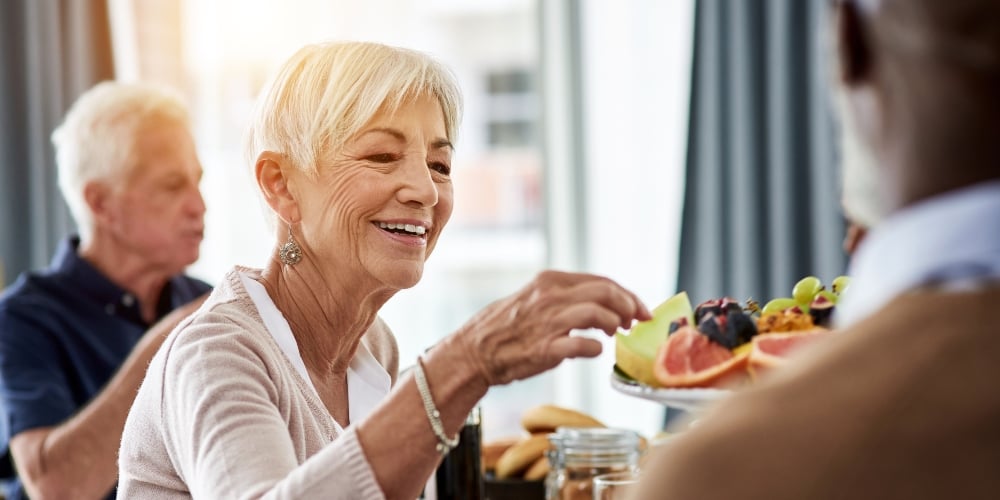 A chef with over 20 years of experience at high-end restaurants around the world, Khalid Iraqui knows how to make nutritious and delicious food. As the Director of Dining Services for Highgate Senior Living, he also knows that a good meal isn't just about the ingredients — it's about the love that's cooked into it.
"With seniors, if you mention quinoa and lentils and legumes, they don't want it," Iraqui says. "They want their mom's chicken noodle soup and macaroni and cheese."
So at the heart of Highgate's senior nutrition philosophy is love. "With food, it's not so much how it tastes but who made it," Iraqui says. "You have to make that connection and build those relationships. And, over time, our residents start to crave my healthier version of mac 'n' cheese because they know that it's made with love."
When food is prepared with love, you can feel that. When meals are prepared from scratch, with wholesome ingredients, you can feel that, too. Not just in your body. What you eat directly affects the function of your brain and, ultimately, your mood. This unique approach to senior nutrition is at the core of Highgate Senior Living's dining program.
Here's a behind-the-scenes look at the history of the "Nutritious, Delicious" philosophy, how it enhances the quality of life of Highgate's residents, and why it's made Highgate one of the leading innovators in the senior living industry.
"I never cook with high-fructose corn syrup."
Iraqui is a classically trained chef who has led kitchens at four-diamond hotels and five-star restaurants everywhere from Thailand and Indonesia to South America and North Africa. However, the hours were long, and he started to feel his passion slipping away.
Then he met Marjorie Todd, Chief Executive Officer of Highgate Senior Living, who invited him to stop by one of the communities.
"At the time, frozen was the way to go," Iraqui recalls. "Marjorie wanted to change the habits and the industry. All of a sudden, I had a sense of purpose. I knew I could make a huge difference in their lives. So, I gave it a shot."
With a background in the Mediterranean diet, Iraqui wanted to do three things to the menu to enhance senior nutrition.
1. Reduce Sugar
Before Iraqui arrived at Highgate, residents were consuming more than 88 pounds of sugar per year. Since he took over the kitchen, Iraqui has slashed that figure by over 80%. Instead of fructose-based juices, he offers milk, teas, and vitamin waters.
"I never cook with high-fructose corn syrup," he says. "There is so much research that shows that high-fructose corn syrup is a key contributor to diabetes."
2. Increase Fiber
He also uses less white sugar and fewer refined white starches than most senior living communities, preferring the taste and nutrition of whole grains, legumes, lentils, and rice.
"Legumes have high levels of fiber, and fiber can do amazing things for you," Iraqui says. "Refined white starches contain a lot of sugar, which just gives you a high, but then you crash and need more of it. Fiber, on the other hand, gives you energy that lasts throughout the day."
Research shows this boost in energy offers a boost to your mood, too, reducing the risk for symptoms from depression.
3. Add Variety
Although many older adults prefer the classic American diet of meat and potatoes, Iraqui is committed to variety, which is the foundation of the Mediterranean diet. The main components of the Mediterranean diet include:
Vegetables, fruits, whole grains, and healthy fats
Fish, poultry, beans, and eggs
Moderate portions of dairy products
Limited intake of red meat
A new study published found that eating the Mediterranean diet for just one year altered the gut health of seniors in ways that improved brain function and aided in longevity.
Menus at Highgate Senior Living communities feature open-fire cowboy steak with grilled onions, seared salmon, hand-breaded eggplant parmesan, and spinach and cranberry salad. Gluten-free and vegetarian items are also available.
"Things are made from scratch."
When you walk into the kitchen at a Highgate Senior Living community, the first thing you're going to notice is the aroma — the wonderful smell of onions, garlic, and herbs.
The second thing you're going to notice is the "organized chaos," as Iraqui calls it, of chopping, dicing, and sautéing.
"There's lots of commotion, which is good," he says. "When you have that noise, that means things are made from scratch. If you walk into a spotless kitchen with no sound, that's when you need to leave because you know they don't cook in there. Cooking is messy."
All of these wholesome ingredients, made-from-scratch meals, and chefs who champion the Nutritious, Delicious philosophy come at a cost, though — one that many senior living facilities aren't interested in paying.
"In my field, we chefs talk among one another," Iraqui says. "They run into two issues. The first is financial: Getting fresh-squeezed orange juice and cooking from scratch costs more. The second is training: You have to find someone who has the right senior nutrition philosophy and a commitment to cooking from scratch. That is extremely difficult. I know that from my colleagues who work at other organizations."
"Highgate fully supports me," he continues. "I have worked with Marjorie for over 15 years, and it's been an absolute success."
"It goes back to building relationships."
For Iraqui, the dining program is all about supporting the residents to live happy, healthy, and purposeful lives.
"It goes back to building relationships," he says. "It's having the resident trust that the chef knows what he or she is doing, that we're putting love into the food, and that nutritious food really does taste delicious once you get used to it."
To get to know the residents and their preferences and desires, Iraqui and his chefs, sous chefs, and servers meet monthly with the residents.
"I touch base with every single resident that is sitting at the table," he says. "We take notes, write them down, and try to add all of them to the menus."
When residents sit down for a meal in the dining room, they order off a menu of at least four different items. In addition to a seasonal menu that features Chef's Choice, Resident's Choice, and Team Member's Choice meals, Highgate also offers an anytime menu. Sandwiches and snacks are available around the clock, which is especially handy for those who enjoy a bedtime snack or wake up hungry in the middle of the night.
"Instead of having two choices for lunch and dinner, we are running a restaurant-style, almost 30-item menu where food is cooked to order," says Justin Mabunay, Executive Chef at Highgate at Temecula. "It's a true restaurant-style experience."
Choice is a high priority at Highgate, and it's integrated throughout all of Highgate's core philosophies. To learn more about Highgate's three other core philosophies, download Each Day to the Fullest, a guide to Highgate Senior Living's unique approach to senior care.