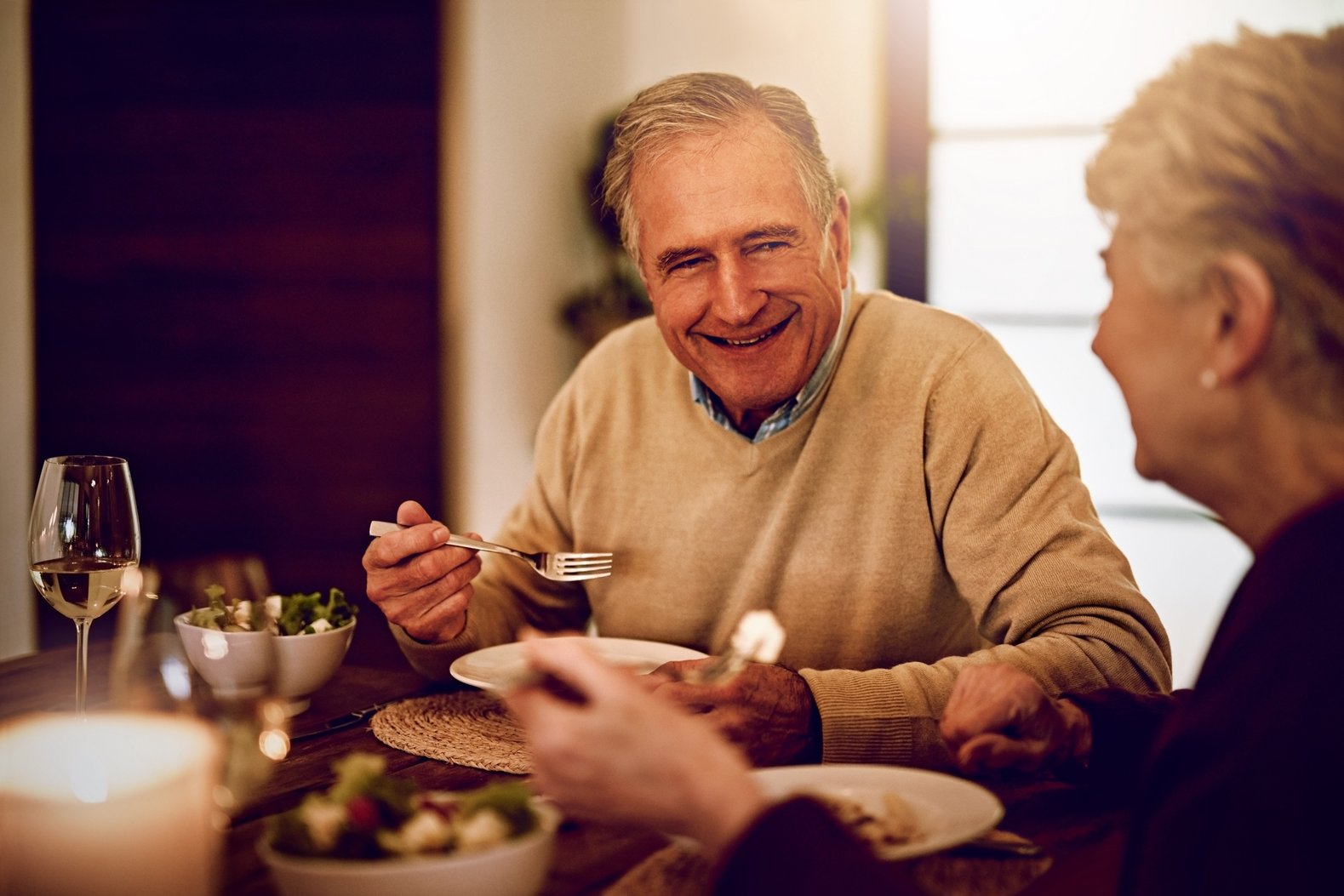 You can smell it when you walk into a Highgate kitchen. You can see it, too. All the sights, sounds, and smells of a working, restaurant kitchen. Food made from scratch by chefs, fresh produce and herbs, and a variety of menu options to choose from.
Among the things we can lose, or lose interest in as we age, is cooking for ourselves.
"I experienced this with my mom," says Khalid Iraqui, Highgate's Director of Dining Services. "She loved to cook. When she stopped, it was like her soul left." Iraqui believes it's his responsibility -- and the responsibility of all Highgate chefs -- to bring heart and soul back into nutritious, delicious meals for Highgate residents.

"My training is in classical French cooking," says Iraqui. "I worked at the 4 Seasons Hotel and Ritz-Carlton in Paris".
So how did this five-star chef find his way into senior living? "Being in a restaurant, you might pay $200 for it, and I may get a compliment for it, but it doesn't mean much. For a resident, it could be their last meal or the best meal they've had in 70 years. I never got the feeling there [in a restaurant] that I do here at Highgate."
Fresh is Best
Chefs at Highgate make everything from scratch with the freshest ingredients possible. This helps them to create those great experiences while also considering different nutritional needs and preferences.
To the chefs of Highgate, fresh produce and herbs make all the difference. "If you cook with a tomato that was picked green and shipped five weeks ago, it would need a lot of salt. A fresh tomato has a natural sweetness to it. There's no need to alter it at all," says Iraqui.
Using fresh herbs allows chefs to cut down on salt without sacrificing any of the flavor. Tomatoes for salads, tarragon for Béarnaise sauce and a host of other fresh produce and herbs are grown in on-site gardens, lovingly tended by residents.
All About Choices
Highgate offers many different options when it comes to enjoying a meal in one of their casual dining rooms. In addition to a seasonal menu, Highgate also offers an anytime menu. Sandwiches and snacks are available around the clock -- especially handy for those who enjoy a bedtime snack or wake up hungry in the middle of the night, 2 Special attention is paid to resident preferences as well. Chefs keep track of residents' preferences on diet cards. For example, they might note that a resident prefers less sauce on his meatloaf, or prefers sugar free dessert options.
The food and dining experience at each Highgate Senior Living community reflects the passion that chefs and their staff have for delivering a unique (while nutritional) dining experience to the residents and their families.