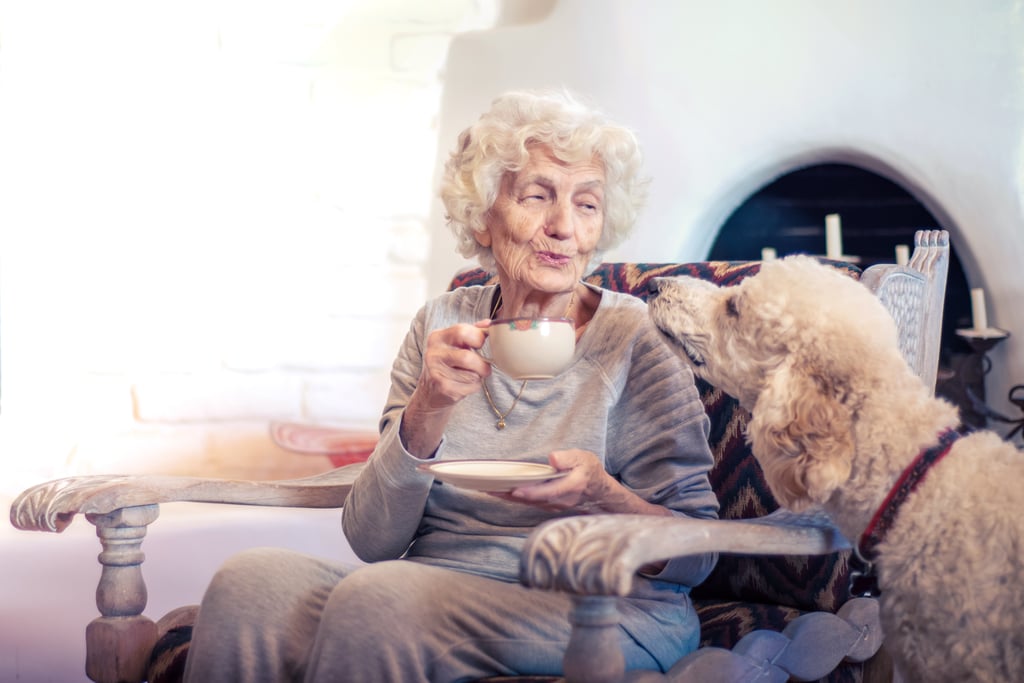 When Jeanette moved into Highgate at Great Falls in Montana, she struggled with the transition. She had spent several years in a less-than-desirable relationship with her husband who was her primary caregiver following her stroke, and at 63, she decided she was done.
It wasn't an easy decision. She left behind her home and everything she owned, including her dog, who belonged to her now-ex-husband. Depressed and isolated, Jeanette spent most of her time in her room, foregoing activities and skipping meals.
"Team members and family alike were trying to find a sense of purpose for Jeanette once again," says Leslie Blum, executive director at Highgate at Great Falls. "After spending time with Jeanette, she finally told us that the one regret she had was not being able to bring her dog with her. Over the years, this dog had become her daily companion and source of unconditional love through all the trials that Jeanette faced. Unfortunately, her husband was unwilling to part with the dog."
Staff at the assisted living facility knew just what she needed. On Christmas Day 2016, the team at Great Falls surprised Jeanette with Lilah, a calm and loving black Labrador mix who had recently been surrendered by her elderly parents due to medical conditions.
"Her eyes lit up," recalls Linzi Hise, the community resource manager at Highgate at Great Falls who drove nearly 200 miles to Bozeman to pick up Lilah from the animal shelter.
These days, Jeanette goes on outings with other residents, meets with a personal trainer twice a week, and spends a lot of time cuddling on the couch with Lilah.
"Lilah and Jeanette have become fast friends, spending their days together and filling the void each of them had in their hearts," Blum says. "Jeanette is still trying to figure who her Secret Santa is." Jeanette stated "No one has ever done something so nice for me in my entire life."
Benefits Pets Bring to Seniors
Older adults benefit from pet ownership in tangible and intangible ways. In an article published in Current Gerontology and Geriatrics Research, researchers summarized studies that confirmed pets improve seniors' mental and physical health.
Social isolation and loneliness are common among seniors, but for elderly pet owners, animals provide companionship that reduces depression, lessens boredom and fosters social interactions. Additionally, having a pet provides structure and a sense of purpose to daily life for seniors, and people with purpose tend to live longer, healthier and happier lives.
Pets also improve seniors' physical health. When seniors are around animals, their brains produce less of the stress-inducing hormone cortisol and more of the feel-good hormone serotonin. Animals can also help improve blood pressure, stimulate physical activity and lower cholesterol.
Pets in Assisted Living Facilities
Many assisted living facilities offer features and amenities designed to make life joyful and fulfilling for seniors, from restaurant-quality meals and beautifully landscaped gardens to aromatherapy and live entertainment. Few things enhance a senior's life like stroking a dog's ear or feeling a cat's thrumming purr.
In the past, moving to an assisted living facility usually meant seniors had to part with their four-legged friend. Not only would many of these pets end up in shelters, but the separation was also distressing to the senior. Fortunately, an increasing number of senior living communities recognize the benefits pets bring to seniors and offer pet-friendly environments.
"They give up so much when they move in here," says Carly Pruit, life enhancement coordinator at Highgate at Prescott Lakes in Arizona. "They may have to give up their house and car. It's so important they don't have to give up their pets."
Pet-friendly assisted living facilities typically allow cats, small- to medium-sized dogs, and other small pets. Some communities have a weight restriction, limiting the pets to small birds, cats, dogs, fish or rabbits, and other communities only allow pets on a case-by-case basis.
Highgate's assisted living facilities not only offers pet-friendly environments but also have staff who help residents care for their pets to ensure the health and happiness of both the seniors and their pets.
Mary Jensen, a resident at Highgate at Prescott Lakes, recently lost her husband, Bob, but she still has their poodle, Brandee.
"A lot of times, when someone loses their spouse, they pass quickly, too," Pruit says. "But Mary's still around, and I'm sure Brandee has something to do with it. She has some medical issues, and this dog stays with her if she's having a bad day and can't get out of bed. Brandee has been everything to Mary since we lost Bob."
Pet-friendly communities such as Highgate at Great Falls and Highgate at Prescott Lakes, are thriving.
"Pets do more than just enhance the life of that one resident," Pruit says. "They enhance the lives of everybody."