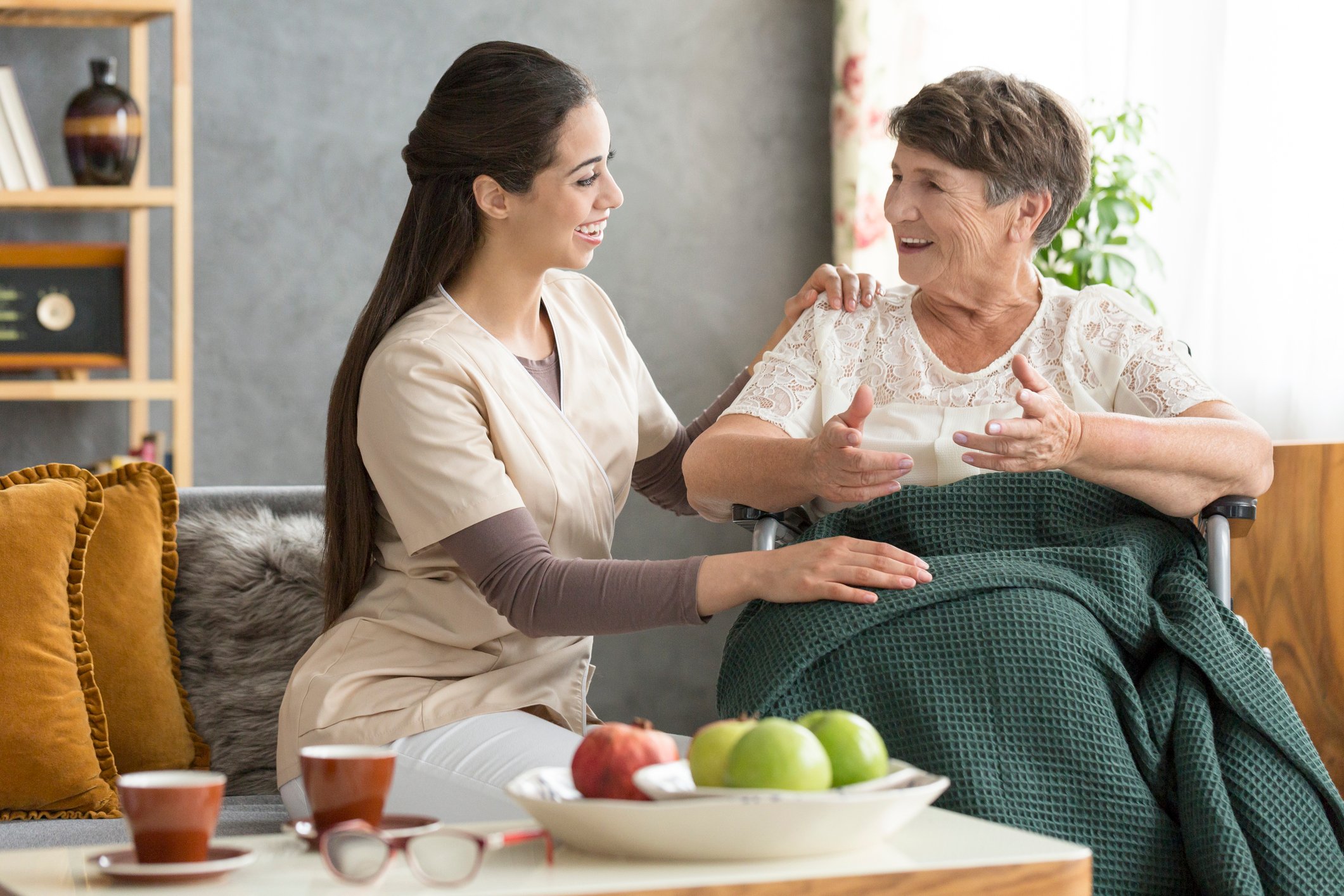 Shelley Phoenix has worked in health care for 20 years — and nowhere is like Highgate Senior Living. At Highgate, the purpose of every person who works there, no matter their job description, is to help people live meaningful, fulfilling, and joyful lives.
"We're over 20 years strong," says Phoenix, a Sales Specialist with Highgate. "We only have nine communities. We don't want to be a powerhouse. We don't want 100 communities. We want to do it right. We hire with heart."
Meet three Highgate team members who have worked at Highgate for more than 10 years and who have loved every minute of it.
Rose Zamudio-Mora
Highgate at Vancouver
Rose Zamudio-Mora spent 10 years working in high schools before she transitioned to senior living. She worked as a care partner and a med aide before activities opened up. "I knew that's where I wanted to be," she says.
The first assisted living community she experienced, however, was not where she wanted to be. "The persons that we were taking on weren't treating the residents like they should," she recalls. "They weren't supplying enough care partners. It was just not working out. It didn't seem right. I knew I had to leave."
Zamudio-Mora started Googling companies. Highgate at Vancouver popped up — and they just happened to be looking for a Life Enhancement Specialist to support the implementation of a stimulating activities program that incorporates the varied interests of the residents.
When she walked into the building to drop off her application, she could tell things were special at Highgate.
"The interaction with the whole team was different," she says. "The atmosphere was different. There's a lot of things about this company where you can see the difference. I just had my left knee replaced. The right knee I did in July. My team was there for me: 'Tell me if you need food. Tell me if you need a ride.' This is a totally different type of company."
Zamudio-Mora makes Highgate at Vancouver different, too. As the Life Enhancement Specialist, she's taken her residents zip lining.
"I'm always under the thinking if you believe they can do it, they can achieve it," she says. "You never underestimate anyone. When I train my Life Enhancement Specialists, I always say: 'Never underestimate your residents because they will shock you. Always try to achieve the best, and they're going to try to meet you.'"
Marlena Azure
Highgate at Great Falls
Marlena Azure started working in senior living when she was 16 years old. At the end of the day, even when she was just working in the kitchen, she always felt good because she was helping people.
She has been at Highgate at Great Falls for 13 years and still feels that way. In her role as Community Relations Coordinator, she helps families navigate what they are looking for in an assisted living community, takes them on tours, and assists with the admissions process.
"One thing I love about working at Highgate is that we're able to help so many different people no matter the level of care," Azure says. "It's not often that I have to tell families we can't meet their loved one's needs here."
Each state has its own laws, regulations, and licensing standards for assisted living communities. In Montana, Highgate has the Category A, B, and C licenses, which means the communities can help people who are completely dependent on care providers and team members for more than four activities of daily living.
"That's more than the care you'll receive in a nursing home," Azure says. "There are a lot of communities that only have A licensing, so they're not able to help a lot of people. With our nurse here seven days a week, we can take on people with complex medical conditions, such as sliding scale insulin."
Mandy Ketcham
Highgate at Yakima
Mandy Ketcham ended up in senior care because she was a single mom with two boys and she just needed a job. Nearly 20 years later — 13 of which at Highgate Senior Living — Ketcham doesn't just have a job. She has a passion.
During her very first tour as a Community Relations Coordinator at Highgate at Yakima, she relied on the knowledge she had acquired working in skilled nursing facilities. "I didn't know a lot about dementia," Ketcham says. "What I learned in skilled nursing was just keep repeating yourself and one day they'll just remember. My first tour that walked in — she didn't know anything about dementia, and she walked out not knowing anything more. I was never going to have a tour walk in and not know anything walking out. That was my calling."
Since that day, Ketcham has made it her mission to educate families: How can you understand your loved one with dementia? How can you form relationships with someone with dementia? How do you find meaning and hope in that relationship? How can you become the husband, wife, son, or daughter again?
Now when Ketcham gives tours to prospective residents and their families, she shows them around the community and educates them on how they can live meaningful, fulfilling, and joyful lives.
"At Highgate, we are resident-oriented," she says. "In skilled nursing and in some other assisted living or memory care communities, they are task-oriented. You can feel the difference. When our team members are engaging with the residents, they're not worried about finishing their to-do list. Where I previously worked, you do your job, and that's the only thing you do. Here, they want everybody to be engaged with the residents and the family members."

"This is my passion," Ketcham continues. "It's not my job. This is my passion. I'm lucky to be able to work for my passion."
If you want to help your loved one live a meaningful, fulfilling, and joyful life, learn more about how Highgate Senior Living can help in our eBook From Guilt to Gratitude: How Highgate Senior Living Helped My Family Feel Good Again.