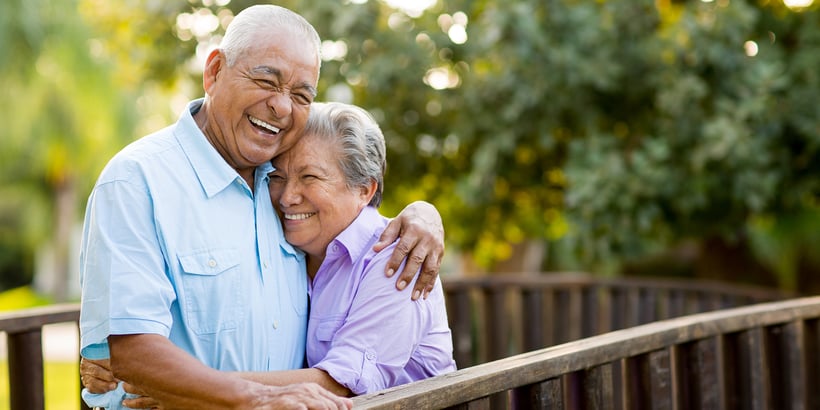 For many adult children, one of the few things harder than watching their parents' health decline is imagining them separating from each other to receive the right type of care. That's why Highgate Senior Living offers the Couples Care program.
Senior Living Options for Couples with Different Care Needs
Not all senior living communities are designed to care for couples with varying needs. But with both assisted living and memory care available at Highgate at Flagstaff, couples can either live together in the same suite or be just a short walk away from each other, regardless of care needs.
"It's important for us to offer options for couples because nobody ages the same. Not every individual is at the same place with their needs," says Leslie Blum, Executive Director of Highgate at Flagstaff. "At Highgate, we are able to customize what care looks like based on those needs so couples can stay together and get their own unique needs met."
For example, if your mom has dementia but your dad doesn't, they can both move to an apartment in the assisted living side of Highgate at Flagstaff, called the Manor. This would allow your mom to receive the caregiving support she needs — helping with the shower, brushing teeth, getting dressed — while both of your parents, and especially your dad, can put an end to the stress of caregiving and focus on simply enjoying precious time together.
"We focus on trying to get people back to being husband and wife instead of caregiver and care recipient," says Josh Bryant, the Community Relations Coordinator for Highgate at Flagstaff. "We want them back to being spouses."
How Couples Benefit from Assisted Living
Caregiving can take a serious toll on relationships (as you might already know). It changes the dynamic and challenges the relationship.
For instance, your dad might be struggling with the strain of physically caring for your mom and keeping up with home maintenance. Additionally, your mom might not be able to emotionally support your father like she used to. This can lead to frustration and depression. And if your father feels as if he can't safely care for your mother at home any longer, he's probably struggling with guilt, too. But the fact is caregiving is hard.
"An early move to Highgate — it preserves the health of the couple," says Adim Zaazaa, a Sales Specialist with Highgate. "If Dad is doing everything at home, if he's cleaning, making the meals, doing a lot more than he should be, it'll take a toll on his health. But if they move to Highgate early on, we'll take care of all that. All they have to do, literally, is enjoy each other."
At Highgate, team members handle the meals, medications, housekeeping, laundry, dressing, hygiene, and even nighttime necessities for the spouse in need so the other spouse has some time and space to address personal needs and interests.
Blum shares a story of a couple at another Highgate community: "This couple came to us from living in their own home. They had some medical concerns, and they wanted to make sure there was help around should something ever happen. Since they've been with us, one of the spouses has needed hands-on assistance with activities of daily living. But we're able to keep them in the same suite, meet both of their individual needs, and stay together. I've seen them develop their own individual experiences as well as sharing experiences. They've found that balance between perhaps being isolated at home with only their significant other to creating relationships with other members of our community when they are out and about doing their own thing."
Many couples are happily surprised to discover that moving to an assisted living community enables them to thrive. Maintaining their relationship and continuing to live together or in the same community helps them experience greater health and happiness overall.
What Happens When One Spouse Needs Memory Care?
For couples where one spouse has dementia, there may come a time where their needs exceed what the assisted living staff can accommodate. Highgate offers numerous options to ensure both spouses continue to have their individual needs met.
"If they wouldn't be safe to stay in the suite for a four-hour period while the other spouse went to a doctor appointment, the grocery store, or the barber, that spouse with memory loss can do a day program in memory care," Blum says. "The other spouse has comfort knowing their loved one is safe while they're out doing things, whether that's poker club or coffee with the guys."
There are other options, too. For example, your mom and dad can both move to an apartment in the memory care neighborhood of the community, called The Cottage. Or, if they choose, your dad could remain in the assisted living area while your mom moves to the memory care side. This distance usually amounts to a quick walk down a hallway or an elevator ride to a different floor.
"When there is that instance of perhaps them not being able to share the same suite, there are other options to be able to get them that quality time — having a special meal in the dining room together, scheduling in-suite visits for a certain period of time, joining activities together," Blum says.
How Couples Care Helps Couples Age in Place
Aging in place — a general term used to describe a person living in the residence of their choice for as long as they are able — is core to Highgate's senior care philosophy. Highgate at Flagstaff's team of clinical professionals are able to handle almost anything, even complex medical issues, and severe cognitive impairment, which means residents rarely need to move again.
"For many adult children, their No. 1 fear is: Yes, it sounds great today, but if Mom or Dad were to fall in the future, will we have to separate them?" Zaazaa says. "What we offer is that peace of mind of being able to age within the same apartment. We are licensed to do two-person transfer assists and mechanical lifts, so they truly can age within the same suite."
Adds Blum: "We've seen so many times over the years: My mom has been at this location for five years. She loves it. She's made so many friends. But now Mom needs more care than the community can offer and she can't stay there anymore. When you're moving from your home into a community, you really want to make that a final transition by moving into a community like Highgate that can meet your needs on every level."
Couples Care is just one of Highgate at Flagstaff's signature programs. To learn more about our other signature programs, including our Holistic Approach to Wellness and Nutritious, Delicious philosophy, download our Signature Programs Fact Sheet.