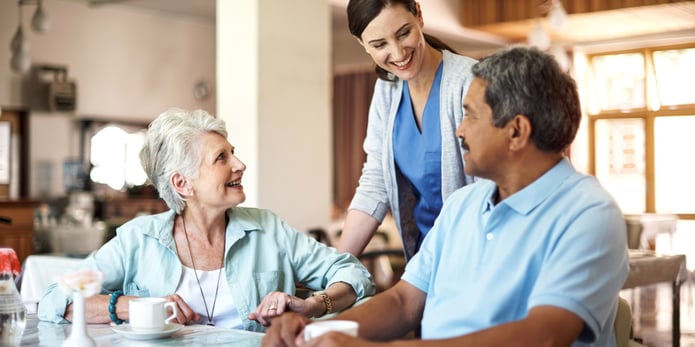 When you're a first-time homebuyer, there's a lot to learn about home styles and types of houses. The same is true of senior living.
While a prospective homeowner might be researching the differences among a condo, a townhouse, and a single-family home, an adult child doing research for an aging parent might be wondering what the differences are between independent living, assisted living, and memory care.
"Although these options are similar in some ways, they're each designed to meet the needs and lifestyles of different seniors," says Leslie Blum, a senior care expert with over 18 years of experience and the Executive Director of Highgate at Flagstaff.
In this blog, we take a look at the key differences between the most common levels of senior living. But before we get started, it helps to know that only assisted living and memory care actually offer senior care. Unlike the other levels of care, independent living doesn't offer care services. It provides basic services like housekeeping and food preparation. So we'll save that one for last.
Assisted Living
Assisted living communities offer apartment-style living options that allow residents to live in a home-like environment while receiving help with the everyday tasks of living. This might include managing and setting up medications, alleviating the burden of preparing meals, or needing assistance with other things like dressing and showering.
"When I think of assisted living, I think of a very wide range of residents who benefit," Blum says. "It could be somebody who doesn't feel like doing the household chores anymore. Maybe the house is too big to take care of or the landscaping is too challenging. Perhaps they are not comfortable with stairs anymore. It could be somebody who needs assistance with activities of daily living. It's also an ideal option for someone who is comfortable taking care of themselves but wants a more active social life and appreciates medication reminders."
Assisted living might be right for your loved one if they:
No longer want to maintain a house and yard

Have a shrinking social circle and are getting lonely living at home alone

Lost a spouse and feel that joining a community of people their own age would help

Want to move to be closer to family but don't want to necessarily live with them

Want or need assistance taking prescribed medications as instructed

Have multiple physicians involved in their plan of care and want assistance managing chronic health conditions

Suffer from a chronic health problem that is or will get worse

Have difficulty with a balanced, nutritious diet

Have difficulty with activities of daily living such as dressing or showering
Services are personalized to meet individual needs, so residents remain as independent as possible for as long as possible, yet they have access to care at a moment's notice. Some, but not all, communities can even handle complex medical issues, such as oxygen management, tube feeding, two-person transfers, and wound dressing.
"We work with complex medical needs at Highgate," Blum says. "We can do ostomy care, catheter care, and sliding scale insulin without them being in a skilled-nursing-type setting."
Memory Care
Many people with mild memory loss can thrive in assisted living, but when memory loss progresses, memory care becomes the next level of care. Depending on the community, residents may live in private or semi-private apartments, and the communal living spaces are secured to keep residents safe.
"Memory care is designed for residents who have memory loss," Blum says. "That could be early stages of memory loss or a lot farther in their journey. It really depends on the family. Many ultimately decide they want that extra hand in caring for their loved one with memory loss so they can resume the relationship of son, daughter, or spouse, rather than full-time caregiver."
Memory care might be right for your loved one if they:
Are prone to wandering

Have poor safety awareness

Are having trouble eating and the ability to swallow is declining

Are experiencing changes in mood and behavior

Are declining in health or fighting off infections much of the time

Don't quite fit in assisted living anymore because they need a little more direction due to their memory loss
Some communities, including Highgate at Flagstaff, offer assisted living and memory care in the same building to allow residents to easily transition between these settings as their needs increase.
Independent Living
Independent living is a good choice for active, healthy older adults who can get around on their own and don't need help with activities of daily living. Residents typically live in private apartments, cottages, condominiums, or single-family homes and have access to community dwelling spaces and common areas.
The staff at independent senior living communities don't provide hands-on medical or nursing care, but they make older adults' lives easier by taking care of things such as landscaping, housekeeping, and meal preparation.
Independent living might be right for your loved one if:
The maintenance of a house and grounds is no longer a wanted responsibility

You have a shrinking social circle and are getting lonely living at home alone

Have lost a spouse and feel that joining a community of people your own age would help

You want to move to be closer to family but don't want to necessarily live with them
Not all senior living communities offer independent living. For example, Highgate Senior Living offers independent living villas at two of its 10 communities: Highgate at Bozeman in Montana and Highgate at Vancouver in Washington.
Your loved one doesn't have to be in perfect health to choose independent living. But if their health would be at risk if they had to spend a few days alone in their home or if they have a serious medical condition, particularly if that diagnosis is likely to get worse, you should consider assisted living.
Which Lifestyle Is Right For Your Loved One?
When considering senior living options, it is usually a good idea to plan with the future in mind. Even if your loved one is not in need of assistance at this point in their life, changing care needs may dictate a need for services in the near future.
"Remember that while your loved one may be at one part of their journey currently, you want to look for a community that will meet their needs throughout the future," Blum says. "Moving can be a stressful experience. You don't want to move somebody because their care needs increase and the community they're in may not be able to provide for those."
To learn more about the levels of care offered at Highgate at Flagstaff, request more information or schedule a virtual tour today.