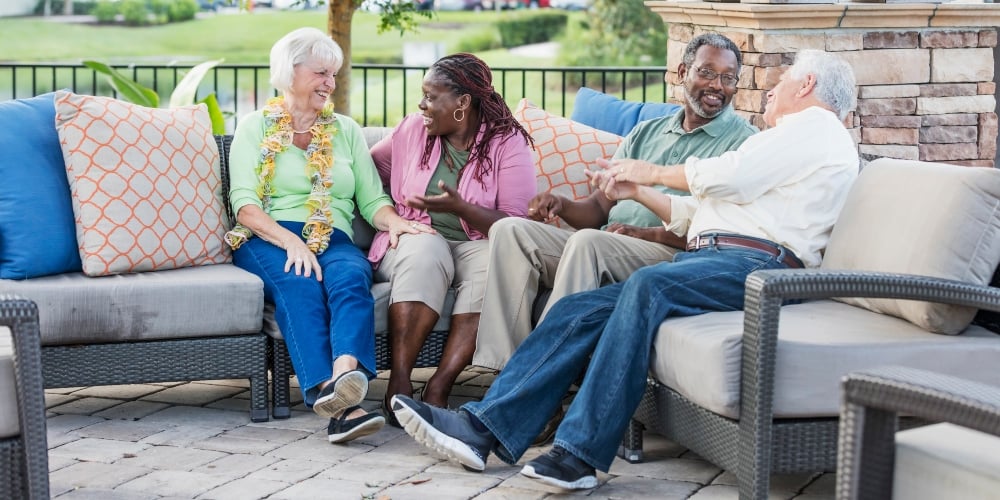 As you get older, you might start to hear your doctor talk about senior living or your daughter mention the perks of community living. If thinking about living in a nursing home has you looking for a way to chain yourself to your front porch, you're not alone.
Many people mistakenly believe that nursing homes are the only alternative living option for seniors. However, senior living is a broad term that includes everything from independent living and assisted living to memory care and respite care.
No matter where you live, you want it to be the "least restrictive setting" as possible. This term refers to the place where you maintain as much of your independence as possible.
For a while, this might be at your own home, but when you're tired of looking at a long to-do list of home and yard maintenance projects, perhaps an independent living community that handles the housekeeping and maintenance becomes less restrictive. Or when you no longer drive, perhaps an assisted living community that provides transportation and offers outings and day trips becomes the setting that allows you to maintain as much of your independence as possible.
Confused yet? That's normal. Let's take a look at the key differences between the most common levels of senior care.
Independent Living
Independent living encompasses several different housing and lifestyle options, from 55+ condo communities to apartment-style living on a campus that also has assisted living and memory care communities.
Whether in a condo or an apartment complex, independent living is an ideal living option for those who are comfortable with taking care of themselves but are tired of pulling weeds, shoveling snow, cleaning out the gutters, or any of the other responsibilities that come with homeownership.
Unlike the other levels of care, independent living doesn't offer care services. It provides basic services like housekeeping and food preparation.
Assisted Living
The next level of care is assisted living. Assisted living communities offer apartment-style living options that allow residents to live in a home-like environment while receiving assistance with activities of daily living. Residents typically live in private apartments, eat meals in a central dining room, and have access to a social activities calendar.
Assisted living caters to a wide range of people. It is an ideal option for someone who is comfortable taking of themselves but also wants a more active social life and appreciates medication reminders. It's also the right for those who require assistance with personal care, such as getting dressed and bathing.
Services are personalized to meet individual needs, so residents remain as independent as possible for as long as possible, yet they have access to care at a moment's notice.
Memory Care
Many people with mild memory loss can thrive in assisted living, but when memory loss progresses, memory care becomes the next level of care. Memory care communities are designed to meet the specific needs of individuals with memory loss. Depending on the community, residents may live in private or semi-private apartments, and the communal living spaces are secured to keep residents safe.
Memory care is an ideal living option for those with memory loss who are prone to wandering, have poor safety awareness, are experiencing changes in mood and behavior, are declining in health, or who don't quite fit in assisted living anymore because they need a little more direction due to their memory loss.
Respite Care
A respite stay is a temporary stay at an assisted living or memory care community. A form of respite care, a respite stay allows caregivers to take a break from the daily care routine and recharge their batteries while ensuring their loved one receives the same high level of care they have been providing.
A respite stay also offers the senior the opportunity to interact with other seniors having similar experiences; to spend time in a safe, supportive environment; and to participate in activities designed to match their abilities and needs.
A Note on Nursing Homes
Still wondering if you need a nursing home?
Nursing homes offer 24-hour nursing care, which more so resembles a hospital setting. Designed for those who have complex medical conditions who need skilled nursing care, they're primarily caring facilities that also provide housing.
Some signs you do need nursing care, not assisted living, include:
You need 24-hour medical care.
You require medical attention from a doctor or nurse on an ongoing basis.
You are bedridden or are not mobile.
You require rehabilitation after hospitalization or surgery.
What Level of Care Should You Be Researching?
It is sad when a person moves into an environment that is too restrictive too soon, causing them to lose years of independence unnecessarily. It is equally tragic when a person moves into a setting that is very unrestrictive yet incapable of meeting their increasing needs.
Ultimately, both of these scenarios result in multiple moves to different communities, which can be very stressful. That's one reason why it's beneficial to find a senior living organization that offers all levels of care on one campus — residents can transition easily from one level of care to the next if their needs change.
The best way to determine what level of care you need is to undergo a comprehensive care assessment. For a step in the right direction, use this flow chart to figure out what level of care you might want to start researching first.

Take an honest look at your wants and desires as well as current medical conditions and future care needs so that you will have a clearer idea of which levels of care would be the best fit. Once you do, you'll be much closer to finding the senior living lifestyle that's best for you.