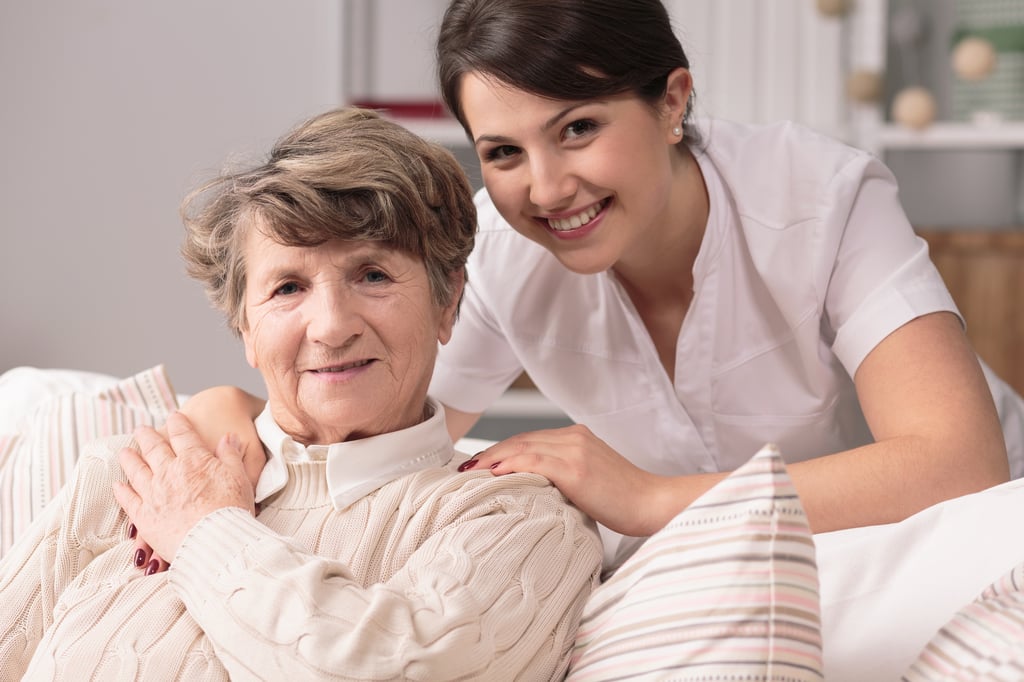 If you are a long-term caregiver, you know firsthand the physical and emotional burden caring for an aging loved one can take. One of the cardinal rules of caregiving is that you need to take care of your health and well-being before you can provide compassionate care to those you love. If you don't, it won't be long before you experience caregiver stress and eventually caregiver burnout, a state of physical, emotional and mental exhaustion that may be accompanied by a change in attitude from positive and caring to negative and unconcerned.
That's where respite stays come in. A respite stay is a temporary stay at an assisted living or memory care community for an aging loved one. A form of respite care, a respite stay allows you to take a break from your daily care routine and recharge your batteries while ensuring your loved one receives the same high level of care you have been providing.
Here are four reasons to consider a respite say.
1. It Gives You Time to Manage Other Responsibilities in Your Life
According to Caregiving in the U.S., a research report by the AARP Public Policy Institute and the National Alliance for Caregiving, caregivers spend 24.4 hours a week providing care to their loved one. That doesn't leave you much time to manage your personal life. Whether you want to go on a trip with your husband and kids, have more time to run errands, or take a temporary break from the demands of caregiving, a respite stay gives you free time to make sure you stay healthy.
After the respite stay of a loved one, caregivers report feeling renewed, relaxed, re-energized and re-engaged with the part of themselves that isn't defined by their caregiver role. In fact, "respite" is frequently used as an acronym to outline some benefits respite care can offer caregivers:
R

: Renewal and relaxation

E

: Energy

S

: Space

P

: Pleasure

I

: Identity

T

: Time away

E

: Engagement
Due to the high stress associated with caring for a loved one, family caregivers use respite stays as an opportunity re-energize, so they can provide good care and maintain a healthy balance in their life
2. It Encourages Shared Decision-Making
When considering a respite stay, it's important to involve your loved ones. Let your parents have a voice, from deciding how much time you'll be away to where they'll stay when you're gone. Ask what is important to them and what they are concerned about. Research shows that the more people are actively involved in their health and health care, the more likely they are to have better outcomes.
Through shared decision-making, your parents will be more likely to understand their health conditions, be informed about decisions that need to be made, understand the advantages and disadvantages of their options and make the decision that's right for them.
3. It Gives Your Loved One an Inside Look at Senior Living
If you've been trying to start the conversation with your aging parents about making the move to a senior living community but have been met with resistance, a respite stay might be just the thing you need to tip the scale. A 30-day trial run (i.e., respite stay) can be seen as a compromise, allowing your parents to maintain a sense of control while easing them into a more permanent senior living environment.
During a respite stay, your loved one will typically stay in a fully furnished suite and enjoy three meals a day, housekeeping and laundry services, personalized care, medication assistance and a host of stimulating and therapeutic activities based on individual needs. Respite stays offer you the chance to do enjoyable things with peace of mind knowing your loved one is being taken care of.
4. It Offers a Chance for Your Loved One to Meet Other Seniors
Although respite stays are designed to provide you a break, it also benefits your parents too, because it allows them to meet other seniors. Social isolation and loneliness are emerging issues among seniors. They are associated with increased mortality, overall decreased cognitive performance and faster cognitive decline, depressive symptoms and increased blood pressure.
Respite stays at assisted living communities offer a chance for seniors to immerse themselves in a warm and welcoming environment where they can meet other people their age and engage in activities geared toward seniors. Respite stay residents benefit from the care of the staff, but they also make friendships that can enrich their life long after the respite stay is over.
Providing care to an aging loved one takes its toll, and there's no shame in needing a break. In fact, a respite stay might be all you need to feel healthy and balanced and to experience a new sense of joy in taking care of your loved one.