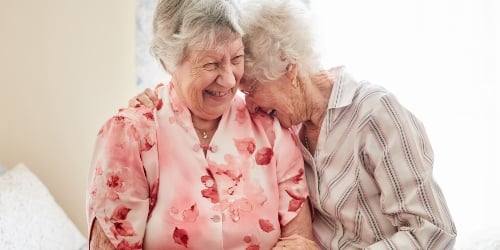 Companion suites are a unique living option in many memory care communities. An alternative to private suites, companion suites can help seniors not only save money but also feel less isolated and lonely – and more connected to the community. For family caregivers who might feel nervous or guilty about moving a loved one to memory care, companion suites offer reassurance that a loved one won't be making the transition alone.
Here's a closer look at five benefits of companion-style living in memory care.
1. It Eases the Transition
Like any major life change, moving to a new home takes some adjustment. Although many seniors will feel relief at not living alone and not having to maintain a large house, others may feel withdrawn and hesitant about making new friends. When you bring two compatible seniors together to share an apartment, it makes transitioning into the new environment easier.
"Many families don't think it's going to work," says Melanie Danelson, Executive Director of Highgate at Vancouver. "But when you have two people who are getting along, doing things together, eating together, participating in activities together, they get this bond going and they come out of their shell."
This is especially true for those who are naturally introverted. If your loved one isn't the type who thrives on making new friends or being the life of the party, the move into memory care could be less traumatic if someone more outgoing by nature is paired with them.
2. It Reduces Loneliness
Dementia can be an isolating experience, and many people struggle to remain connected to loved ones. Over time, this loneliness contributes to other risk factors for dementia, such as depression, high blood pressure, and diabetes.
Sharing a living space with another person can go a long way toward drastically reducing the feeling of isolation and loneliness and promoting physical and mental health in memory care residents. Research shows that seniors with dementia who have a strong social support network experience delayed cognitive impairment.
Residents who live in companion suites often encourage each other to participate in community activities, too, which further helps people with dementia to continue to engage and feel fulfilled, improving their quality of life.
Companion living not only provides a sense of friendship for the residents, but it also allows their family and friends to build relationships and support one another in the caregiving journey.
3. It Provides Purpose
According to Teepa Snow, one of the leading educators on dementia, there are four categories of activity that help people feel valued, productive, and purposeful. One of them is work, which isn't as much about making money as it is about being of value to others.
Companion-style living offers residents with dementia opportunities to create a sense of well-being and continued self-esteem by making a difference.
"We recently had a gentleman who needed emergency placement in memory care," Danelson recalls. "He was in the early stages of dementia, and the only room available was a companion suite with someone who was in the late stages of dementia. You might think that would make them not a great match — but it was a perfect pair. The newer resident was a caregiver, and he just looked out for Fred and made sure he was doing OK. It gave him purpose."
4. It Improves Dementia Symptoms
Many seniors living with dementia suffer from behavioral and psychological symptoms, such as agitation, aggression, depression, delusions, hallucinations, and sleep disturbances. Living with a companion can sometimes ease these burdens.
"People with dementia may have problems sleeping and experience restlessness during the night," Danelson says. "If there is someone else in the room, they often won't get up and wander looking for somebody. They see someone in the other bed and it's comforting to them. Residents in companion suites often have better sleep patterns because they have the sense that they are not alone."
People with dementia can also have visual difficulties because dementia affects the parts of their brain that handle visual information coming from the eyes.
"With family members, they're looking at the room thinking, 'Mom just came from a 3,000-square-foot house. This isn't going to work!' What they might not realize is that someone with dementia has a shrunken visual field. Big, open spaces can be tougher sometimes," Danelson says. "A smaller room is easier to navigate. It creates less anxiety."
5. It Makes Memory Care Affordable
Living with someone else in a companion suite is an easy way to reduce the cost of memory care. By saving money each month on the room, your loved one might be able to afford to live in a more desirable community than they would be able to afford if they're paying for a private room.
Because companion suites are easier on the budget, they also offer family caregivers some peace of mind who are worried they might run out of money.
Companion Suite Options at Highgate
Highgate Senior Living offers companion suites within its memory care communities, known as The Cottage.
"It's more common than people think," Danelson says. "We have 15 rooms in memory care at Highgate at Vancouver. Out of those, only four of those are private. The rest are companion. It's super common."
When matching roommates, Highgate team members consider compatibility factors such as similar cleanliness values, tastes in music, common beliefs, and sleeping habits.
"We're really looking at their life story," Danelson says. "We're looking at their current condition. We're looking at their different personalities. We don't make that move without doing a lot of research first. We do quite a bit of digging. We don't ever stick someone in a room just because there's a room open. If we don't think it's a good match, we don't make the move in."
The primary concern is to create an environment that fosters the well-being of each resident. If sharing a living space isn't a good fit, the team works to find an affordable yet workable solution.
If you're considering a companion suite for your loved one with dementia, Danelson suggests stopping by the community a few times before move-in day. "If it's not an emergency, come in and have teatime with the other person," she says. "Test it out."
Although families are reluctant to put their loved one in a companion suite, once the move to memory care is made, they often report dramatic changes — both in their loved one with dementia and in their own peace of mind.
Do you want to see what a companion suite in a Highgate community looks like? Schedule a tour at the community nearest you.