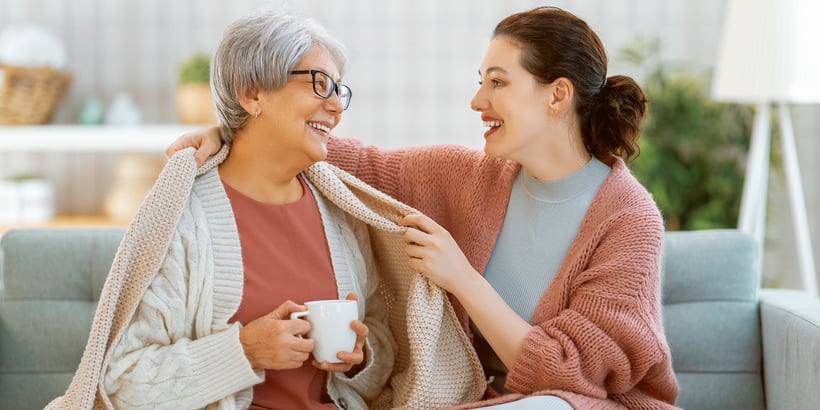 You and your loved one had been seriously talking about assisted living, then the holidays put those conversations on hold.
Perhaps you're thinking that putting off the move to assisted living until after winter will give your mom or dad one more holiday season at home, or maybe the thought of talking with a parent about moving to assisted living around the holidays has you feeling guilty, stressed, or wanting to avoid the conversation entirely.
Consider this: One more winter at home also means another season of worrying about them slipping on the way to the mailbox, driving to the grocery store in snowy weather, or feeling stuck at home.
"If you've already noticed changes that indicate it's time to start considering assisted living for a parent, avoiding the conversation can leave you making a last-minute decision in a crisis," says Leslie Blum, Executive Director at Highgate at Flagstaff. "For many seniors, assisted living is the right choice."
If you are still feeling unsure that this winter is the right time to make a move, here are some other things to consider.
Health, Safety, and Wellness
If your parent stays at home this winter, it's likely that they'll have to deal with snowy driveways, icy sidewalks, and hazardous road conditions. When you help a parent get settled in an assisted living community before winter sets in, you can ensure they won't have to worry about clearing snow or any other dangerous winter tasks.
You can also rest easy knowing that a professional is ensuring your loved one takes their medication properly, and there is someone on hand 24/7 to monitor their health and treat any illness that may flare-up.
Many older adults have chronic medical conditions, such as heart disease or Alzheimer's disease. As your loved one ages, they might need more assistance with things like medication management or getting in and out of the shower safely. Having a second set of eyes and hands is one of the many benefits of living in an assisted living community.
Communities also offer fitness and wellness programs to ensure residents stay active despite the short, dark days. Perhaps your mom loves to walk, but once November rolls around, she spends most of her days watching TV. In assisted living, she can stay healthy and active all winter long thanks to on-site fitness offerings.
As your mom ages, grab bars in the shower and ramps instead of stairs not only help her stay mobilized, but also reduce the possibility of experiencing an injury due to falling. If a fall does happen, trained professionals are working around the clock, so help is never far away.
Social Isolation and Winter Blues
Staying connected and engaged is important for everybody, especially for older adults. Countless research studies have shown a strong correlation between social interaction and health and well-being among older adults. These studies also suggest that social isolation may have significant adverse effects.
Winter can be a difficult time for many seniors. Long, dark days coupled with cold weather and social isolation can lead to feelings of sadness, anxiety, or depression.
Assisted living residents gain access to a strong social environment and support network. Surrounded by people their own age, residents become part of a loving, supportive community. An ongoing schedule of activities makes it easy to get connected, develop a new hobby or interest, and stay active.
Benefits of Being Proactive
Here's the thing: It may never feel like the "right" time to move to assisted living, but many families have regretted waiting until they're sick or have had a bad fall or some other health crisis.
If your parent decides to move into assisted living sooner rather than later, they get to choose what type of community, what amenities and services they're looking for, and what type of living arrangement they want.
Also, being proactive in a move may help them avoid a health crisis. Although there's no guarantee, it's a lot harder to be motivated to stay active at home, rather than taking advantage of activities in an assisted living community that will keep them moving.
To learn more about Highgate at Flagstaff's suite of signature programs, including purposeful living opportunities through social and recreational programs and its holistic approach to health and wellness, download our signature program brochure.