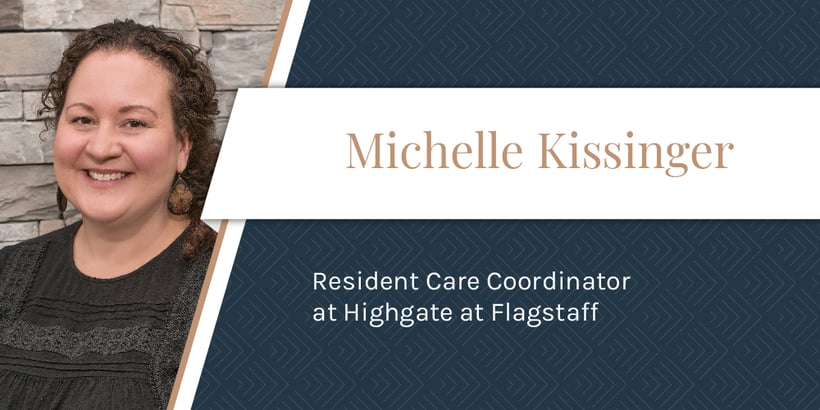 Michelle Kissinger has always wanted to make a career of helping others. As Highgate at Flagstaff's Resident Care Coordinator, it's her job to create a holistic approach to caring for Highgate residents and ensure that every resident, regardless of age or ailment, has a supportive environment they can thrive in.
More Than Just Physical Health
At Highgate, care isn't simply focused on residents' physical health, though that's certainly an important dimension of wellness. Highgate offers a holistic approach to care, which means Kissinger views each resident as a whole person.
"Our Full Care for All philosophy embodies the idea that we assist with all the needs of our residents," Kissinger says. "We use a holistic approach and seek to benefit each resident on all levels: physical, mental, and spiritual."
To do that, Kissinger, along with Life Enhancement Coordinator Abbigaile Urioste, oversees the creation of individual life stories. Through Life Story Interviews, the Care Partners and team members get to understand the history of each of the residents and share their story with other residents. The interviews also help inform the customized service plans that Kissinger creates, which are tailored to the likes, dislikes, issues, and interests of each resident.
"I believe in treating residents as individuals. They each have a unique personality, and every individual has their own set of preferences and needs," she says.
All About Dignity and Respect
Kissinger has been focused on respect and dignity her entire career. She has a master's degree in counseling, and before she joined the team at Highgate at Flagstaff, she worked as a counselor and in social services at a transitional rehabilitation center for seniors.
"I always wanted to work in a field that serves others in some beneficial way," says Kissinger, who grew up in Michigan and spent time in California before moving to Flag two years ago. "I found it appealing that Highgate uses a person-centered approach with residents and seeks to support residents in living a purposeful life. I also appreciate the holistic approach that is held by Highgate."
The fundamental principle of person-centered care is individualized emotional and physical spaces for care that are in tune with people's changing needs. Care is driven by personal preferences, values, and personality traits. Which means there isn't just one way to practice this positive approach.
"We offer individualized care," Kissinger says. "By customizing service plans based on resident and family feedback, clinical information, and resident life stories, Highgate can provide care tailored to resident's unique needs and experiences."
Flagstaff's First Year
During Highgate at Flagstaff's first year, Kissinger is excited to not only serve residents but also their families: "I look forward to being a part of resident care and helping residents to find purpose and joy in their new home. I also hope to be a source of support to resident families."
For families that are searching for senior living for a loved one, Kissinger offers some questions they can ask to learn more about its care philosophy:
Will the community be able to properly support and care for the future resident?
Will they be able to honor the individual's preferences, preferred activities, social needs, physical needs, etc.?
Do the caregivers seem to genuinely enjoy what they do, and are they willing to answer your questions and address concerns?
Are they interested in helping residents to enjoy their lives?
"I believe that any of the resident and family questions and concerns should be addressed as thoroughly as possible by any future community," Kissinger says. "After all, this will be home for the loved one, so they should be comfortable and satisfied with the quality of care in the community."
As for Highgate, Kissinger says it's different from many other places she's worked:
"Highgate's mission to support purposeful living for residents is unique to other places I've worked. So far, I have encountered various team members who have worked for Highgate for many years. They have described and demonstrated a culture that fosters growth, training, support, and a passion for caring for senior residents. I love serving and providing support to others. It gives me a sense of purpose and opportunity to continually learn and grow."
If you're curious about Highgate's philosophy of care or if you want to meet Kissinger in person, schedule a tour today!