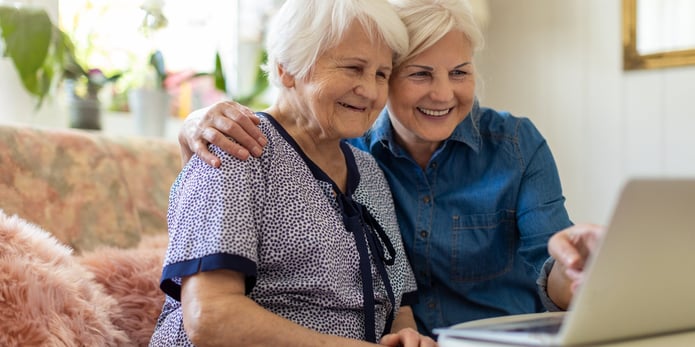 If you're searching for tips on how to find the best assisted living community for a loved one, you probably not only have a lot on your plate but also a lot of emotions coursing through your veins.
Finding the right assisted living community is no easy task. No one knows this better than Highgate at Flagstaff Executive Director Leslie Blum. With over 18 years in senior care, this expert knows a thing or two about helping families know what to look for, what questions to ask, and how to compare one community to another.
Here are Blum's top three tips for finding the best assisted living community for your loved one.
1. Look at Your Loved One as a Whole Person
When you think about your aging loved one, it's easy to focus on the parts of them that are physically declining. Yet wellness involves looking at the whole person — their body, mind, and spirit.
How does this relate to finding the best assisted living community for your loved one? Blum says it's important to think about how an assisted living community can not only care for your loved one but also help them live a full and meaningful life.
"When researching senior living, you should look for a community that cares for a senior on every level," Blum says. For example, look at the programming calendar. Do they have options for exercise, creativity, volunteering, spiritual fulfillment, and cognitive stimulation? Is the programming calendar based on entertainment or engagement?
2. Use the Community as a Resource
The best senior living communities hire with heart. They don't just hire executive directors and nurses and chefs and care partners. They hire people who believe it's their purpose in life to help older adults live meaningful, fulfilling, and joyful lives.
So don't hesitate to ask questions about how they do that, Blum says. Ask "what-if" questions related to things the assisted living community might experience caring for your loved one and how they would handle that particular situation.
For example, Blum recently worked with a family whose loved one didn't want to move into the community unless they had access to a full kitchen in their apartment, but Highgate offers a kitchenette. "So I asked the family: 'Why is that important? Do they like to bake? Do they want to cook their own meals? What else can the community provide even though there may not be that full kitchen?"
Be cautious if the community isn't truly focused on your needs, wants, and desires but instead is more focused on showcasing what they have to offer.
Another way to differentiate communities is to look for communities that offer educational materials on their website, not just community brochures and videos.
"We're with families every step of the way," Blum says, "from helping family caregivers develop a holistic fall prevention plan if their loved one still lives at home to helping them figure out how to pay for assisted living costs to helping them manage challenging family dynamics."
3. Think About the Future
The most important thing you can do, Blum says, is to find a community that is equipped to provide care now and in the future as your loved ones age.
"Remember that while your loved one may be at one part of their journey currently, you want to look for a community that will meet their needs throughout the future," she says. "Moving can be a stressful experience. You don't want to move somebody because their care needs increase and the community they're in can't provide for those."
For example, some senior living communities in Arizona aren't licensed to do two-person transfer assists or mechanical lifts. "So if it ever got to a point where that was necessary, the family would have to look for new options," Blum says. "We work with complex medical needs at Highgate. We can do ostomy care, catheter care, and sliding scale insulin without them being in a skilled-nursing-type setting."
It's important to be realistic about your loved one's current care needs as well as their anticipated needs so you don't have to start the search over again and deal with moving from community to community.
If you have more questions about how to navigate the search for assisted living or if Highgate at Flagstaff is the best assisted living community for your loved one, request more information today.