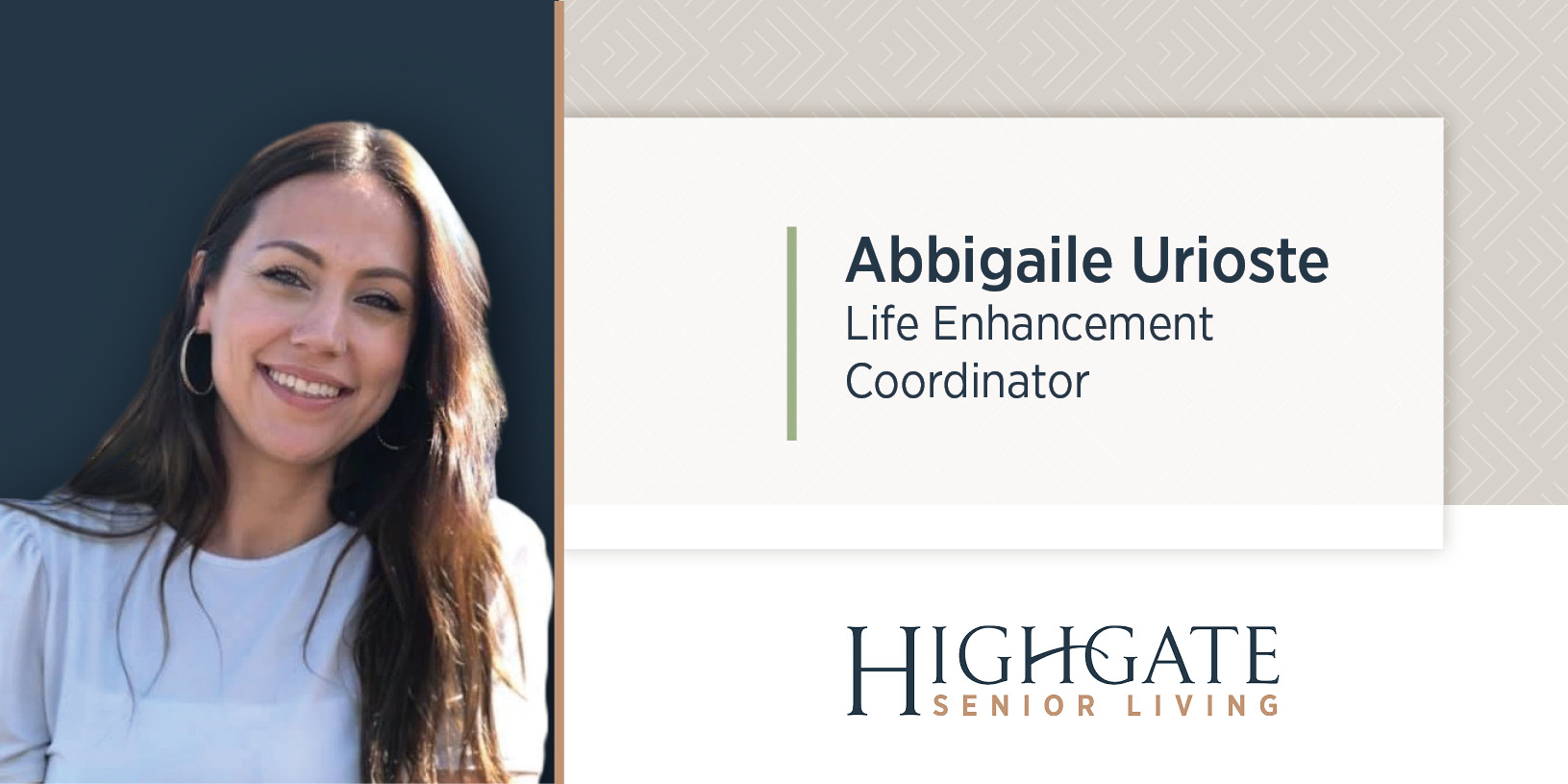 Before Abbigaile Urioste became Highgate at Flagstaff's Life Enhancement Coordinator, her life was already all about living purposefully. Her purpose? To make a difference.
What Lights You Up?
Urioste grew up in Agua Dulce, California, where her family raised horses, chickens, and ducks. From a young age, she learned to follow "what lit her up." She volunteered with people living with disabilities. She got her phlebotomy license. She was a hairstylist.
In 2010, Urioste took a marketing position at Whole Foods that put her in direct contact with her local community. In her role, she established and grew meaningful partnerships with city government, local businesses, and community organizations and shared the supermarket's mission of nourishing people and the planet.
By 2019, and after briefer stints as a marketing manager at a fast-casual restaurant and working for the city of Santa Clarita, California, Urioste was ready for something new. "What I really wanted to do is help people in a meaningful way," she says.
For the Love of People
One day, Urioste noticed a new building being constructed in her neighborhood — a senior living community.
"I'd never stepped foot in a senior living community before," Urioste says. "When I met the executive director, we just hit it off. I knew I wanted to work with this woman."
Within two months, Urioste had taken over the activity program. "I had an event planning and marketing background, but I'd never done that before and didn't know what I was doing — but I knew I loved my residents."
When COVID hit, life threw Urioste for a loop. She relocated to Williams, Arizona, and it wasn't long before she noticed another new senior living community being constructed.
"When I saw Highgate at Flagstaff was opening, I knew I had to be a part of it," Urioste says. "I knew my heart was in activities, in life enhancement. It intersects so well with my passion for working with people and making a difference and having fun and making new friendships and connections. Life Enhancement is my favorite job I've ever had. It checks all those boxes."
Highgate at Flagstaff's Vibe Coordinator
As the coordinator for Life Enhancement Programming — commonly known as the activities program at other senior living communities — Urioste's job isn't to plan activities and programs that keep residents busy. Her job is to get to know each resident's life story and to build an ever-evolving Life Enhancement Program that empowers them to live a life of purpose each day.
"As an activities director, you're in charge of programming and managing a team," Urioste says. "Life Enhancement opens the doors to all aspects and gives us space to be creative, give purpose to residents, and breathe life into our community. A lot of that is getting to know our residents. It's not one-size-fits-all. It's customized based on our residents."
When a new resident moves in, Urioste will stop by to conduct a Life Story Interview and Purposeful Living Interview. The Life Story Interview helps Urioste and her Life Enhancement Team better understand the history of each of the residents and share their story with other residents. The Purposeful Living Interview helps team members understand what brings meaning to each resident's day and elicit ideas and information that allows them to plan programming for the residents so they can continue to live a life of purpose.
"No two Highgate communities have the same activities calendar because no two Highgates have the same residents," Urioste says. "We're tapping into what lights people up and what feeds people's souls, adding to quality of life in every aspect of what we do."
Essentially, Urioste's role is "vibe coordinator." "The tone and the mood of the community come back to Life Enhancement — making sure that everybody feels a purpose in what they're doing, whether it's activities or our team members."
"Purposeful living, to me, is living a life and making choices that align with what feeds our soul," Urioste says. "That deep fulfillment can be felt in reaching a big goal or a short moment of mindfulness and can vary person to person, day to day. Purpose can be found in our work, expressing our creativity, connecting with others and especially ourselves. Purposeful living is at the heart of everything we do at Highgate and helping our residents live their lives to the fullest each and every day."
Flagstaff's First Year
There is a lot that Urioste is looking forward to — most notably, the Growing Groceries program. "We're excited to get our garden started," she says. "Some of our depositors have basil plants at home. We'll plant those straight into our garden. Our chef is super passionate and creative. We have a resident who comes from organic farming. Our community garden and growing groceries are going to be a fun focus."
She's also excited about activities to be enjoyed in the Flagstaff area, from Lowell Observatory and Meteor Crater to the Grand Canyon and Lava River Caves. "Flag has so much to offer," Urioste says. "I'm excited to get out and explore what our residents want to do."
But mostly, she's excited for the residents: "I can't wait to see them make this next chapter of their life their own and being a part of that."
To learn more about Highgate at Flagstaff's Life Enhancement Program, as well as our other signature programs, including our Holistic Approach to Wellness and Nutritious Delicious philosophy, download our Signature Programs Fact Sheet.