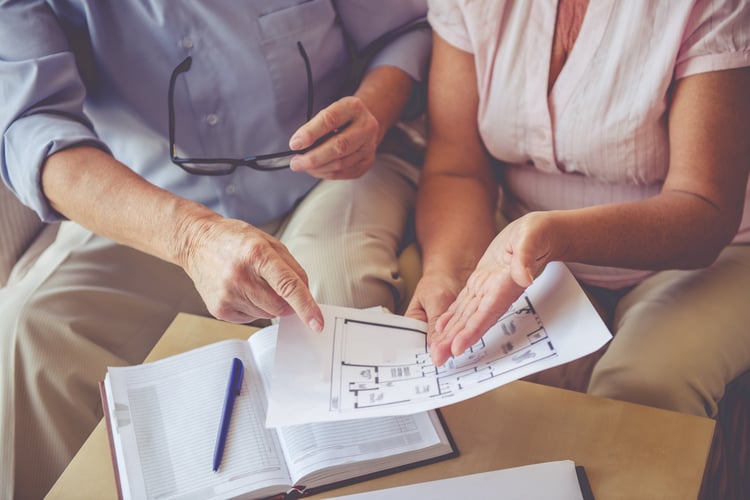 When your mom's doctor suggests you start considering senior living options, it's easy to get confused. Senior living is a broad term that includes everything from independent living and assisted living communities to nursing homes and dementia care communities. If you want to determine the best senior living option for your loved one, it's important to understand the key differences between these types of communities.
Independent Senior Living Communities
Independent senior living communities are designed for folks age 55 and older who don't require assistance with daily activities or skilled nursing. Residents typically live in private apartments, cottages, condominiums or single-family homes and have access to community dwelling spaces and common areas.
The staff at independent senior living communities don't provide hands-on medical or nursing care, but they make older adults' lives easier by taking care of things such as landscaping, housekeeping and meal preparation. There also typically provide senior-friendly surroundings and increased social opportunities.
Since health care or assistance with activities of daily living isn't provided, independent senior living communities are often least expensive of the primary senior living options. The price ranges from $1,500 to $3,500 per month, and seniors must use personal funds to cover the cost.
Other names for independent senior living communities may include retirement communities, age-restricted communities or 55+ communities, senior apartments, and continuing care retirement communities.
Assisted Living Communities
Assisted living communities are designed for older adults who need some assistance with activities such as bathing, doing laundry and managing medications. Residents typically live in private apartments, eat meals in a central dining room and have access to a social activities calendar, allowing seniors to stay as independent as possible while also receiving personal care and support services.
Staff, including medical professional, are available 24/7 to help with medications, activities of daily living, meals and housekeeping; however, they don't provide hands-on care for seniors with serious health conditions that require 24 hour monitoring by a nurse. Some assisted living communities also offer specifically designated memory care units.
The price range for assisted living depends on a few factors, including the size of apartment and level of care required. Some long-term care insurance policies can be used in assisted living, and Veteran's benefits may also be an option if your loved one is a veteran or the spouse of a veteran.
Other names for assisted living communities may include assisted care communities and personal care homes.
Learn more about assisted living by reading our free guide: The Definitive Guide to Assisted Living Facilities.
Nursing Homes
Nursing homes are designed for seniors who have complex medical conditions and need routine skilled nursing care. Residents typically share living spaces, eat meals in a central dining room and participate in activities if they are able.
Although there are doctors on staff, licensed nurses generally provide most of the help with daily activities, medical monitoring and intervention. Their work is often supported by physical, occupational and speech therapists. Some nursing homes also have a separate memory care unit.
Since nursing home residents have high care needs, the price ranges from $4,000 to $12,000 per month (or more). In addition to paying with personal funds, Medicare and Medicaid or long-term care insurance may also be an option.
Other names for nursing homes may include nursing centers, skilled nursing facilities and long-term care facilities.
Dementia Care Communities
Dementia care communities are designed to meet the specific needs of individuals with Alzheimer's and other dementias. Depending on the community, residents may live in private or semi-private apartments, and the communal living spaces are secured or locked to keep residents safe.
Since seniors with late-stage dementia need round-the-clock assistance with daily activities and personal care; experience changes in physical abilities, including the ability to walk, sit and, eventually, swallow; and lose awareness of recent experiences as well as of their surroundings, dementia care communities provide trained staff, specialized activities and ensure the ability of staff to care for residents with behavioral needs. Dementia care communities can be provided within an assisted living community, as well as in a nursing home.
The price ranges from $3,000 to $10,000 per month, and seniors can pay with personal funds or in some communities Medicaid. Long-term care insurance and other payer sources previously mentioned may also be an option.
Other names for dementia care communities include Alzheimer's care communities and memory care communities.
When choosing the right senior living option for your loved one, consider their needs, wants and personality. Keep in mind their situation could change in the future. An independent senior living community might be right today, but as their health and abilities decline, they might need to move to assisted living and eventually a nursing home. When considering which type of housing is best, consider a senior living option that offers a continuum-of-care system, which adapts to accommodate seniors no matter their care needs.