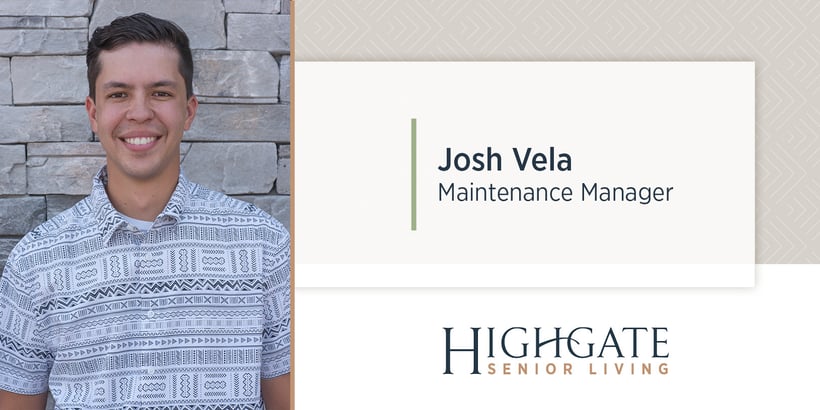 No more home maintenance or yard work — ever. Sounds wonderful, doesn't it? That's one of the many benefits older adults (and their families) have to look forward to when moving to assisted living, and that's where Highgate at Flagstaff's Maintenance Manager Josh Vela comes in.
Vela grew up in Bellflower, California, a suburb south of Los Angeles. "Growing up, I had big dreams: I wanted to be a starting pitcher for the New York Yankees," he says. "Obviously, that didn't pan out, but I am very happy with where I am in life."
When Vela was 19 years old, he got a job as a facility manager with a church in Los Angeles, and he's been working in maintenance ever since. He's worked in a variety of settings, including apartment maintenance, and says there's something special about senior living.
"Working at Highgate is very unique compared to other work I've done in the past," Vela says. "What makes it different is how valued I am as a team member. I've had jobs where I didn't feel valued and at times felt taken advantage of when it comes to my time and skills. Highgate was a great change for me."
Vela has really appreciated the people and culture at Highgate: "Since my first interview, everyone has been so friendly and made me feel welcomed and at home. Highgate is best described as a big family. I feel at home whenever I am at work. It has been a great experience and I can't wait until we open."
Vela had never considered working in senior living before he took the position at Highgate, but when the opportunity presented itself, he jumped at the chance.
"Serving people has always been something I love to do," he says. "I love helping people. Being able to repair things, especially things that may be important to a resident, is very fulfilling. There is nothing better than helping someone, and to be able to use my talents to help people for a living is awesome."
Moving into a senior living community can be a big change — but the whole Highgate team is excited to help. Vela and his team are on hand to help new residents establish a familiar environment and make Highgate feel like home.

"When it comes to moving in, I want to be able to help in any way possible," Vela says. "Hanging pictures, mounting TVs, installing any special requests by residents — whatever I can do to make their transition easier is what I am here for."
"My role at Highgate is to ensure the best living experience possible for our residents," Vela says.
That also means keeping the community clean and sanitized — something that is top of mind for families post-pandemic. Vela and his team play an important role in helping residents get settled into their new home and providing a community residents can be proud of allowing them to enjoy their newfound independence in a supportive environment surrounded by friends and neighbors.
"Keeping things well maintained not only gives the residents confidence in us and our team but also ensures that the residents can enjoy their time. This is their home."
Want to explore the features and amenities that make Highgate at Flagstaff feel like home — only better? Check out the Highgate at Flagstaff Community Fact Sheet.