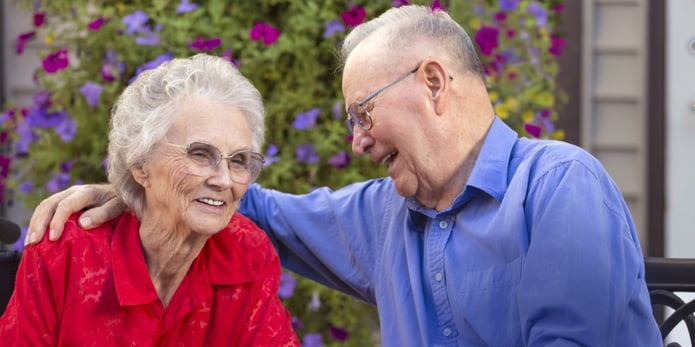 Looking for a friend or two to enjoy coffee with every day? Want to enjoy a dining experience without having to worry about grocery shopping or cooking?
Coronavirus has changed life as we know it: What used to be simple trips to the grocery store or visits to a friend's house for book club now come with cumbersome hurdles.
However if you're an older adult who lives at home — and especially if you live alone — it's possible that life wasn't as fulfilling as you had hoped it would be even before the pandemic swept the nation.
What Life at Home Is Really Like
For many decades, life at home was great: You lived with or near family and friends, or at least you could easily travel to see them often enough. You were a regular at your local coffee shop and the librarian knew you by name. Church was just a short drive away, and you were always signing up for classes at the senior center.
Now, due to age-related changes and restrictions, what does life at home really look like?
Maybe you're getting used to living alone after years of living with a spouse to suddenly living alone. Or perhaps you're adjusting to changes in the neighborhood around you. As neighbors move on and new families move in, you might feel less familiar with your surroundings. It's normal if these changes create feelings of anxiety or even fear in a place that once felt so safe.
You might also be noticing that you don't use your kitchen as often as before. Maybe you're tired of eating alone, or perhaps you simply don't have the energy to cook after a day of doctor appointments and errands. It's normal if you find yourself eating mostly convenience foods or quick snacks (though it's not good for your health and well-being).
Although you might love sitting in your recliner in the living room reading a book, it can feel lonely to have no one to talk to about it. Maybe most of your friends have passed or your kids are busy with their own lives. With COVID forcing many family members to limit visits, it's normal if you're feeling more isolated and disconnected.
There are subtle changes that you might not have noticed, either. For instance, are you dreading the day snow covers the driveway when the cozy winter months used to be your favorite time of year? Has driving become stressful, confusing, or exhausting? Are you struggling to get a good night's sleep because unexpected noises cause you to wonder if it is an intruder?
It's not unusual to want to stay in the place you've called home for so many years as long as you can. In fact, most adults say they want to stay in their homes when asked where they want to age.
Consider these two follow-up questions: Would you still want to live at home if you knew your family would have to take care of you? How would you feel about living at home if you knew you would be living alone?
Now imagine if you could move to a community where cooking dinner and washing the dishes are optional, where exercise classes and educational seminars are offered on campus, and where your friends live right next door.
What Life in an Assisted Living Community Is Really Like
That's right: Assisted living is more like college than your grandma's nursing home. However if you have preconceived thoughts about what assisted living is really like, you're not alone.
Assisted living is a relatively new concept, and the term often conjures up outdated images of an "old folks" home. Here are a few things you might be surprised to learn.
Assisted Living Isn't the Same as a Nursing Home
Unlike a nursing home, which is primarily a medical care facility, assisted living is primarily housing with the ability to select care options that meet your specific wants and needs. The most common services provided offered:
Housekeeping

Meals

Laundry

Transportation services

Social and wellness programs and activities

Medication management

Assistance with using the bathroom, dressing, and grooming
Many assisted living communities offer more than you would expect, including quality recreational programs, flexible dining options, and holistic health care in addition to providing medical services as needed.
Assisted Living Is Primarily a Social Setting
Many assume that assisted living communities are just like the nursing homes of yesterday, but the word "community" is much more descriptive of what assisted living can offer.
Surrounded by people their own age, residents become part of a loving, supportive community. Even during the coronavirus pandemic, community members participate in socially distanced exercise, sit on the patio discussing politics and grandkids, go on fishing outings, and celebrate birthdays together.
An ongoing schedule of activities makes it easy to get connected, develop a new hobby or interest, and stay active.
Assisted Living Offers Personal Freedom
Many older adults are worried that they will lose independence if they're not living at home anymore. In fact, the best little-known-secret about assisted living is that many people who live in assisted living communities are incredibly independent.
It seems counterintuitive, but many people find that they have more freedom in assisted living to enjoy their hobbies and interests than they did living at home. This is especially true for those who are limited in transportation options or worried that their medical diagnosis will disrupt their ability to participate.
Perhaps it's time you take back some of your independence and enjoy the lifestyle that best suits you.
Highgate Residents Share Their Stories
At Highgate Senior Living, every resident has a team of advocates dedicated to their health, safety, and well-being. Our programs are built around residents' interests, and individuals are encouraged to pursue new and old hobbies. The food is outstanding, the people are great, the care partners love what they do, and those with high needs get the best possible medical care.
But don't just take our word for it. Here are four residents who say that Highgate helped them make this chapter the most active, meaningful, and fulfilling yet.
"Here I don't have to be alone."
One of the biggest issues for older adults, especially during these risky times, is shrinking social circles. Although staying home may be the most comfortable thing to do, it leads to limited meaningful interactions with others and a lack of purpose. This can cause energy loss, depression, and even illness.
"At this age, I did not leave home that much," says Marjorie, a resident at Highgate at Great Falls. "I was there alone."
At Highgate, residents become part of a family and have a wealth of opportunities to forge new friendships. Through Purposeful Living and Life Story interviews as well as the Resident Ambassador program, Highgate team members help older adults gain access to a strong social environment and support network.
"Here I don't have to be alone," Marjorie says. "There are others I can talk to, and we have the same interests. That's been a nice thing, too. There are people from different sections of life, and I've learned something along with making friends."
"You can choose."
One of Michael's favorite parts about living at Highgate is the freedom he has to live life the way he wants. Instead of spending his days trying to keep up with housework, paying multiple household bills, or figuring out what to cook for dinner, he now has the freedom to pursue passion projects and visit with new friends.
"You can enjoy some things with other residents if you choose to," says Michael, who lives at Highgate at Temecula. "They have all kinds of activities."
Whether it's a specialized meal at breakfast, a soothing massage to help ease anxiety, or a hot air balloon ride, team members at Highgate are given both the flexibility to create custom programs from community to community, as well as the budget to do so.
Highgate also coordinates transportation to outings, activities, and doctors' appointments. We understand that transportation enables residents to live more independently and ensures that they will be able to continue enjoying the activities they are accustomed to.
"Or you can choose to just have some downtime and alone time when you need it," Michael says.
Living in an assisted living community doesn't mean you relinquish your personal space. Residents live in their own private spaces and have the freedom to come and go as they please. If you ever want a break from the community, you can go back to your home 'suite' home, close the door behind you, and have some time to yourself.
"I don't have to worry about my safety here."
Research shows that nearly half of all older adults have a fear of falling. The problem is that when people are scared of falling, they stop doing things. As they slowly withdraw from life socially, their mental health declines. The more immobile they are, the worse their physical health becomes. Ultimately, the shocking truth is that immobility actually makes them more susceptible to falling.
"I was not safe in my own home anymore," says Laverne, a resident at Highgate at Great Falls. "I had been falling, and my kids are both working and very busy."
Highgate communities are designed to provide a safe and comfortable living environment.
Grab bars in the shower and ramps instead of stairs not only help older adults stay mobilized but also reduce the possibility of experiencing an injury due to falling. And if a fall does happen, trained professionals are working around the clock, so help is never far away.
"I don't have to worry about my safety here," Laverne says.
"This whole place is your home."
Home is where the heart is, right? Well, at Highgate, the team members and care partners alike have plenty of heart.
"The friendliness, the true friendliness that goes on — it's not a sense of putting on a show or anything like that," says Barbara, a resident at Highgate at Great Falls.
Home is also the place where you can feel safe — an environment where you can be free to be yourself, where you can feel comfortable and at peace. That is why the team at Highgate goes out of their way to help residents reconnect with what makes them feel valuable and important and needed. Thanks to Highgate's Purposeful Living philosophy, residents — no matter what age or what ailment — are supported in living meaningful and fulfilling lives.
"This is their home," says Angie Larrabee, Highgate's manager for Life Enhancement Programming. "This is their life."
Barbara adds: "This whole place is your home."
For many seniors, including Marjorie, Michael, Laverne, and Barbara, the home they have at Highgate is better than the big empty house they lived in alone.
Interested in learning more? A visit to one of our communities might just surprise you …