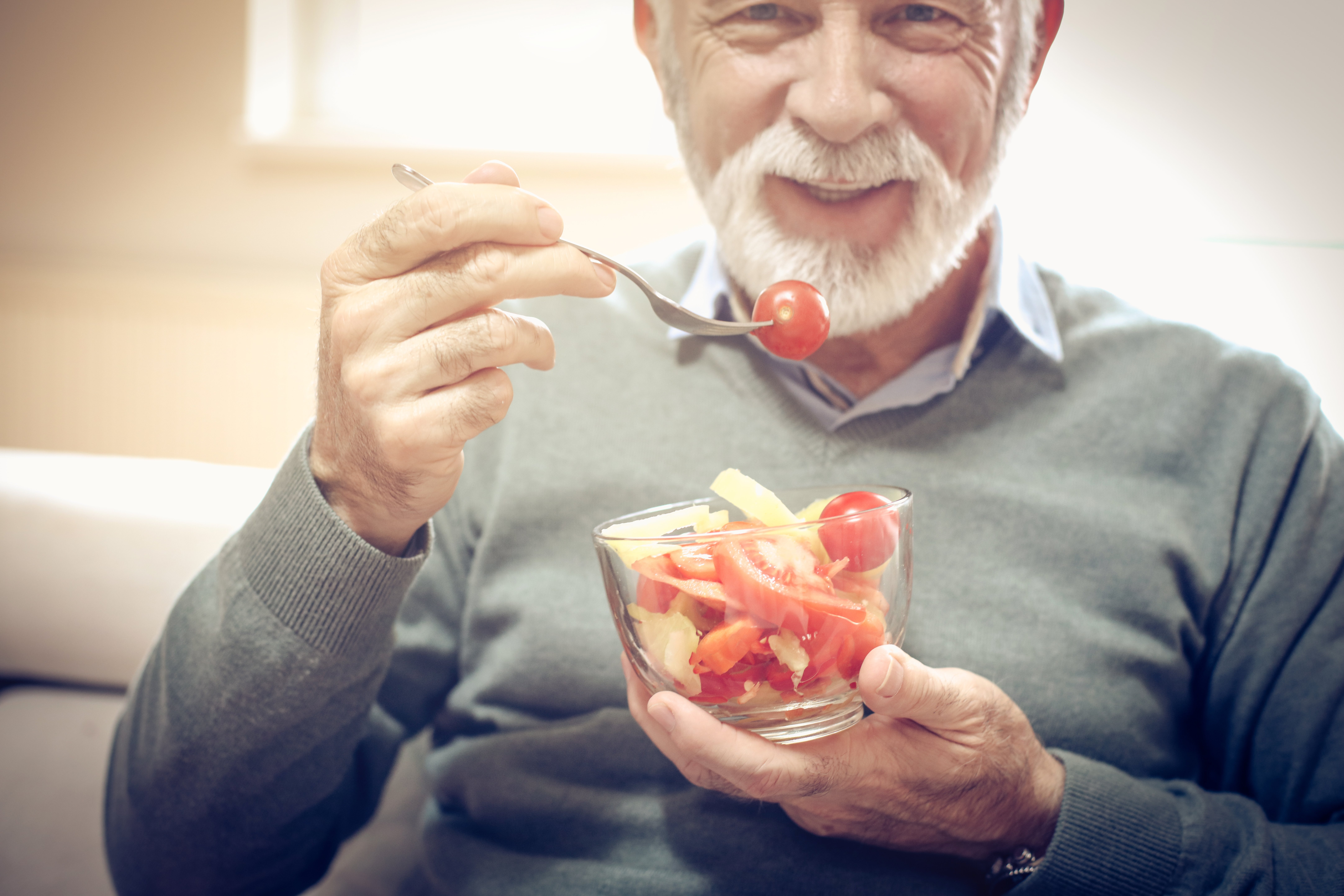 Think back to the last time you ate your favorite food. How did it make you feel? Eating is one of the great sensual pleasures in life. Diving into a plate of Mom's lasagna or devouring a nice, juicy steak can be a real joy, something that makes life seem full and wonderful. Did you know there are actually foods that are scientifically shown to lift spirits?
Researchers have studied the association between foods and the brain and identified numerous nutrients that can combat depression and boost mood, including calcium, iron, magnesium, omega-3 fatty acids, vitamin B6, vitamin B12, vitamin D, and zinc.
So that's what Khalid Iraqui serves the residents at Highgate Senior Living communities. As the Director of Dining Services, the five-star chef is committed to cooking nutritious, delicious made-from-scratch food.
Mmmmm… What's That Aroma?
When you walk into the kitchen at a Highgate Senior Living community, the first thing you're going to notice is the fragrance — the wonderful aroma of onions, garlic, and herbs. The second thing you're going to notice is the "organized chaos," as Iraqui calls it, of chopping, dicing, and sautéing.
"There's lots of commotion, which is good," he says. "When you have that noise, that means things are made from scratch. If you walk into a spotless kitchen with no sound, that's when you need to leave because you know they don't cook in there. Cooking is messy."

"That's really it," he says. "It's simple."
If you're craving a nutritious, delicious meal — that even ends with one of Highgate's signature sweet delights — try these three exclusive recipes developed by Iraqui for Highgate Senior Living.
Soft Italian Herb Bread (Focaccia)
Ingredients
2 ¾ cups all-purpose flour

1 teaspoon salt

1 teaspoon white sugar

1 tablespoon active dry yeast

1 teaspoon garlic powder

1 teaspoon dried oregano

1 teaspoon dried thyme

½ teaspoon dried basil

1 pinch ground black pepper

1 tablespoon vegetable oil

1 cup water

2 tablespoons olive oil

1 tablespoon grated Parmesan cheese

1 cup mozzarella
Directions
In a large bowl, stir together the flour, salt, sugar, yeast, garlic powder, oregano, thyme, basil and black pepper. Mix in the vegetable oil and water.
When the dough has pulled together, turn it out onto a lightly floured surface and knead until smooth and elastic. Lightly oil a large bowl, place the dough in the bowl, and turn to coat with oil. Cover with a damp cloth and let rise in a warm place for 20 minutes.
Preheat oven to 450 degrees F. Punch dough down; place on greased baking sheet. Pat into a 1/2-inch thick rectangle. Brush top with olive oil. Sprinkle with Parmesan cheese and mozzarella cheese.
Bake in preheated oven for 15 minutes, or until golden brown. Serve warm.
Aluminum foil can be used to keep food moist, cook it evenly, and make clean-up easier.
Lentil Soup
Ingredients
1 pound crushed tomatoes

1 onion

¼ cup olive oil

2 stalks celery, chopped

2 cloves garlic, minced

1 bay leaf

1 teaspoon oregano

2 cups dry lentils

8 cups water

½ cup spinach, rinsed and thinly sliced

2 tablespoon fresh lemon juice

Salt to taste

Ground black pepper to taste

1 tablespoon cumin

Fresh cilantro leaves
Directions
In a large soup pot, heat oil over medium heat. Add onions, carrots, and celery; cook and stir until onion is tender. Stir in garlic, bay leaf, oregano, and cumin; cook for 2 minutes.
Stir in lentils; add water and tomatoes. Bring to a boil. Reduce heat and simmer for at least 1 hour. When ready to serve stir in spinach, and cook until it wilts. Stir in lemon juice, and season to taste with salt and pepper, and more lemon juice if desired. Garnish with cilantro leaves.
Pecan Banana Bar
Ingredients
3 cups pecans, toasted,

1/2 finely ground and 1/2 coarsely chopped

3 cups dried banana

2 cups pitted dates

3 cups old-fashioned oats, finely ground

4 tablespoons oat bran

1/3 cup ground flaxseed

4 tablespoons wheat germ

1 teaspoon coarse salt

1 teaspoon ground cinnamon

1/3 cup brown-rice syrup or honey
Directions
Preheat oven to 325°F. Place dates in a medium saucepan, cover with water, and bring to a simmer. Drain. Place and puree in a food processor until smooth. Coat an 18" x 13" baking pan with cooking spray. Mix oats, nuts, bananas, bran, flaxseed, wheat germ, salt, and cinnamon in a large bowl. Mix in date puree and brown-rice syrup or honey. Press mixture into pan. Bake until center is firm and edges are lightly golden, about 25 minutes. Let cool in pan on a wire rack. Cut into 20 bars.
---
For more health bar recipes, as well as information about the importance of nutrition for seniors and healthy eating tips for older adults, download our eBook Nutritious Delicious: A Guide to Highgate's Unique Dining Program.