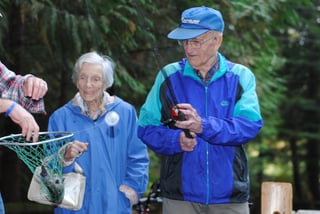 Ziplining, hot air balloon rides, and a trip to Yellowstone National Park. Likely not your first thoughts when you think of activities in an assisted living facility. But at Highgate, "status quo" isn't our style.
Sure, there's Bingo, sing-alongs, and exercise, but for our more adventurous residents, our residents looking to try something new, and our residents who have that one thing on their bucket list they still haven't marked off, there's a whole lot more.
"Our philosophy is that we can do just about anything," says Christal Kowzan, Life Enhancement Coordinator at Highgate in Bellingham. "It might be heavily adapted, but if it exists and we can get to it, I'm going to try to get it done."
Residents' bodies might not work like they used to, "but they're still very young at heart," says Melanie Danielson, Executive Director at Highgate in Vancouver.
"They're still playful and want to have fun. There's nothing wrong with bingo, but there are other things besides bingo. We've done go-karts, zip lining and indoor skydiving. Residents are proud of themselves. They have bragging rights and can't wait to tell their grandchildren."
Residents' Interests Drive the Activities Calendar
At Highgate, we've devoted ourselves to helping every resident live a life of purpose. This means that we really get to know our residents — their stories, their families, their interests and their passions — so that no matter what age or what ailment, we can support them in living a meaningful and fulfilling life.
"I get two or three ideas a day," says Tiffany Van Heel, Life Enhancement Coordinator, Highgate in Bozeman. "We don't create an events schedule for residents. The residents create the events," she says. "They ask for it, and we make it happen. I love it when they can look at the events calendar and say, 'That event, that was my idea.'"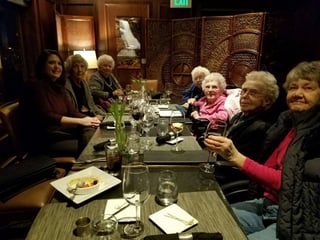 Activities that connect residents to their pasts are among some of the most popular. "Our residents really like things like going out to hand-feed baby cows," says Kowzan. "I'll hear things like 'I haven't done this in years!'"
CEO Howard Addison shared, "Life at Highgate is full of choices. We make it our business to find out the individual preferences of our residents, who have the freedom and flexibility to live a life that is truly their own."
At Highgate, we believe the secret to living well, well into old age, is engagement. Staying mentally, physically, socially and spiritually engaged helps stave off unhappiness, senility and ill-health. Part of putting this into practice is remembering what it is we love to do and then continuing to do it. The other part is being open to new experiences, making new friends and learning new skills. Helping residents do these things is our purpose.
Over the years, Highgate residents have suggested some pretty interesting outings. Two residents at Highgate in Bozeman marked a hot air balloon ride off their bucket list.
And, residents from Highgate in Billings made an overnight trip to Yellowstone National Park and enjoyed a picnic near Old Faithful.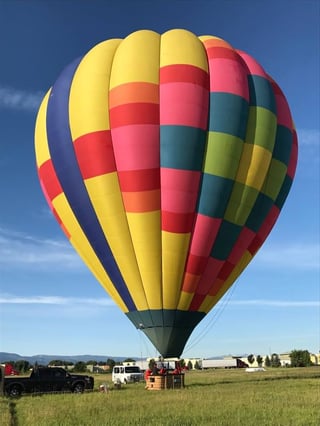 Activities can give residents an opportunity to share the things they love. "On Tuesday evenings, we have resident-led games," says Kowzan. "Some like particular games like cribbage, Rummikub or poker. They love leading and sharing these games with other residents."
Intergenerational Activities
Intergenerational activities allow Highgate residents to engage with children of various age groups.
Residents from Highgate at Billings have been regularly visiting a local daycare for about a year. "They help the children with everything from numbers, reading and letters, to crafts and flying kites outside," says Bridget Woods, Life Enhancement Coordinator at Highgate in Billings. "They've made incredible connections with the kids," says Bridget Woods, Life Enhancement Coordinator, Highgate at Billings.
"One of the regular visitors is a woman with dementia who doesn't recognize some of her own family members," says Woods. "She and a little girl at the daycare, when they see each other, run into each other's arms. She has a bond that is sticking with her. It's one of the most touching things I've ever experienced."
Whatever the activity, the goal is the same: purposeful living. "I'm driven by what people's purpose and passions are," says Van Heel. "Being able to create experiences around unique aspects of who these people are. I want every day to be a really good day."