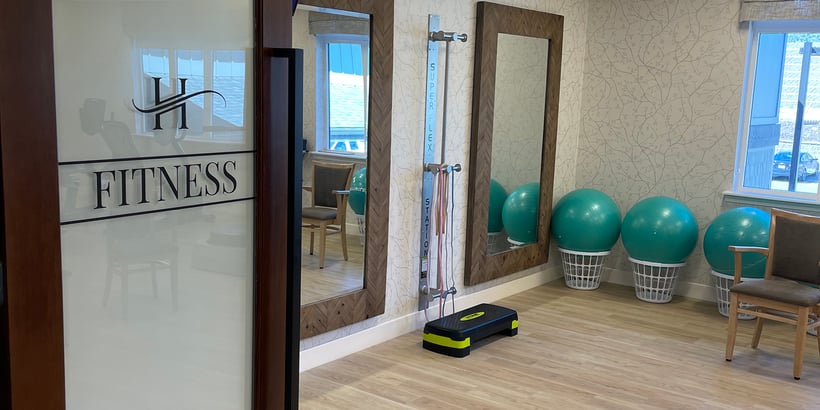 If you missed Highgate at Flagstaff's Grand Opening and aren't ready yet to schedule a tour, you might still be wondering what the inside of Flagstaff's newest assisted living and memory care community looks like.
It's far from the cold, institutional setting that many assume senior living communities to be. Walk up to the building, and you'll see beautifully landscaped gardens and a courtyard with raised garden beds for residents with green thumbs. Inside the community, you'll see thoughtful design merge with leading-edge technologies to create a home-like, enriching environment that supports them holistically.
Read a little bit more about Highgate at Flagstaff's features and amenities, and then check out the slideshow for a behind-the-scenes tour of the assisted living and memory care community.
How Highgate Supports Body Wellness
For the body, Highgate at Flagstaff has a Wellness Concierge who pampers residents with haircuts, perms, and more in the Salon. Stop by the Spa for a massage and aromatherapy. There's even a separate Foot Spa. Wondering if Dad will feel comfortable in the Salon? Men have a place designed just for them. In the Barbershop, they can get haircuts and have their beards trimmed. In the Fitness Room, residents do exercise classes like Sit & Be Fit as well as activities like yoga and chair yoga.
Unlike nursing homes, which are designed for those who have complex medical conditions that need skilled nursing care and more so resemble a hospital setting, Highgate at Flagstaff's medical care is discrete. You might not even notice the medicine carts, which look more like cabinetry. Tasteful and classy, the medicine carts complement the decor, allowing care partners to distribute medications without drawing a lot of attention.
How Highgate Supports the Mind
For the mind, Highgate at Flagstaff has a diverse activity calendar that supports and stimulates the brain.
Due to resident preferences, activities are subject to change, but in the Manor, the assisted living side of the community, you might see residents playing trivia, brushing up on their computer skills in Tech Time, participating in History Buff discussions, or playing cards. In the Cottage, the memory care side of the community, residents play dominoes, work on puzzles, and attend musical performances or cooking classes.
How Highgate Supports the Spirit
Social opportunities are the backbone of the senior living community, which has a billiards table and a few poker tables. Every Monday, ladies gather in the salon for manicures. On Tuesday, there's a social baking event. On Wednesday, men have "Bronuts," a weekly coffee and donut social hour. Thursday night is movie night. Every Friday, there is a happy hour social in the pub. Saturday night features Wine & Dine. On Sunday, residents who want to gather for Catholic Community. Others might enjoy meditative music.
Highgate's core values — devotion, energy, innovation, integrity, and leadership — are seen throughout the community: One bulletin board features the quote, "Be the reason someone feels welcomed, seen, heard, valued, loved, and supported." A nearby table has a suggestion box that says, "Make a difference. Offer a suggestion."
A Look at the Spacious Suites
Highgate at Flagstaff offers ​​60 suites — with studio, one- and two-bedroom options — for assisted living residents and 32 spaces for individuals with mid- to late-stage cognitive impairment. There are a variety of suite sizes, styles, and views, and some can comfortably fit a king bed.
The rooms feature spacious walk-in closets. Each porcelain-tile shower has a bench for safe showering. Every suite has its own washer and dryer. The bathrooms in the companion suites in memory care are split so that the toilet and vanity are in separate rooms. That way, residents never run into a situation where one resident is showering and the other can't use the restroom.
Slideshow Tour of Highgate at Flagstaff
Check out this slideshow for a behind-the-scenes tour of Flagstaff's most unique concept in senior living.
Want to see the community for yourself? Schedule a tour today!