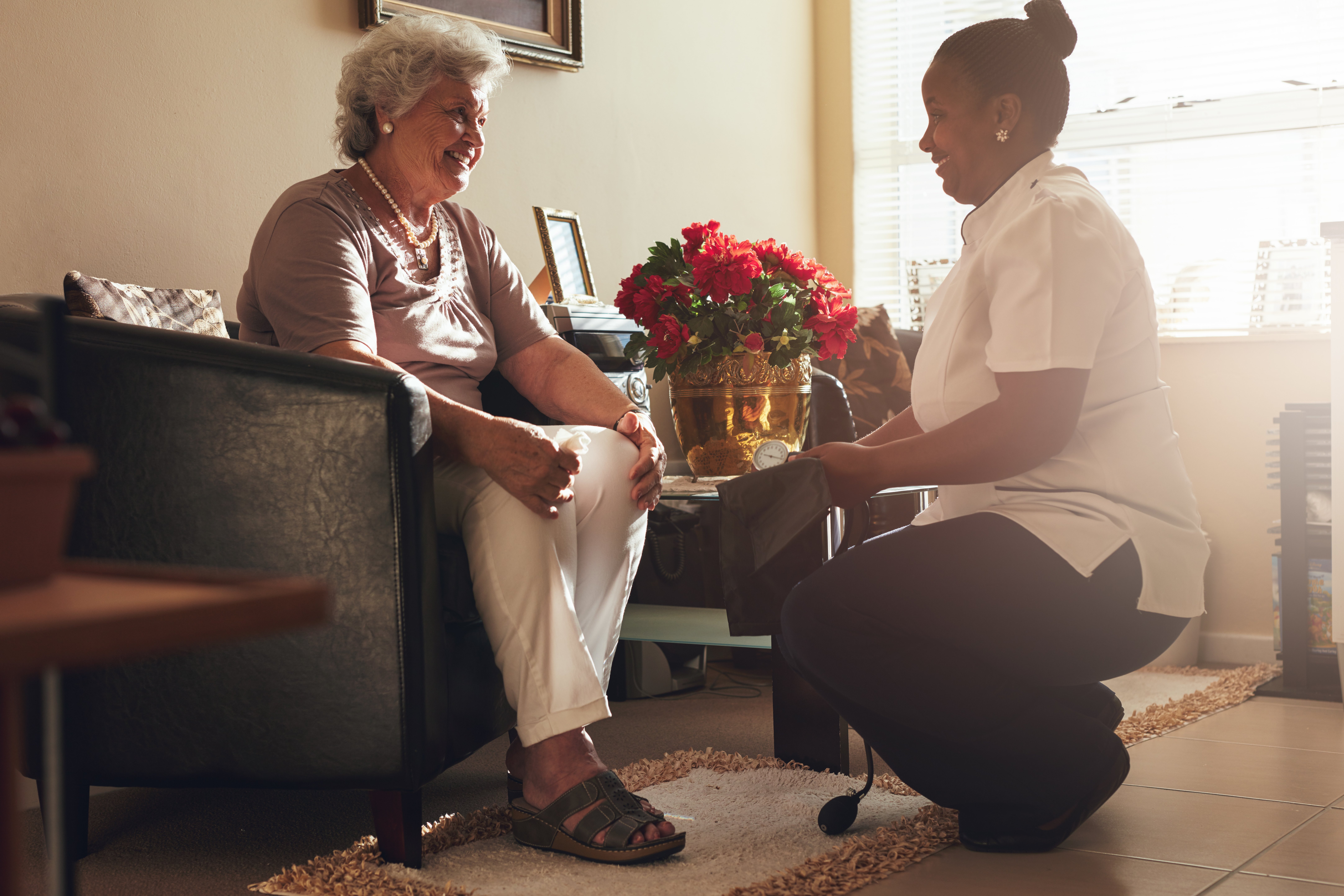 If you're like most people, you have a few reasons you're hesitant to consider memory care for a loved one.
Maybe you've heard that memory care facilities isolate residents with dementia from the rest of the community. Or perhaps a friend told you about an article she read online about memory care staff who sedate residents instead of working with surprising behaviors.
These are valid reasons to be concerned. Not all memory care communities are created equal. But there are a lot of reasons why memory care at Highgate Senior Living is different than what you might expect.
Choosing the Cottage
Highgate provides safe, compassionate, round-the-clock care in the Cottage, a community designed specifically for residents with memory loss. It's a cozy, secure environment with highly trained care partners whose mission is to understand the needs, desires, and routines of each resident in order to personalize their care.
"People who have seen other memory care communities are concerned that their loved one won't be well-attended to and well-cared for. They're worried about the basics: Are they eating? Are they clean? Are they well-fed? Are they safe? Are they well-stimulated?" says Alma Macy, Community Relations Coordinator at Highgate at Temecula. "After they've been in Highgate, many family members find that their loved one is not only much more engaged, but they're actually thriving."
Moving to the Cottage
When you first walk into the Cottage, you might see residents in the dining room or the living room. Sometimes they're doing an activity. Maybe they're at a meal. What you see will be different depending on which community you're in, but one thing will always be true:
"The care partners will be interacting with the residents and providing what they need in that moment," says Lena Zaeske, Memory Care Coordinator at Highgate at Bozeman.
As you continue walking the halls, you'll notice that the building is constructed with elements specifically designed for people with memory loss.
Living at the Cottage
In a white paper co-published by design firm Perkins Eastman and the Alzheimer's Foundation of America, titled "Excellence in Design: Optimal Living Space for People with Alzheimer's Disease and Related Dementias," the authors outline four key guidelines for the design of memory care communities that facilitate high-quality, person-centered care.
Minimize overstimulation

Introduce the familiar

Provide easy and supportive wayfinding and orientation

Accommodate both residents and their families
You'll notice these concepts implemented through the Cottages at Highgate communities.
Wayfinding and Orientation
For example, at Highgate at Bozeman, the Cottage features a layout that allows residents to wander without getting lost.
"It has a layout where you can walk the room's border," Zaeske says. "You can walk in a complete circle, and you don't have to worry about getting lost because if you keep walking, you'll eventually make it back to the common area. It's great for our busier residents who like to walk or get into things and want that interaction going on around them."
Another key element of many Cottage communities is an easily accessible garden with a simple circular path, which gives someone with dementia a secure place to go outside and lessens the feeling of being cooped up.
Entry and Egress
Many people with dementia feel the need to wander or think they are supposed to be somewhere, which can lead to agitation or elopement attempts. When designing Highgate's memory care communities, entry or exit points were de-emphasized.
"When you're coming out of the Cottage at Highgate at Bozeman, we have a back hallway that's been designed to look like a library," Zaeske says. "It helps with exit-seeking because residents don't feel the need to try to get out that door."
Quiet Spaces
Highgate at Bozeman is the only Highgate location that also currently offers the Chalet, a memory care community for residents who can get overstimulated easily. It's a little quieter and more serene than the Cottage. By offering two distinct memory care communities, Highgate at Bozeman care partners have the opportunity to place a resident either in the Cottage or the Chalet based on their personality or need.
"We have a few residents who live in the Chalet who have very poor vision, but their hearing is great," Zaeske says. "You can understand how the Cottage might be overwhelming to them. One of them lived in the Cottage for a week until we had a room available in the Chalet. She's done so much better in the Chalet. the Cottage was just too much. In the Chalet, she participates, and she sits in the common area, but it's at the right level for her."
Support for Family Involvement
All Highgate communities encourage visitors anytime and invite family and friends to join their loved ones for frequent family events.
Highgate at Prescott hosts reminiscing events where friends and family members can come share life experiences, memories, and stories from the past with their loved one. This type of activity not only brings up happy memories and good feelings but can also give people with dementia a sense of competence and confidence through using a skill they still have.
Ultimately, once that caregiving role is shifted to Highgate, you are more easily able to enjoy the relationship with your loved one again.
"We've seen family caregivers experience peace of mind once their loved one starts receiving memory care at Highgate at Temecula," says LaTresh Walker, Healthcare Director of Highgate at Temecula. "They are able to be the child or spouse again and rest easy knowing that their loved one is getting the best care possible."
For more information about memory care at Highgate, download our eBook Life at the Cottage: A Guide to Highgate's Unique Approach to Memory Care. You'll learn about Highgate's positive approach to memory care and the training provided for care partners, how memory care can help your loved one live a meaningful and fulfilling life, and how shifting the caregiving responsibilities to Highgate allows you to simply enjoy the relationship with your loved one again.