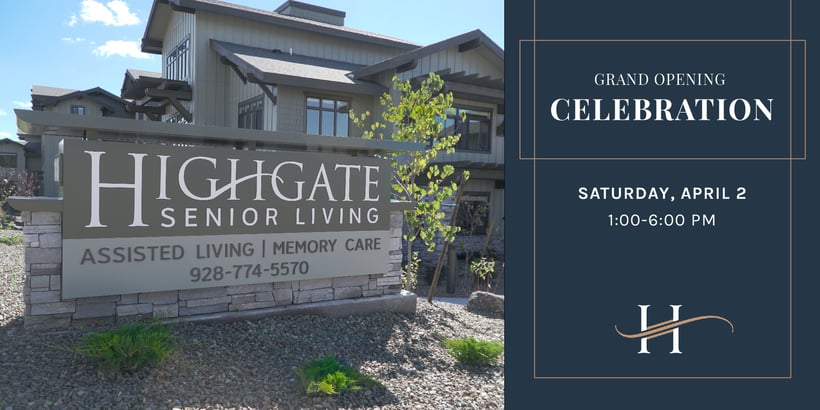 Highgate at Flagstaff offers senior care services in the heart of Flag. Join us on April 2, 2022, from 1 to 6 p.m. for an open house and learn more about Flagstaff's most unique concept in senior living.
"We are thrilled to celebrate the grand opening of Highgate at Flagstaff," says the senior living community's Executive Director Leslie Blum. "Highgate offers more than just senior care — we're a vibrant community that celebrates the unique life stories of each resident and provides a purposeful way of life."
At the grand opening event, you'll have the opportunity to tour the new assisted living and memory care community, which features 80 pet-friendly apartments for singles and couples. In addition to touring the apartments, you'll get a behind-the-scenes look at everything the community has to offer, including a restaurant-style dining room, on-campus beauty salon and spa, an exciting calendar of events and outings, and other brand new amenities.
You'll enjoy hors d'oeuvres prepared by the talented in-house chef, celebratory drink specials, and live entertainment. Blum as well as Healthcare Director Rhiannon Samples, Resident Care Coordinator Crystal Shortman, and Community Relation Coordinator Angela Kaufmann will be on hand to answer any questions you might have.
Highgate at Flagstaff is conveniently located at 1831 N. Jasper Drive on McMillian Mesa across from Buffalo Park. No need to RSVP. Just stop by and make yourself at home.
Whether or not you can make it to the celebration, here are five things you might not know about Flagstaff's newest senior living community.
5 Things You Didn't Know About Highgate at Flagstaff
1. Residents Order from a Full Restaurant-style Menu
At some senior living communities, residents might have two choices for lunch and dinner. Highgate at Flagstaff offers a restaurant-style menu where food is cooked to order.
Menus feature open-fire cowboy steak with grilled onions, seared salmon, hand-breaded eggplant parmesan, and spinach and cranberry salad. Gluten-free and vegetarian items are also available.
In addition to a seasonal menu that features Chef's Choice, Resident's Choice, and Team Member's Choice meals, Highgate at Flagstaff also offers an anytime menu. Sandwiches and snacks are available around the clock.
"Which is especially handy for those who enjoy a bedtime snack or wake up hungry in the middle of the night," says Flagstaff's Dining Service Chef Supervisor Antonio Aizon.
2. Pets Are Welcomed and Cared For
Not all assisted living communities allow pets, but asking a loved one to give up their furry friend to move into senior living can be traumatic.
Highgate at Flagstaff not only offers pet-friendly apartments but also has staff who help residents care for their pets to ensure the health and happiness of both the seniors and their pets. For example, if a resident is no longer able to care for their pet, Highgate creates a pet care plan, which might include taking the pet for a walk every two hours, cleaning the litter box, or making sure they have fresh water.
"We're all about empowering seniors to live life to the fullest," Blum says. "Pets not only enhance the life of the resident, providing them love and purpose, but they enhance the lives of everybody in the community."
3. All Suites Have a Washer and Dryer
Whether a resident lives in the community's assisted living side, called The Manor, or the memory care side, called The Cottage, they'll have access to a variety of suite sizes, styles, and views — and each suite has its own washer and dryer.
"When people come to see the community for the first time, I often hear them say, 'Wow, it's so warm and bright," Blum says. "I think some people still assume that senior living is like a nursing home and that it'll feel sterile or like a hospital. But these are people's homes: The suites are spacious, the hallways wide, and the windows big."
4. Care Focuses on Mind, Body, and Spirit
Many senior living communities take a traditional approach to treating chronic pain and illnesses. This often includes relying on prescription medication to cure or treat diseases, illnesses, and injuries. But conventional medicine only addresses the physical dimension of health.
Highgate at Flagstaff, on the other hand, takes a holistic approach to care, where the focus is on the well-being of the whole person — body, mind, and spirit. By integrating conventional medicine and complementary therapies, such as aromatherapy and massage, holistic health care contributes to overall wellness more so than focusing on any single aspect of well-being.
5. Residents Have Access to Transportation Services
Many senior living communities have an activity bus that transports residents to and from community outings. But if a resident needs a ride to a doctor appointment, then they need to arrange transportation through family and friends.
Highgate at Flagstaff offers additional transportation services. Every Tuesday and Thursday, a bus takes residents to medical appointments. The rest of the week the bus shuttles residents to outings and activities.
Highgate at Flagstaff's Signature Programs
Our programs are designed to meet the expectations of each person who calls Highgate home. From the social butterfly to the food connoisseur, our community offers a whole lot more than just a place to lay your head at night.
To learn more about our collection of signature programs, join us on April 2, 2022, from 1 to 6 p.m. for our grand opening, or download our Signature Programs Fact Sheet.