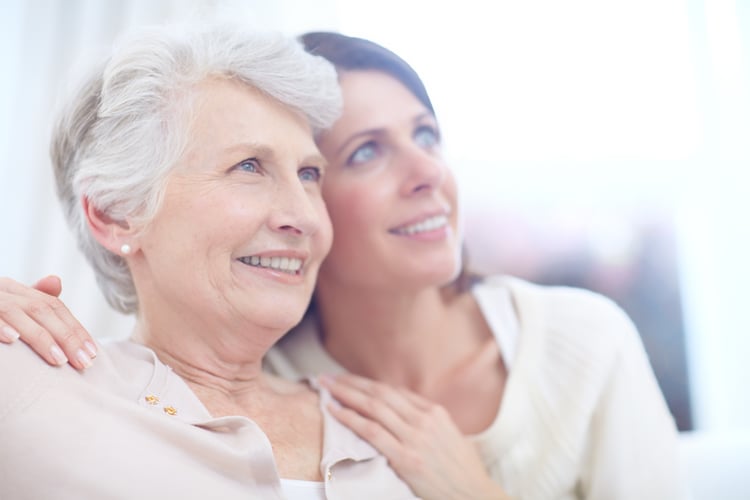 For most adult children with elderly parents, it's not easy to suggest a move from the home that they've lived in over the years into an assisted living community. In fact, it can be downright intimidating to think about having that kind of conversation with your parent.
Whether hesitant because of a potential fallout, or hesitation because you're unsure exactly when to bring it up, here are 10 warning signs to look for that indicate when it's probably time to approach the subject.
1. Social Isolation.
For elderly people living alone, staying in the house less and less inevitably leads to social isolation. The causes of this social withdraw are varied. It could be from a fear of falling or because of poor access to transportation. Whatever the reason, research agrees that social isolation is a major risk factor for dementia, hospital readmission and falling.
2. Loneliness.
Research shows there is a "significant relationship" between loneliness and depression. Depression, in the elderly, can be dangerous, putting them at increased risk of suicide, weight loss and increased use of drugs and alcohol.

3. Falls.
Falling can pose some serious health risks. In a 2016 Centers for Disease Control and Prevention report, nearly 29 percent of adults over age 65 suffered a fall which resulted in seven million fall injuries and 27,000 deaths. Besides potentially being unable to call for help, a fall with serious injury can lead to several other health complications.
4. Forgotten Medication.
Older adults often skip doses out of forgetfulness, and that is especially likely, research shows, when they take three or more drugs per day or when they have dementia or depression. While a pill organizer can be helpful, it can be difficult for some to keep days of the week straight, especially if isolated or forgetful. In addition to forgotten medications, taking the wrong (or too many) pills can also become a problem.
5. Unsanitary Conditions.
If your loved one has fallen behind on chores to the point where their home has a foul odor, piles of dirty dishes in the sink and on the counter, spoiled food in the refrigerator, or stained and soiled carpet and furniture, it could be a sign of physical incapacity or of self-neglect; in either case intervention is needed. Self-neglect is common among older adults and is associated with a significantly higher risk of death within one year.
6. Weight Loss.
In elderly adults, weight loss can be dangerous because the body loses not just fat but also muscle. Muscle loss is already a normal process of aging, and this accelerated muscle loss puts older adults at increased risk of falling and impairs their ability to live independently.
7. Not Cooking at Home.
Decreased appetite is a common occurrence in older adults, and its causes are many, including a natural decrease in taste and smell, especially after age 70; depression; dental problems making it painful to chew; and medication side effects. Diminished appetite can lead to weight loss and decreased muscle mass, which is a hazard for elderly people. An early sign of decreased appetite, especially in people who usually like to cook, is not cooking meals at home.
8. Unable to do Daily Activities.
Whether it's avoidance of physically climbing into a bathtub, or difficulty making it to the bathroom in time, an inability to clean up after themselves puts aging adults in danger. If your loved one is unable to bathe, practice good hygiene habits, or get dressed alone, they should not live alone.
9. No Longer Able to Drive.
In most parts of the country, driving is a key predictor of mobility and self-sufficiency. When an older adult no longer drives, it jeopardizes their independence, access to essential services and puts them at risk for social isolation.
10. Anxiety.
Symptoms of anxiety are both mental — inordinate worry or nervousness — and physical — chest pain, sweating or gastrointestinal distress. As much as 14 percent of older adults have an anxiety disorder, and an additional 27 percent have symptoms short of a disorder that nonetheless impair their ability to function. Anxiety can worsen a person's physical health and diminish feelings of well-being. The combination of medication and therapy is an effective treatment but can be difficult to adhere to for older adults with mobility challenges.
Having the conversation with a parent about Assisted Living can be intimidating. Still not sure if it's time? Take our quiz to learn more about if it's time to have the chat.