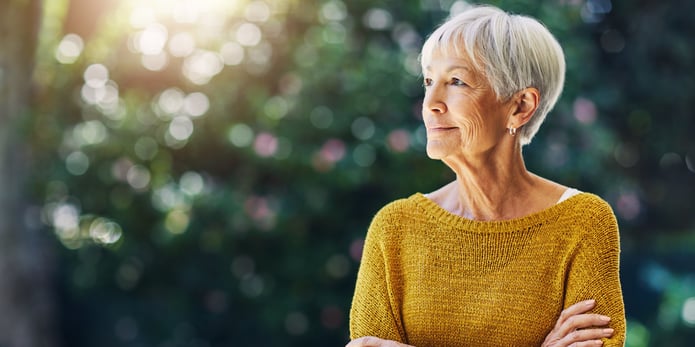 Carolyn never married or had children. As she got older, she didn't have the built-in support system many other older adults rely on.
Although many seniors plan for aging with the help of a spouse, partner, or adult child or children, more than 1 in 5 Americans older than 65 are, or are at risk of becoming, so-called "elder orphans" or solo seniors.
If you don't have a family caregiver, it can pose some unique challenges as you age, especially when it comes to long-term care planning.
For example, when someone is aging alone, it is often not clear who can and will be available to support them or who will serve as a power of attorney (POA). "I don't even like to think about it," says Kathleen Williams, Executive Director of Highgate at Temecula, of seniors who don't have a power of attorney.
Without a POA — or someone who acts as a trusted representative in financial and/or health care decisions if you become unable to make them for yourself — solo seniors are at risk for lack of care, inadequate care, or care that goes against their wishes.
"One of my first residents here in Temecula, her husband had passed, and she was childless by choice," Williams recalls. "The only person who was close was a nephew who lived three hours away. It was hard for him to take on her care. When she moved in, we wanted her here, but we also wanted someone to partner with us. She was having to ask a neighbor to sign a 42-page contract, and that's a big responsibility for a neighbor. That's a challenge."
So how does someone like Carolyn plan for the future? Here are three tips for seniors who are aging alone to not only get the care and support they need but also the social network to help them feel connected and happy.
1. Think About How You Want to Age
Before you can make a plan for the future, you need to think about what you want from that future.
For instance, do you want to live in an area that's walkable? Or do you want access to mass transportation? Do you want to live in a warmer climate? Or do you enjoy a winter wonderland? Do you want to find a place where you can live long term? Or do you want to find a home where a caretaker can move in?
The key, aging experts say, is to make a plan for the future when you're still healthy.
"Older adults should begin exploring senior living options before it becomes necessary," says Keith Richstad, Executive Director of Highgate at Bellingham. "It's always good to know what options are available as it can be stressful making these decisions when that person is now requiring a transition to a senior living community. Those who begin exploring early and understand what options they do have are most often better prepared to make a decision that they will feel comfortable with."
Solo seniors agree. Carolyn, for instance, was living in her own home when she decided to move into Highgate at Wenatchee. "She decided it was time to move into an assisted living community when she was more independent so that the staff working there would know her well before she needed more care," recalls Jean Lehman, Executive Director of Highgate at Wenatchee. "She wishes that other seniors would be more proactive in visiting communities and making a decision when they are able to versus waiting too long and having the decision made for them."
2. Get Your Affairs in Order
A power of attorney is like flood insurance after a massive storm: If you wait until you need it, you are already too late. Once you know what your wishes are for long-term care, make sure you name a medical power of attorney and financial power of attorney who can help carry out your wishes.
Don't worry: Naming a POA doesn't rob you of the ability to act in your own interest. It merely gives a second person the ability to do so as well if a sudden medical crisis or memory loss takes away your ability to make important decisions.
"If you lack capacity and have not named someone to be your power of attorney, then a petition will be made to the courts to request a guardian," Lehman says. "That means someone who does not know your likes and dislikes and wishes related to health care, CPR, or heroic measures will be acting on your behalf. It could mean that your life is extended because a guardian often feels obligated to do whatever possible to keep you alive, even if there is no quality of life. I have dealt with this situation two times in my career, and both were heartbreaking as it was not what the resident had voiced when they could share their wishes."
If you don't have anyone in your personal life to fill that role, such as a friend, lawyer, doctor, or clergy member, consider looking into a guardianship company or a fiduciary. That's what Carolyn did.
"She planned ahead and had set up a guardianship company to assist her as her abilities continued to decline," Lehman says. "She is very matter-of-fact and indicates it was one of the best decisions she has ever made. She told me: 'I don't have to worry as the guardianship company is watching out for me and my changing needs. They have done a good job of communicating with me, and I have no complaints about their services.'"
3. Build Up Your Social Network
One of the biggest concerns of solo seniors? Feeling isolated and disconnected at home alone.
Not only do spouses and adult children provide a sounding board for seniors when making critical decisions, they also help bring meals when you're ill or recovering, encourage you to learn new things, and offer companionship so you don't feel alone.
Richstad recalls a Highgate at Bellingham resident who, prior to moving in, was living at home alone. He was having difficulty managing his medications and was not receiving adequate nutrition.
"He had a medication delivery service that became alarmed and recommended that he look into a senior living community for support," Richstad recalls. "Fortunately, he lived right around the corner from Highgate and was familiar with us due to our close proximity. However, he was also very overwhelmed as he did not have any family support or local friends that were able to assist him. Although he could still make his own decisions, it was also apparent that he was extremely stressed with trying to navigate his search alone. You could visibly see the concern and fear in his face. What I recall most is that he just wanted to talk."
The need for companionship doesn't go away as you grow older, and one of the biggest benefits of assisted living is the social opportunities it offers. Even in the midst of the coronavirus pandemic, residents are participating in socially distanced exercise, going on fishing outings, and celebrating birthdays together. Surrounded by people their own age, residents become part of a loving, supportive community.
If you are an independent ager, consider how you can develop a social network that not only supports you but also makes it easy to get connected, develop a new hobby or interest, and stay active. There are many online communities, such as this Elder Orphans Facebook group, where you can find support from like-minded people.
"The main thing is to plan ahead and try to make the best use of the assets that you have to live a quality life," Lehman says.
For help planning ahead, use our Legal & Financial Document Locator. Intended to be a helpful tool for use at home to organize your legal and financial records, the Legal & Financial Document Locator helps you keep all your most important medical, legal, and financial details in one place so you won't have to scramble to find it or remember it during a crisis.