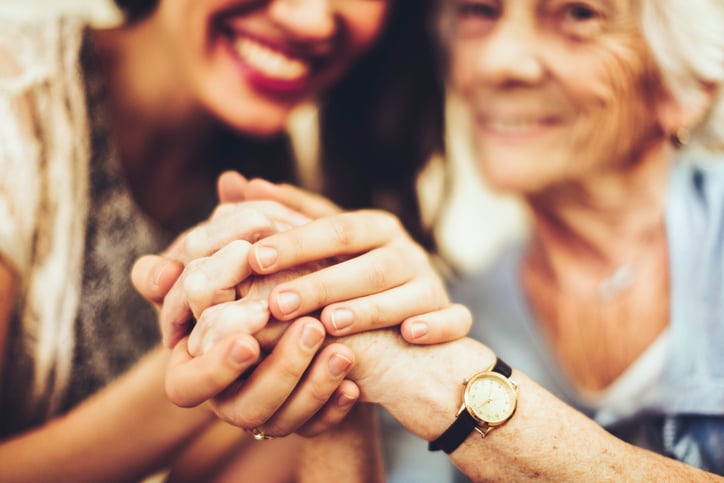 What do you think of when you hear, "memory care facility?" There are many myths and misconceptions out there. In actuality, a "memory care facility" is a specialized long-term care community designed to meet the needs of individuals with Alzheimer's and other forms of dementia.
Unfortunately, the myths can get in the way of seniors getting the care they need.
Here are 4 common myths, and the facts, about life in a memory care facility, as well as Highgate's approach to care for those with Alzheimer's or dementia.
Myth: A memory care facility is an institution filled with sedated residents and uncaring staff.
Fact:Life in a memory care facility is far from institutional. Spaces are designed to feel like home while providing care and a safe environment. Residents are encouraged to stay mentally, physically and socially active. When they're engaged with life, they have a sense of purpose and that promotes happiness and comfort.
At Highgate care partners who work with residents receive specialized training so they're able to provide the best care possible. But beyond that, they get to know residents as individuals. Working with the same residents every day, they learn that a certain resident might like ice cream after lunch or prefers being art or bingo, not just that he has dementia and diabetes.
Myth: Residents surrender their decision-making rights and independence.
Fact: Memory care facilities encourage independence. When residents lose the opportunity to make choices, they disengage and their emotional and physical health suffers.
At Highgate, care partners create an environment of positive encouragement and use a variety of techniques, such as being at eye level when offering choices, to help residents feel confident as they make decisions. Even when residents have trouble doing things for themselves, there are still ways to encourage independence. For example, if a resident has trouble eating, a staff member can help guide the fork to their mouth rather than feeding them.
Myth: Residents are constantly sedated.
Fact: Medication use is highly regulated and monitored closely by a resident's primary care physician. A good provider would prefer to avoid medications that make residents groggy, drowsy, or lethargic for a myriad of reasons.
At Highgate, as an industry leader in holistic care within assisted living and memory care communities, we use a holistic approach to address anxiety, agitation and sleep disturbances. Whenever possible, we address these with holistic interventions like Highgate's own specialty blended teas, aromatherapy and massage.
Myth: Spouses can't stay together
Fact: At many facilities, spouses are able to stay together even if they need different levels of care. In others, for example if one has dementia or Alzheimer's, the couple might not be able to share living space, but since the couple is in the same community, they can be together as often as they wish. Best of all, with staff providing care, they can enjoy time together as a couple, rather than have the stress and burden of caring for a spouse.