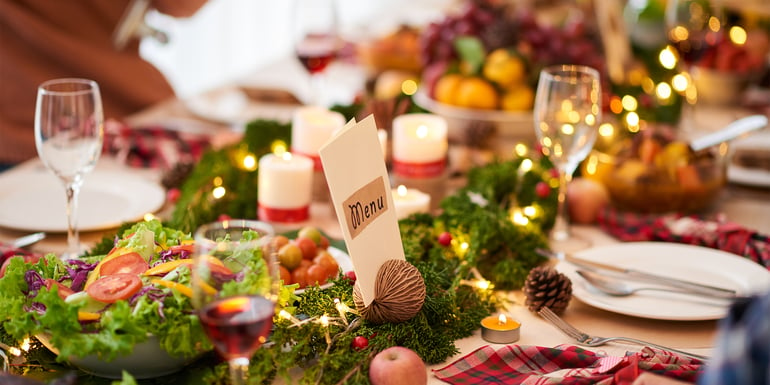 Have you ever walked into a kitchen and the aroma of something cooking on the stove or baking in the oven sparked a vivid memory? Then it's easy to understand why experts say food plays such an important part in making the holidays memorable.
For centuries, families have gathered around the table to enjoy a holiday feast while making some of their most cherished memories. For those who enjoy cooking, creating holiday recipes can provide you an opportunity to spend quality time with loved ones and can spark memories of years passed and time spent in the kitchen with parents or children.

At Highgate Senior Living, we understand how precious it is to spend time together enjoying a meal with those who mean the most to you. If you're looking for something new to indulge in this holiday season, we've included five of our Executive Chefs' favorite holiday recipes.

We hope you have the opportunity to spend time connecting with family and friends, and we wish you a very happy holiday season.

— From Your Friends at Highgate Senior Living
Stuffed Turkey Breast
By Chef Johnathan, at Highgate at Bozeman
Ingredients:
3 shallots, finely chopped
1 bunch scallions, sliced
3 tbsp. butter
6 cups mushrooms, finely chopped
⅛ cup Madeira
3 tbsp. cream
2 tbsp. oil
53 ounces turkey breast
Salt and pepper
½ cup pate
18 ounces frozen puff pastry, defrosted
2 egg yolks
Directions:
Heat the oven to 220°C (200°C in a fan oven), 425°F, or seven for gas. Line a baking tray with greaseproof paper.
Heat the oven to 220°C (200°C in a fan oven), 425°F, or seven for gas. Line a baking tray with greaseproof paper.
Heat the butter in a pan to fry the shallots and spring onions. Add the mushrooms and fry until all the liquid has evaporated. Stir in the Madeira and the cream and cook on high heat. Season with salt and ground black pepper, stir in the parsley, and leave to cool.
Rub the meat with salt and ground black pepper. Fry in hot oil on high heat, then remove from the pan, and leave to rest.
Spread the pate onto the meat and place the mushroom-onion mixture on top. Place the puff pastry sheets on top of each other and roll them out into a large rectangle (set aside a few strips of the pastry).
Place the meat on the upper third of the pastry, brush the edges of the pastry with egg yolk and roll the turkey in the pastry pressing the edges closed. Place the joined end at the bottom.
Decorate with the pastry strips and brush with egg yolk. Place on the prepared baking tray and bake until golden brown, about 45 minutes. Then turn the oven off and leave to rest in the oven for ten minutes.
Cherry French Clafouti
By Chef Matt, at Highgate at Prescott
Ingredients:
1 tsp. butter
1 lb. cherries, any variety
3 large eggs
½ cup sugar
½ tsp. salt
1 tbsp. vanilla
¾ cup milk
½ cup heavy whipping cream
2 tbsp. powdered sugar
Directions:
Preheat the oven to 350 F. Generously butter a 9 or 10-inch ceramic casserole-style pan or a pie pan.
Remove the pits and stems from the cherries and place them in a single layer in the prepared pan.
Whisk eggs in a medium size bowl until foamy. Then, add the sugar and whisk until well combined, about three minutes.

Next, add flour, salt, and vanilla and whisk vigorously until the batter is smooth.

Gradually pour the milk and whipping cream into the bowl and whisk until blended. Tap the bowl lightly against the counter to deflate any bubbles, then pour the batter over the cherries in the pan.

Bake the

clafoutis on the middle rack of the oven for 50 to 60 minutes, until it's puffed up and lightly browned. To ensure it's finished, insert a cake tester into the center and make sure it comes out clean.
Take the clafoutis out of the oven and let it cool in the pan for a minimum of 10 minutes.

Before serving, dust the clafoutis with powdered sugar. You can serve the clafoutis warm, at room temperature, or cold.
Ambrosia Salad
By Chef Raul, at Highgate at Wenatchee
Ingredients:
1 (20-ounce) can pineapple, crushed
1 (15-ounce) can mandarin oranges
1 (16-ounce) jar maraschino cherries
1 cup coconut, shredded
1 cup mini marshmallows
1 cup sour cream
1 cup whipped topping
Directions:
Rinse and drain the crushed pineapple, mandarin oranges, and maraschino cherries. Let them sit in a colander for three to five minutes, to ensure there is no extra liquid.

Combine the fruit ingredients into a large bowl.

Add the coconut and marshmallows and stir well.

Now fold in the sour cream and whipped topping until just combined.

Chill for one hour before serving.
Banana Nut Caramel Milkshake
By Chef Linda, at Highgate at Vancouver
Ingredients:
1 cup whipping cream
1 medium ripe banana
1 cup full-fat milk
1 cup vanilla ice cream
½ tsp. ground cinnamon
3 tbsp. salted caramel sauce, divided
4 dried banana chips, for garnish
2 tbsp. Pecans, chopped for garnish
Directions:
Whip the cream using a balloon or electric whisk until the cream holds its form in stiff peaks. Set to one side.
In a blender, combine large pieces of the peeled banana, milk, vanilla ice cream, ground cinnamon, and 2½ tablespoons of the salted caramel sauce. Blend the ingredients until everything is combined and the shake reaches a smooth consistency.
Pour the milkshake into two tall milkshake glasses. Top with the whipped cream, chopped pecan nuts, dried banana chips, and the remaining ½ tablespoon caramel sauce. Serve immediately.
Pumpkin Bar
by Chef Eric, at Highgate at Great Falls
Ingredients:
Cake
1 (15-ounce) can pumpkin puree
1⅔ cups white sugar
1 cup vegetable oil
4 large eggs
2 cups all-purpose flour
2 tsp. ground cinnamon
2 tsp. baking powder
1 tsp. baking soda
1 tsp. salt
Frosting
½ cup butter, softened
1 (3-ounce) package cream cheese, softened
1 tsp. vanilla extract
2 cups confectioners sugar, sifted
Directions:
For the cake:
Preheat oven to 350°F.

Add the pumpkin puree, vegetable oil, and eggs into a large bowl. Mix until well blended.

In a separate bowl, sift the flour, sugar, cinnamon, baking powder, baking soda, and salt together.

Add the dry ingredients into the wet mixture and mix well.

Pour the batter into an ungreased, 9x13-inch baking pan and bake for about 30 minutes, or until a toothpick can be inserted and comes out clean.

Let the pan cool to room temperature before spreading the frosting on to serve.
For the frosting:
Using a mixer, beat the butter and cream cheese together until smooth.

Add the vanilla.

Add confectioners sugar a little at a time until smooth.