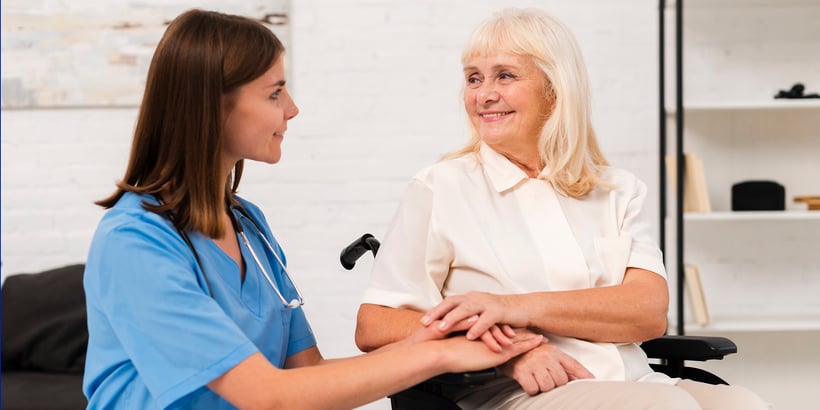 Today is National Nurses Day and kicks off National Nurses Week, which is celebrated May 6–12 each year. Here at Highgate, we want to take the opportunity to recognize the many nurses who serve our residents.
"Our nurses have sacrificed so much for the community the past few years," says Marcie Suppe, a registered nurse and Highgate Senior Living's Director of Resident Services. "We are grateful for their care and compassion. Their dedication plays a critical role in ensuring the health and happiness of our residents. It's only fitting that there's a week dedicated to giving back to them."
At Highgate Senior Living communities, the Healthcare Director role is filled by a licensed nurse who oversees and manages resident assessments and the medication program, and also supervises the day-to-day nursing activities. But that's often not all they do.
"Highgate strives to find people who are going to fit with the team to where there is no one-size-fits-all," says the Executive Director of Highgate at Vancouver, Autumn Mathis, who has been with the senior living provider for over 12 years. "My Healthcare Director, she's helping in the dining room. She'll do anything that needs to be done. There's nobody that has a set role. We find people who are willing to do anything and everything to make sure that our residents are having the best experience possible."
Heather Martin has been the Healthcare Director at Highgate at Prescott for nearly a decade. She says she loves knowing that she's helped someone and made their day better. She shares a story about a recent interaction she had with a resident who was tearful and sad:
"He was talking about how all his family is gone, and he doesn't know why he's still around. I was able to spend some extra time with him, listening to and acknowledging his feelings while also reassuring him how loved he is and what an important role he has in our community. By the end of the conversation, we were hugging and laughing and had even accidentally started an inside joke. To this day, every time he sees me, he says our secret phrase and starts laughing. It fills my heart each time this happens knowing that I could have such an impact on him with one simple interaction."
We appreciate all of our nurses who devote their lives to the health and well-being of our residents. Here are six reasons why we appreciate them.
1. They Go Above and Beyond
The Executive Director at Highgate at Prescott, Paige Ryan, says Healthcare Director Heather Martin goes above and beyond for her community. Throughout the COVID pandemic, the community received a perfect deficiency-free survey.
"Prior to COVID, Heather once raced in to pass meds, due to a call off, while pregnant and with her adorable one-and-a-half-year-old strapped to her back," Ryan recalls. "Heather is amazing. I'm so happy she has called Highgate at Prescott her home these past 10 years."
Highgate at Billings Executive Director Shawna Boatman agrees: "Our nurses do great follow up with the residents — even if it is out of their job. They find lost items, educate residents on medication, calm team members, and empathize with families. They are a great source of knowledge for the team and residents, who always seem to need medical advice. We love our nurses!"
2. Their Calming Presence
The Executive Director at Highgate at Yakima, Caela Bianchi, says her Healthcare Director brings a sense of calm to the community, residents, and team.
"The entire team is very comfortable going to him with questions and concerns, and he always takes the time to address their concerns and help ease their worries," Bianchi says. "He is always available to the team, even if it means him coming to the building to check on the team members at 3 a.m. His calm reassuring demeanor with the residents, family members, and team members keeps everyone relaxed and comfortable going to him.
3. They Bring Purpose to Residents
At Highgate, the Healthcare Directors don't only provide medical care, but they also help the residents in the eight dimensions of wellness.
"All of the nurses at Highgate at Billings are all-stars," says Executive Director Shawna Boatman. "They bring such great knowledge to our teams and work seamlessly with all departments to bring purpose to the residents day after day."
4. They Help Residents Age in Place
Many assume aging in place only happens at home. But it's a core concept of Highgate's Full Care for All care philosophy. If a resident does have high care needs, the Healthcare Directors are equipped to handle it. This means that residents can often avoid needing to move to a higher level of care.
When a higher level of care is called for, Highgate's Healthcare Directors can handle almost anything, even complex medical issues and severe cognitive impairment. Services and care tasks may include:
Infection control
Dementia care
Vital signs
Skin care
Emergency response
Oxygen assistance
Diabetic monitoring
Ostomy care
"Our nurses can do everything," says Vancouver Executive Director Mathis. "If we need to do injections, we can do injections. We handle diabetes. We can handle wound care. With our higher level of care, we can do everything aside from IVs."
5. They Are a Build-in Advocate
With nursing coverage at each community seven days a week, they are essentially a built-in advocate for the residents.
"It's my job to help our residents stay healthy and that we're up to date with all their information," says LaTresh Walker, Healthcare Director at Highgate at Temecula. "I am in constant contact with doctors when there are changes medically, whether it's a new medication or a new diagnosis. I'm the one to take care of that for them."
Martin from Prescott adds: "I love building relationships that are specific to what each resident, team member, and family needs. It's important to me that I'm trusted in my position, and I feel that a big part of that is tailoring my actions to the needs of each specific person."
6. They Promote Healthy Aging
At Highgate communities, the Healthcare Directors hold a monthly Wellness Clinic for residents. They cover different health topics and provide in-service training, too.
Recently, Highgate at Yakima residents wanted to know more about congestive heart failure and the POLST (physician order for life-sustaining treatment) form. The next month, they talked about the importance of staying hydrated.
By inviting residents to think of wellness as being healthy in many dimensions of their lives, Healthcare Directors help residents identify what their core health values and needs are, as well as the things that they need to live a fulfilled and healthy life.
At Highgate, we believe that wellness is about living fully — fueling your body, engaging your mind, and nurturing your spirit — and each part of wellness is interconnected. If you want to feel better and live longer, it helps to know what might get in the way.
In this report, we offer an in-depth look at each dimension of wellness as well as research and statistics from aging and wellness experts on the challenges that older adults face when it comes to aging well in later life. Are you ready to discover what it means to live your life to the fullest at every age? Take a look inside.