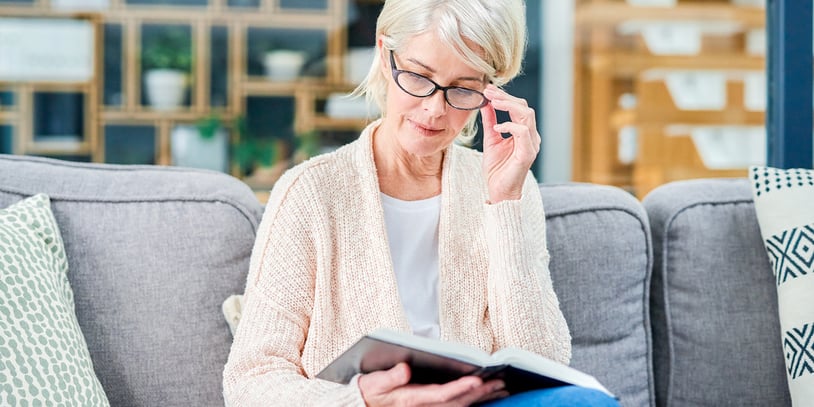 If you've thought about what life will be like when you are older, chances are you've wondered if there are ways to keep your mind sharp.
Or, you may be wondering if there are things a parent can do to keep their memory intact. Good news is, yes! There are things you can do to improve or maintain overall cognitive wellness.
Cognitive Wellness: Use It or Lose It
When it comes to cognitive wellness — one of the eight dimensions of wellness for older adults — research showing that older people who exercise their mind on a regular basis are less likely to lose cognitive function than those who don't. So the more your aging loved one engages in mentally stimulating activities the less likely they are to develop Alzheimer's disease.
But the benefits don't end there. If your parent keeps their brain active, it increases their resiliency — another key component of wellness. Psychologists define resilience as the process of adapting well in the face of adversity, trauma, tragedy, or stress, such as family and relationship problems or serious health problems. Older adults who are resilient are more likely to be open to learning from mistakes, researching what they want, or seeing the possibility of new or better opportunities.
Having confidence in your ability to expand your knowledge and skills is not only key to cognitive wellness but also to the other dimensions of wellness, as they're each interconnected. When your parent thrives in one area, other areas will thrive, too.
But like building a muscle, increasing resilience and cognitive wellness takes time and intentionality.
Activities that Cultivate Cognitive Wellness in Older Adults
Cognitive wellness involves behaviors, thoughts, and actions that anyone can learn and develop. Although habits can be hard to change, it's not impossible.
"Brain health can come in many forms, from your diet to interactions with your peers," says Megan Wilson, Community Relations Coordinator at Highgate at Billings. "At Highgate, we offer classes that pique the interest of our residents — you're never too old to learn new things! We take trips to museums and see historical films. We participate in intergenerational activities to keep our minds working and imaginative. These things can be hard to do if you're isolated and alone at home, but they're easier to find in a community."
If you want to help your parent develop some habits that benefit their cognitive wellness and resilience, here are seven activities that will not only stimulate their brain but also offer other health benefits, such as a renewed sense of purpose and the opportunity to spend meaningful time with family and friends.
1. Sign Up for a Class
Check out local college websites for information on classes they offer to the public. See what kind of skills training — such as writing, sign language, or blogging — might be available at the public library, local congregations, local colleges, or other community organizations.
Learning something new is one way for your loved one to keep their brain on its toes and continually introduce new challenges. Taking a class or joining a club is also a great way to expand their social network at the same time.
2. Learn New Words
Learning new words can boost your loved one's cognitive wellness, too. Get a notebook that your loved one can keep with them when they read. Encourage them to write down at least one unfamiliar word and look up the definition. Then, challenge them to use that word five times the next day.
3. Play Games
When was the last time your loved one did a crossword puzzle or Sudoku? Have they learned a new card game recently?
Another type of "game" you can play is to challenge each other to draw a map of your town, the streets of your neighborhood, or a map of the U.S. from memory. Remembering the layout of a place, as well as experimenting with things that require manual dexterity such as drawing, helps activate a variety of areas of the brain.
"Jigsaw puzzles promote brain health," says Steve Lin, Healthcare Director at Highgate at Vancouver. "It engages the brain in image processing. This can be done at home, but at Highgate, jigsaw puzzles can be a social activity. Multiple residents can be seen sitting and working on the puzzles together while socializing. Another popular activity is Bunco. Residents compete to roll dice quickly and achieve team goals. Counting the results and the competitive nature of the game helps stimulate the brain and get some adrenaline pumping."
4. Take a New Route
Varying your habits can help to create new pathways in the brain. Encourage your loved one to take a different route to the grocery store or to walk the opposite way around the block. It's easy to get stuck in a rut when it comes to daily tasks, but cognitive wellness is all about being willing to try new things.
5. Socialize
Having meaningful social interactions can be beneficial for the brain in both the short and long-term. If you really want to help your loved one improve their cognitive wellness, encourage them to befriend people who can stimulate their mind, and get into a discussion with them about topics that interest your loved one.
6. Practice Mindfulness
Your loved one can foster inner resources and resiliency through mindfulness. Encourage them to take a step back when in a stressful situation. Practice deep breathing or other relaxation techniques. Mindful journaling, tai chi, and other spiritual practices like prayer or meditation can also help people build connections and restore hope, which can prime them to deal with situations that require resilience.
7. Read a Book
Engage in books, articles, or other content that interests your aging parent. Subscribe to your local newspaper or pick up a free edition. Many offer sections on subjects that are local, national, and international. You could also flip through travel books or go online to find places your loved one might enjoy reading about or visiting.
Curious About Your Aging Parent's Cognitive Wellness Levels?
If you're curious or concerned about your loved one's cognitive wellness, it might be beneficial for them to take a wellness assessment or for you to complete one on their behalf. It can not only help you think about your loved one's health and wellness needs but also quickly see what is working and what still needs improvement.
This Wellness Quiz for Older Adults is a great way to gather the information that will get your loved one on the path to a happy and healthy life. Take the quiz with your loved one or with your loved one in mind to see where you can enhance your wellness.