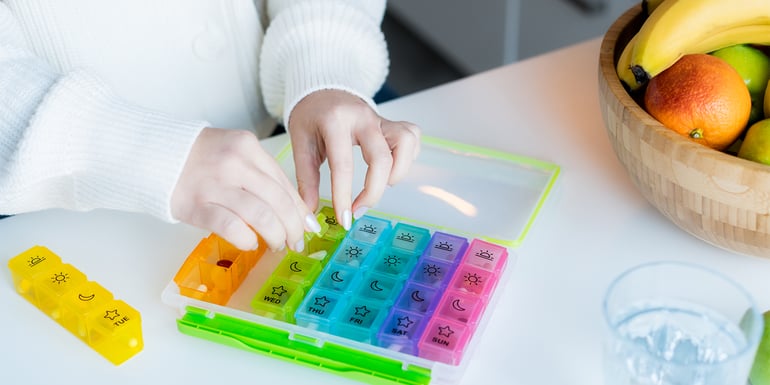 If you haven't made any New Year's resolutions yet, it's never too late to look back at the last year and set new goals.
The age-old tradition of making New Year's resolutions to become better versions of ourselves in the coming year has been around for hundreds of years. Dating back as far as Babylonians who resolved to return borrowed farm equipment to medieval knights who would renew their vow to chivalry, New Year's resolutions have played an important role in setting life goals for centuries.
If you are a family caregiver, setting goals for yourself this time of year can be especially important. Caring for an aging loved one is a difficult job. Family caregivers often put their loved one's needs before their own, but getting into the habit of always putting someone else first can have a serious impact on physical and emotional health. Setting New Year's goals can help you re-balance your life so you can be the best version of yourself for your loved one who depends on your care and support every day.
Having resolutions tailored to creating a healthy balance in your life as a family caregiver can prevent caregiver burnout and can help you reset after a particularly challenging day of caregiving. Be sure to set realistic, attainable goals. For example, instead of resolving to never get stressed out or frustrated while caring for your parent or relative, consider making more realistic goals such as "I will make self-care a priority" or "I will seek support from family members or outside resources when I am overwhelmed." When your goals are achievable and specific, you are more likely to stick with them in the long run.
If you're not sure where to start, here are nine common family caregiver New Year's resolutions.
1. Set Aside Time for Activities You Enjoy
As a family caregiver, taking care of yourself is just as important as taking care of your loved one. Make sure your resolution list includes activities that allow you to do something for yourself each day — whether that means reading a book for 15 minutes each night or taking a walk around the block in the mornings. Self-care is key; don't feel guilty about giving yourself permission to take time away from caregiving to give yourself a little gift of time to enjoy the little things that make you happy.
2. Find Ways to Connect with Others
Caregiving can create distance in other relationships or can even cause those relationships to be strained. Make time for phone calls or video calls with friends and family members who may not live close by but still want to stay connected with you. For those who do live close to you, take time for an occasional coffee date, or dinner. Relationships provide valuable support, even when you're not talking about your caregiving role.
3. Set Boundaries
As a family caregiver, it can be extremely easy to get burnt out as a caregiver if you don't have healthy boundaries. It's important to remember that setting boundaries doesn't mean you love or care for your loved one any less; it simply means that you need time for yourself too.
4. Find a Support Network
Caregiving can be isolating at times, so it's essential to find ways to connect with those around you. Consider joining an online support group or chatting with other caregivers who understand both how rewarding and how challenging caregiving can be. No one should have to go through their caregiving journey alone. Support groups can be particularly helpful for caregivers to be able to connect with others who understand what they're going through and can even offer new perspectives on how to best care for their loved one.
5. Make Self-Care a Priority
Taking care of another person can often leave us so exhausted that we forget to take care of ourselves! This year, make sure to put yourself first by eating healthy meals, exercising regularly, getting enough sleep, and generally being mindful of your own needs as well as those of your loved ones. Self-care isn't selfish—it is necessary in order to be able to provide quality care.
6. Get organized
One of the best things you can do for yourself as a caregiver is to get organized. This means keeping track of important documents, medications, and doctor's appointments. It also means having a plan for how you will care for your loved one on a day-to-day basis. Getting organized will help to reduce your stress and make it easier to provide quality care.
7. Take breaks
Caregiving is a full-time job, but it's important to remember to take breaks. This may mean hiring outside help, taking advantage of respite care services, or simply taking some time for yourself each day. Taking breaks will help to prevent burnout and will allow you to recharge your batteries. Asking for help from friends and family members can alleviate some of the stress associated with being a caregiver.
8. Be patient
If you've found your patience running thin this past year, provide yourself opportunities to practice being mindful by being able to identify when you're headed down a path where your patience will be challenged. Identifying situations that are likely to end in frustration is the first step. Planning how to navigate through challenging situations penitently is the second.
9. Find Meaningful Ways to Connect with Your Loved One
If your loved one has seen a change in their health this past year, it isn't unusual for caregivers to focus on the things your loved one needs. But connecting with your loved one and finding ways to interact in meaningful activities is just as important as the physical aspects of your caregiving role.
Being a family caregiver can be one of the most challenging, but also rewarding experiences. Take time to identify New Year's resolutions that will benefit both you and your loved one and ensure that 2023 allows your relationships to grow, your personal health to be a priority, and your caregiver relationship to remain strong.