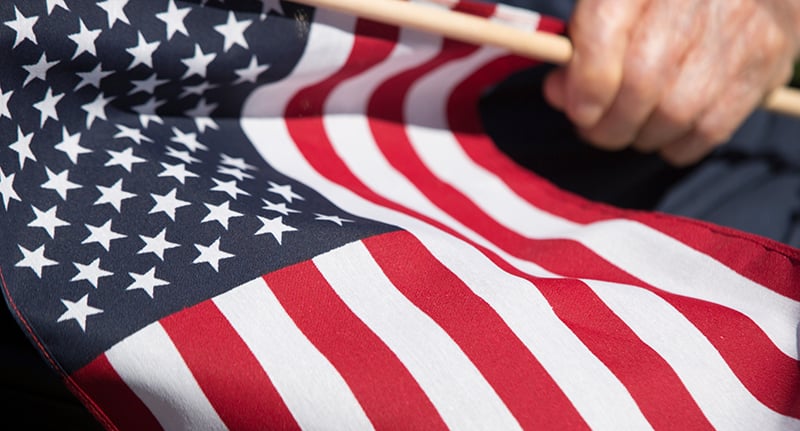 Our commitment to helping our residents goes beyond providing a high quality of life and pleasant surroundings. It also embraces helping our residents afford their move into Highgate. For those who have served our country, we're committed to helping them find the financial solutions their service entitles them to receive.
Senior Veterans Benefits Program

This is one of the best options available if you qualify. The VA Aid & Attendance Benefit is a special "monthly pension" provided through the Department of Veteran Affairs. Eligible U.S. wartime veterans and surviving spouses of veterans receive significant benefits, with two-veteran couples qualifying for up to nearly $3,000 per month. The costs of Assisted Living or Memory Care meet the requirements outlined below.
How do veterans qualify for the monthly pension benefit?
If you can answer yes to the following questions, you should apply for the benefit.
Does the veteran or surviving spouse require the aid of another person to perform at least two activities of daily living, such as bathing, dressing, undressing, or eating?
Will the veteran or surviving spouse spend the financial assistance on out-of-pocket medical expenses – including Assisted Living or Memory Care?
Did the veteran served at least 90 days of active duty and one of those days was during a recognized period of war?
Was the veteran honorably discharged?
Does the veteran (and spouse) or the surviving spouse have less than $80,000 in assets, excluding their primary residence and vehicle. (This is a guideline only. The VA looks at a claimant's total net worth, life expectancy, income and medical expenses to determine whether the veteran or surviving spouse is entitled to special monthly pension benefits. Every case is considered individually.)
Even if you were not injured during your time in the service, you still may qualify.
Can spouses of deceased veterans qualify for the VA Aid & Attendance benefit?
Yes. If your spouse died on active duty or from an injury or disease caused as a result of serving on active duty, you may qualify for this pension benefit.
Monthly Aid & Attendance Rates for Veterans
Surviving Spouse: $1,149
Single Veteran: $1,788
Married Veteran: $2,120
Two Vets Married: $2,837
This money is very attainable, and the VA pays this pension directly to the claimant. In addition, there is no cost involved in applying for this benefit.
However, the application is lengthy and can be confusing at times. This is why we are happy to assist qualifying Highgate residents with applying for this benefit.
We work with several benefits administrators who help families fill out the application. Even before the actual application is submitted, they'll help you submit an "Intent to File." This form, VBA Form 21-0966, locks in a date for benefits to start, even if the process takes months to complete.
The benefits administrators help you collect all the necessary documents, such as:
Military records
Medical forms signed by a doctor and stating that the veteran (or surviving spouse) is in need of daily living assistance
Marriage and death certificates
Divorce decrees (if any) awarding benefits to a former spouse
Bank statements
Proof of personal worth
Statements from care providers
We'll do our best to ensure you get the benefits you are entitled to, even if it requires an appeal.
To learn more, contact the Community Relations Coordinator at your local Highgate community or read our ebook, How to Pay for Assisted Living Costs.