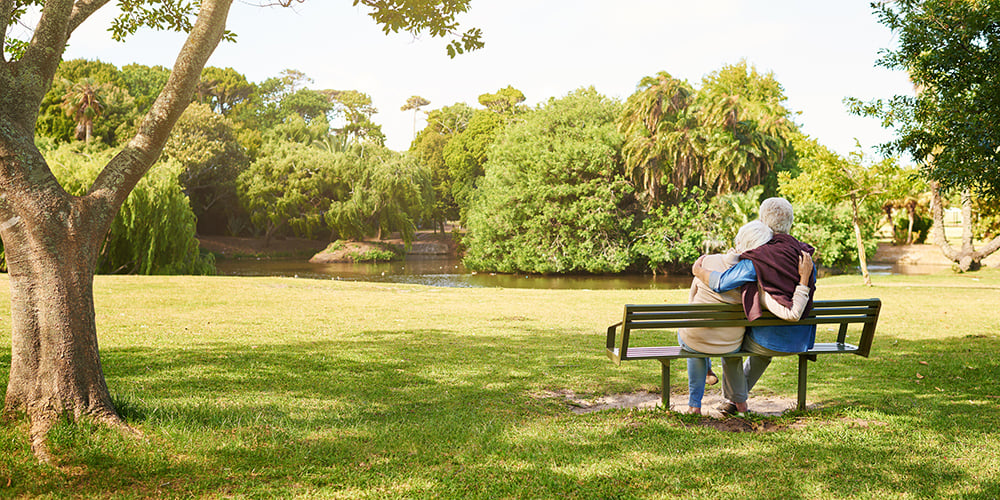 Anyone with a loved one with Alzheimer's can tell you that the disease (or any other form of dementia) is an emotional journey — one that can last several years and one that is impossible to prepare for.
As a loved one slowly faces the increasing challenges of memory loss, family members learn to cope with new responsibilities, changing family dynamics, and emotions that range from guilt to grief. Bernadine, the wife of Eric, a Highgate at Temecula memory care resident, shares her emotional story in in hopes of helping others faced with a similar life-changing decision: finding a memory care community for her husband.
Early in life, Bernadine knew she had a calling to work in public health. "I worked in the hospital for a short time but quickly changed careers and went into public health," she says. "I really enjoyed my first two years and realized more families had mental health problems than they had health issues."
Bernadine enjoyed helping families so much she decided to go back to school and went to UCLA grad school where she studied community mental health. "That's where I stayed the rest of the time. I worked with the LA County Department of Mental Health for 25 years. Retired from that field. During that time, I worked with patients, coordinated educational services, and connected with all the universities that had student interns."
Bernadine retired in 1994, and her husband, Eric, followed suit one year later. "My retirement years have now been longer than my working years. I'm very happy and grateful that I'm still healthy enough to enjoy them," Bernadine says. "After we retired, we spent from 1995 until 2014 traveling and toured five continents total. I'm so happy we did."
In 2014, Bernadine found herself using her own knowledge of mental health to cope with an Alzheimer's diagnosis for her own husband. In January of 2014, Eric was diagnosed with Alzheimer's disease. "His sister also passed that same year from complications of Alzheimer's."
After the Diagnosis
Once Eric's sister had received an Alzheimer's diagnosis, Eric and Bernadine sought to learn as much about the disease as they could. "Both of us had taken a class about Alzheimer's together after his sister's diagnosis. When Eric was diagnosed, I took another class a second time without him."
Shortly after taking the class, Bernadine started having a caregiver come in to help her with Eric's care. "During the class, I was listening to some of the horror stories of people getting lost or setting the house on fire accidentally, and I became worried about leaving him alone."
Bernadine hired an in-home caregiver to come to the house a couple hours each week. "It allowed me to run errands when I needed to. In the beginning, life didn't change a whole lot. We still went to church, we went to the theater, or we'd find a show to go to. Eric loved jazz. I was doing the cooking, but we ate out a lot."
Perhaps the biggest initial change Bernadine and Eric experienced after the diagnosis was moving. "We moved from a large house. He thought it would be easier on me if we stayed in a smaller place. We moved to our first assisted living type place and didn't like it there. It was here in Temecula and some of the people here [Highgate at Temecula] were there, too. So, we moved into a condo and stayed there for about 18 months."
Experiencing Change After the Diagnosis
In the beginning, Eric was still alert. He knew where he was. He knew people, even people Bernadine and Eric hadn't seen for a while. Nothing seemed to change initially.
Eric's memory started showing signs of the effects of the Alzheimer's diagnosis near the end of 2016. "That's when he started not recognizing some of the people we hadn't seen for a couple months or more. He always recognized my brother who came to visit a lot. He recognized all the kids and grandchildren. I had put up a collage of pictures on the wall so he could keep that memory going."
Bernadine and Eric moved from their condo into a larger house. Even though the house backed up against a golf course, Eric had quit playing the game he'd grown to love in retirement. "Besides traveling all over the place after retiring, we took up golfing together. He really learned how to play golf well."
But Eric's lack of interest in golfing wasn't the only change Bernadine noticed. "He couldn't sign anything. He couldn't seem to connect that it was important for his signature to be there." Thankfully, Bernadine and Eric had made sure to update their trust after Eric had received the initial diagnosis. Bernadine had power of attorney and was able to sign the documents that Eric couldn't. "We continued with the caregiving. I still worried what would happen if he left the house and got lost."
Like many caregivers, Bernadine started to experience some health complications of her own. "One night, I was ill. I'm sure it was from all of the stress. I knew that if I became seriously ill, I would not be able to take care of Eric. So, I started researching what options were available for us."
"My children and our friends all kept telling me, including the caregiver we had at the time, 'You need to think about this more seriously.'"
Like so many other caregivers, Bernadine was also noticing a change in Eric's demeanor as the Alzheimer's progressed. "One night I was in bed half awake. I was thinking about what if something was said or occurred that would cause Eric to get angry. How would he react! It was hard to even think about that!"
Speaking from experience, Bernadine knew it was possible. "He pushed me one time when he was angry. Later on, he apologized profusely, but I knew then that he wasn't in control as much as he tried to be. It wasn't his fault. It was the disease."
Exploring Highgate Senior Living
Bernadine and Eric watched Highgate Senior Living in Temecula be built. "I wondered what it was going to be like." It just so happened that the classes that Bernadine had attended after Eric's diagnosis were hosted by Highgate Senior Living. "I attended the classes because I liked what the write-up of the classes was and I liked the philosophy." Bernadine was able to learn about Highgate's Positive Approach to Care, a program built around training by Teepa Snow, a leading Alzheimer's and dementia expert in the senior living industry.
"It took me a while to make the decision. I wasn't quite ready to let go. We took several tours. Eric and I would come here together. He liked sitting in the rocking chairs out front and rocking away. We'd sit in the dining room and look out at the courtyard. Oh, my goodness, it's beautiful."
And the atmosphere of Highgate, overall, caught Bernadine's attention. "The attitude of the staff — of all of the people we met. They were like friends already. I watched how they interacted with each other. It was like one big family. Watching how the staff interacted with the residents, sometimes I wasn't sure who was a staff member and who was a resident. I watched how they treated people and how they talked to the residents. It was different from every other community we toured. They practiced what I saw in the education, it wasn't just for show."
"One day he said to me 'this would be a nice place for us to live.' As soon as he said that, it clicked. Yes, this would be." After a conversation with Bernadine's primary care physician, she knew it was time to make the move. "He said this was the only place he'd put his parents. I said, OK, that clinches it for me."
Life After Moving to Highgate
How is Eric doing now? "Not long ago he pointed to the apartment and said: 'That's our house. We own two houses now,'" recalls Bernadine. "That means to me he's here. This is home. When I get ready to leave, I'll kiss him goodbye. I don't have to be careful anymore about saying I'm leaving. Now I can say I'm leaving and he'll say, 'Drive carefully.'"
Bernadine has seen a positive impact on Eric since he's moved to Highgate at Temecula. "He's happy, he's gained weight, and he's calm. He doesn't get upset like he would sometimes at the house."
What advice would Bernadine give to families searching for memory care for a loved one? "Take a class. We didn't know what to look for either. That way you'll have a list of what you're looking for. You can look all you want, but if you don't know what to evaluate or what you want, then it's hard to narrow it down."
Looking for more tips from families who have experienced making difficult care decisions for an aging parent or spouse? Read our guide, From Guilt to Gratitude.