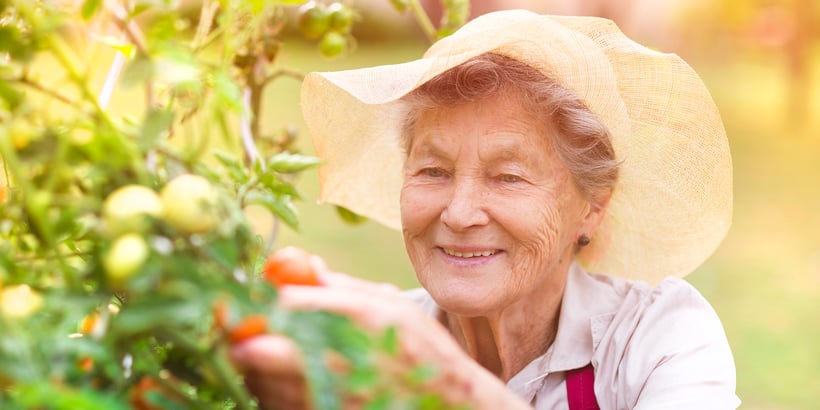 Even before Highgate at Flagstaff opened its doors,

Life Enhancement Coordinator Abbigaile Urioste

was helping seniors thrive thanks to the assisted living and memory care community's Growing Groceries program.

Highgate's Growing Groceries Program
A resident-led partnership between Flagstaff's Life Enhancement Team and the Culinary Team, Growing Groceries is a signature Highgate program in which residents seed, plant, nurture, and harvest a variety of vegetables and herbs that Dining Services Chef Supervisor Antonio Aizon then uses in the kitchen.
Back in April, future Highgate at Flagstaff residents received a garden kit with a small pot, some soil, and organic Italian basil seeds. When the community opens this fall, the residents will transplant the basil plants into the five garden beds in the courtyard. "One of our resident's sons is a retired organic farmer, and he's going to help us get the garden beds up and running," Urioste says.
Residents will plant herbs like thyme, basil, and cilantro alongside pumpkins, squash, tomatoes, cucumber, and broccoli for both spring and fall harvests. "If there's anything else our residents want, we'll incorporate that, too," Urioste says.
"We'll have residents who are tending to the garden, watering, pulling weeds, deciding what we are planting, creating signage for it," she continues. "We will have scheduled time to be out in the garden, but it's also there for our residents to enjoy throughout the growing season. The beds are in the center of our courtyard; they're an aesthetic focal point. So even if the residents aren't working in the garden, they'll be able to enjoy it. And we'll all enjoy the meals prepared with garden ingredients by Chef Antonio."
Urioste is also in conversation with a few local elementary schools, discussing how the senior living community might partner with the school to provide gardening opportunities for the students as well as opportunities for intergenerational engagement for the students and seniors alike.
Nutritious and Delicious Ingredients
Highgate at Flagstaff Dining Services Chef Supervisor, Antonio Aizon, is already incorporating the homegrown basil into his menu, topping bruschetta with the Italian herb, and he's looking forward to cooking with the residents' harvest.
"Once we harvest, we'll hold a cooking class," Aizon says. "The residents and I will talk about the process of gardening and harvesting and then we'll taste our harvest."
Aizon's commitment to making food from scratch fits right in with Highgate's nutritious and delicious dining philosophy. His ingredients are not only sourced from the community's five garden beds but also from local Flagstaff purveyors. He uses the fresh ingredients to build Highgate at Flagstaff's all-day menu, where residents can order almost anything they want, including breakfast for dinner.
He's most excited to fire up the state-of-the-art Marra Forni pizza oven. "It's a brick pizza oven — the most advanced pizza oven on the market," he says. "We'll be doing build-your-own pizzas, cast-iron cobblers, and more in there."
Purposeful Living in the Garden
Not only does the Growing Groceries program support residents' physical health, nourishing their bodies with fresh food, but it also offers a pathway to purpose for many residents.
"Purposeful living is at the heart of everything we do at Highgate and helping our residents live their lives to the fullest each and every day," Urioste says.
Urioste recently visited Highgate at Vancouver, which also has a Growing Groceries program. There, she saw just how many ways Highgate empowers residents to live a life of purpose. The Vancouver community had been gifted some apple trees, and it needed to build tree boxes to plant them in.
"Their maintenance director was out there preparing the wood," Urioste recalls. "Two gentlemen — one a retired contractor and the other hadn't ever really used a drill — they put the boxes together. It was a three-day project and there were residents who came out every day, didn't lift a finger while they enjoyed lemonade, but they rooted their neighbors on. It was great to see. There truly is purpose in every aspect of participation."
Urioste envisions Flagstaff's Growing Groceries program offering her residents opportunities for purpose as well. ​​"Purposeful living, to me, is living a life and making choices that align with what feeds our soul," she says. "That deep fulfillment can be felt in reaching a big goal or a short moment of mindfulness and can vary person to person, day to day. Purpose can be found in our work, expressing our creativity, connecting with others, and especially ourselves. My goal is to create experiences that bring our residents joy and meaning as they try new things, make new friends, discover new interests, and develop new skills."
Want to learn more about Highgate at Flagstaff's other signature programs? Download our Signature Programming brochure to learn about the community's Purposeful Living philosophy, five-star dining program, and holistic approach to senior care.