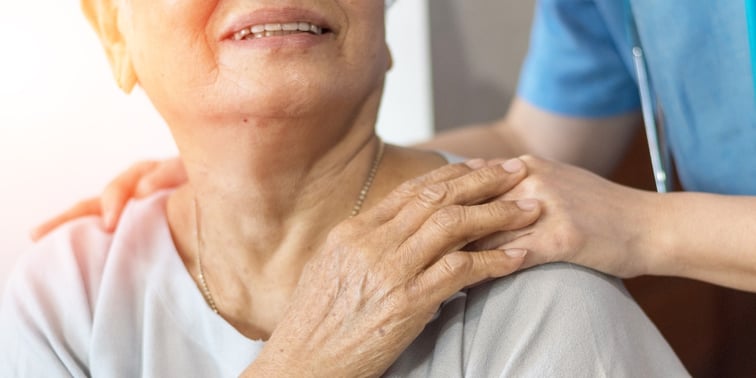 Finding assisted living for a parent or loved one is an emotional experience in its self. It may have been an option you've avoided for fear that you won't find a community that meets your expectations or the expectations of your parent. Now consider the pressure of finding a memory care community, with the added stress of having little to no input from your parent, and emotions heighten to a whole new level.
As you've done your research, you've likely started making a list in your mind of what you are looking for. You want your mom or dad to to have the best care possible. You want them to feel safe and valued. You want a community where the staff treat your parent as if they were their own.
You've also likely identified things you don't want. Like not wanting your parent parked in front of a TV all day or having your parent feel like they've been "locked up".
If your questioning whether or not you can find a community that makes the list, take an inside look at how team members at Highgate's Billings location in Montana created a unique memory care experience for its residents that left families feeling confident they've made the right decision.
Getting to Know Your Loved One Beyond Dementia
When a person with dementia moves to Highgate, "we learn their life story, their strengths and interests so we can have meaningful conversations, and create activities they enjoy. It determines how we care for them," says Megan Wilson, Community Relations Coordinator. A Purposeful Living interview, created by Highgate is completed with the resident and family. "We want to make sure we ask all of the right questions in order to design a program that gives our residents purpose," says Adam Bryan, Vice President of Sales for Highgate Senior Living.
When a new resident moves in and the Purposeful Living Interview has been completed, life enhancement team members compare this to the desires and histories of existing residents and modify the activities program based on the information they have.
Activities meetings are also held monthly with residents to review the program and the satisfaction of families and residents. Highgate uses a program called Sagely to check the efficacy of the events and activities they offer. Family members are able to receive notifications on their cell phone that share when mom has checked in for Bingo or dad has checked in for a van ride. Not only can an adult child see what activities their loved one is participating in, but also when their loved one is busy so that visits to their community can be planned around activities mom or dad are involved in. Life enhancement team members are able to monitor resident attendance, which activity team members garner the greatest participation, the most popular times and locations to have events, allowing them to continually fine-tune and improve the program.
Highgate at Billings has offered some unique opportunities to its memory care residents that you won't find elsewhere. "Just because they need a secured environment, doesn't mean their world has to get smaller," says Bryan. Among the many activities and outings Highgate has offered, memory care residents visited Yellowstone National Park and stayed overnight. During Active Aging Week, several residents who used to be pilots or had flying on their bucket list went to an airstrip to help fly airplanes.
Highgate at Billings has also designed "stations" within its memory care to offer activities that give their residents a sense of purpose. "There are different sections," she says. For example, "a sewing section, a tool bench, a nursery. Everything's meant to be touched, moved, and played with." These unique stations allow memory care residents to engage with activities that remind them of the happiest or most meaningful times in their life.
Living in Their Moment, Not Ours
It may be 2017, but if Charlie or Rose think it's 1942 and they're in Milwaukee upset because they're late for school, no amount of discussion, evidence or arguing will convince them otherwise. "Whatever their perception is, it's real to them," says Wilson. "If they're in the 1940s, we're going to join them in the 1940s."
Highgate's memory care communities have all undergone extensive memory care training. Among the training care team partners have received is Teepa Snow's Positive Approach to Care training. "In our experience, a positive approach to care doesn't put a resident on the defensive. Redirecting a resident rather than validating where they are in that moment is upsetting and does nothing but make them feel unheard," says Bryan.
Never a Dead End
Highgate at Billings also paid close attention to the architecture when developing its memory care community. It was built in a large square so residents can walk wherever they like without getting lost or reaching a dead end.
There's also an enclosed garden courtyard so they can safely be outdoors. Residents enjoy having barbeques in the courtyard, or growing herbs and vegetables for the kitchen. The result is that the fresh fruits and vegetables the residents grew go towards making nutritious meals they can be proud of.
Shadow boxes reside outside of residents' apartments. Families can help decorate the shadow boxes by including pictures of what mom or dad looked like and close loved ones.
Handling Changing Mood and Behavior
One of the most unnerving parts of dementia is to watch your loved one act in a way that's contrary to the person you know and love. "For families, it's probably their first time with the disease," says Wilson. "We understand that it's a challenging situation for them, but it isn't for us. We have a highly trained team. If there's aggression, we know there's an emotion behind it." Most often, they have no other way to communicate that they need or want something or that they're afraid or anxious.
Residents typically have the same preferred care partner each morning and afternoon so there is consistency in the people caring for your loved one. With consistency in care team partners come the added benefit of being easier to recognize a change in the residents they care for.