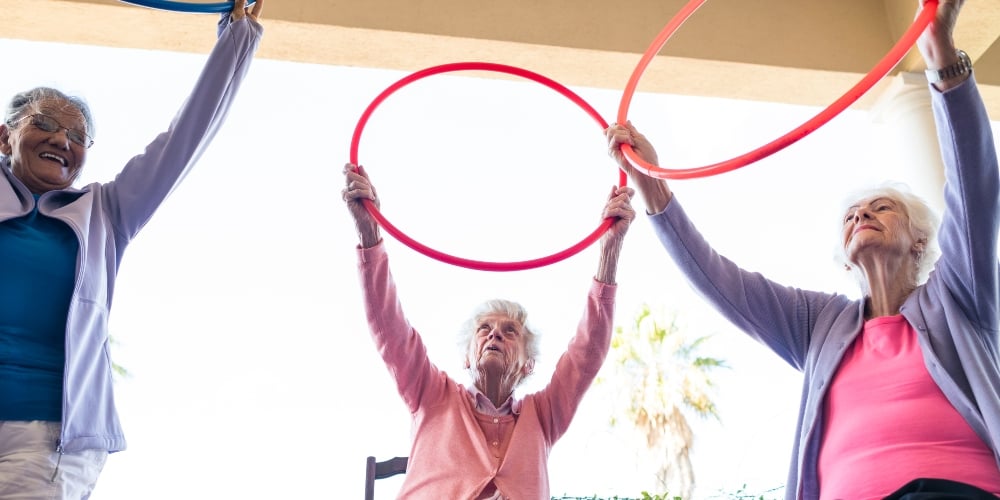 Something was off. The Resident Care Coordinator at Highgate at Wenatchee, Brooke Capps, was noticing that assisted living residents who were also in the middle stages of memory loss were isolating themselves. They'd get up, eat breakfast, look at the activities calendar — and then not show up. So she started investigating.
What is Happening to Residents Between Assisted Living and Memory Care
What Capps discovered was that there are residents in The Manor, the assisted living side of the community, that needed a little more direction due to their memory loss. However, they're not quite ready to move to The Cottage, the memory care side of the community, either.
"These are the residents who look at the activities calendar and see that there are things going on, but they can't figure out what time of day it is or where they're supposed to go," says Rose Zamudio-Mora, a Life Enhancement Specialist at Highgate at Vancouver. "They want to be there, they want to participate, but they can't figure out their clock, so they keep going to the front desk asking questions. They need someone to give them a little direction."
That's where the new Guided Independence Program comes in. Zamudio-Mora, along with other assisted living and memory care experts within Highgate, helped develop and implement a new setting and supportive program within Highgate at Wenatchee where these residents can receive the extra guidance they need.
"If we can keep residents active and in charge of their own day, it gives them purpose and a more meaningful quality of life," Capps says.
So what exactly does the Guided Independence Program (GIP) look like?
A Look at Wenatchee's New Guided Independence Program
The Guided Independence Program isn't right for everyone. To qualify, you need to have a MoCA score between 16 and 24.
MoCA stands for the Montreal Cognitive Assessment. It's a standardized assessment that gives you a snapshot of where cognitive health is. You, Capps, and Zamudio-Mora might score somewhere between 27 and 30, the highest possible score. A Cottage resident will score 14 or below.
So, what does this all mean? Capps explains: "GIP is for a resident who is able to take care of their own toileting needs. They can have a walker or a cane but not a wheelchair. They can still execute their day independently, but they need a little guidance."
To accommodate the new supportive programming, Highgate at Wenatchee underwent a $1.3 million renovation. The community now features a new wing just for residents in the Guided Independence Program. They have their own apartments and share access to a beautiful living room, a large kitchen and dining room, and a relaxing courtyard.
So now, GIP residents wake up, participate in morning exercise, and then decide as a group what they want to do that day. Last week, they made soup and delivered it to the local ambulance services, went shopping at Hobby Lobby for holiday decorations, and went to a nearby museum.
"The biggest difference is, when you're in assisted living, we say we're going to go on a drive and you sign up if you want to do that," Capps says. "With GIP, it's more like, you want to do something, but you don't have the memory capabilities to sign up. So, we're going to decide as a group what we want to do in the morning, and then we're going to go out and do it."
Adds Zamudio-Mora: "They're still independent. They're still shopping and getting what they need, but they have someone who is giving them a little direction. Ultimately, they still make the decisions. That's what's neat about it."
If an assisted living and memory care community doesn't have a program like GIP, then residents with memory loss often have to move from assisted living to memory care sooner than they really need to.
"In other communities, once you can't remember to come to the dining room, you're in need of memory care," Capps says. "At Highgate, we want to use the abilities you do have for as long as we possibly can. To move from assisted living to GIP opens up so many more doors."
Watching Assisted Living Residents Come to Life in GIP
Since Highgate at Wenatchee implemented the Guided Independence Program, both Capps and Zamudio-Mora say they've seen huge transformations among the residents.
"What usually happens when an assisted living resident starts struggling more and more with memory loss is that they feel like they don't fit in anymore," Zamudio-Mora says. "They start to decline — and they know it — so they isolate themselves. There's a separation from the assisted living community."
That's what Ray was doing. A resident at Highgate at Wenatchee, Ray wanted to move to assisted living. An 87-year-old without a family, he decided it was time for him to move to assisted living and enjoyed it immensely for many months. Then Capps started noticing changes in his behavior and attitude.
"I'd watch him get up, go to meals, leave The Bistro, and then just sit and watch people," Capps recalls. "He didn't participate in anything."
Then he transitioned to the Guided Independence Program. Almost immediately, Capps says, he started participating in activities again. He went to the exercise classes, delivered soup to the ambulance services, and made Christmas wreaths.
"Once he was surrounded with people on the same cognitive level, he came to life," Capps says. "It's like a switch was flipped: 'I do have a purpose. I am still of value. I'm going to explore that.'"
Zamudio-Mora noticed the same changes: "When I started bringing the GIP residents together as a group, I noticed a change in their perspective. Now they don't feel like they're the ones lacking within the group. They are smiling and talking freely within the group because now they're in the right place. They fit. They're where they need to be.
"It just reminds me so much of a family," Zamudio-Mora continues. "Their needs are being met but they're still totally independent."
What About Moving from GIP to Memory Care
Memory loss is progressive, which means that, eventually, a GIP resident's MoCA score will fall below 14. When that happens, the resident will move to The Cottage.
"When you have that move, even though there is a need for it, it is a huge change for them," Zamudio-Mora says. "The Guided Independence Program is going to make that transition so much smoother."
Ready to see what Highgate at Wenatchee has to offer? Schedule a tour today!