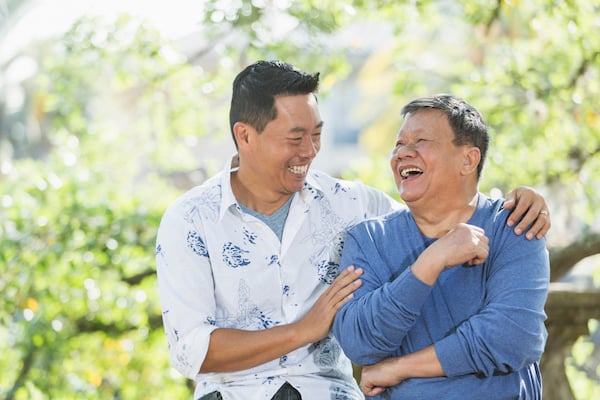 Choosing between home care and assisted living involves many factors. It is a complex decision, and what is right for your loved one will depend on your family's unique needs, values, and preferences.
"Home care and assisted living are two different tools to do two different jobs," says Brian Kraft, Executive Director at Highgate at Billings. "If you're doing a project around the home, you're going to take an inventory and figure out what tools you need for that job so you don't wind up using a hammer when you need a screwdriver. It's the same with home care and assisted living. They are two tools that should be used for two different sets of needs."
Knowing the facts will help you and your loved ones make the best choice.
Home Care: What is it?
Home care includes any professional support services that allow a person to live safely in their home, but not all providers offer the same types of home care services.
"When people talk about home care, I like to ask what they mean," Kraft says. "There is private pay home care — I think that's what most people think of — where you pay privately by the hour for a Certified Nurse Assistant to spend limited time in your home caring for your loved one. In that same bucket, there is home health, which is a Medicare program and an entirely different homee care tool."
Home care can be customized to your loved one's needs and may include:
Personal care and companionship, which helps with everyday activities such as bathing and dressing, meal preparation, and household tasks

Private duty nursing care, which is long-term, hourly nursing care at home for adults with a chronic illness, injury, or disability

Home health care, which is short-term, physician-directed care designed to help someone prevent or recover from an illness, injury, or hospital stay
"One of the biggest misconceptions people have about home care is how much they actually can provide," says Megan Wilson, Community Relations Coordinator at Highgate at Billings. "I'm thinking of someone who only needs a couple hours a day. The family thinks they need companionship, so they hire a home companion. But two hours a day isn't enough."
"It's the same with home nursing care," she continues. "Home care might say they can help manage things, but they're very restricted with what they can do. Maybe they can help your mom shower, but they're not checking for skin breakdown."
Home Care: Who is it good for?
Home health care, also known as Medicare-certified home health care or skilled care, is clinical medical care provided by a registered nurse, occupational therapist, physical therapist, or other skilled medical professional and is often prescribed following an inpatient hospitalization, rehabilitation, or a stay at a skilled nursing facility to help the senior transition back to independence.
Unlike home health, personal care, also known as homemaker care or companion care, is good for older adults who need assistance with activities of daily living, do not drive and require transportation, or who live alone and may be at risk for social isolation and need companionship.
"If someone needs assistance with instrumental activities of daily living — grocery shopping, food prep, housekeeping — home care may be the better option," says Vanessa Rauser, a Registered Nurse and the Assistant Executive Director at Highgate at Bozeman. "You can have someone come in for an hour to help out. But if someone needs help with activities of daily living — bathing, toileting, eating — those come up all day long every day. You need ongoing care."
Assisted Living: What is it?
Assisted living offers apartment-style living options that allow seniors to live in a home-like environment while receiving assistance with activities of daily living. Although assisted living comes in many shapes and sizes, the concept of assisted living is fairly consistent. The goal is to help seniors stay as independent as possible while offering the necessary help.
Assisted living communities typically provide hands-on personal care as well as medical care for those who are not able to live by themselves but do not require constant care provided by a nursing home or memory care facility.
"In an assisted living community, you have caregivers there 24 hours a day seven days a week," Rauser says. A variety of activities, programs, outings, and dining options are also available. Typical services include:
Assistance with daily living activities (bathing, dressing, eating, toileting, etc.)

Dining programs that include three meals a day

Educational activities

Emergency call systems in private and common areas

Exercise activities

Health services and medication administration

Housekeeping and maintenance

Organized recreational activities

Laundry services

Social services and religious activities

Transportation arrangements

Wellness programs

24-hour security
Assisted Living: Who is it good for?
At some point, your loved one may need some extra help with the everyday tasks of living. Imagine how nice it would be to have your grocery shopping and cooking and laundry done for you. Assisted living is designed for these older adults who can live independently but also require some assistance.
Assisted living team members adjust their level of care to meet each senior's changing needs and to avoid having to discharge residents to a higher level of care, such as a skilled nursing facility. Because services are personalized to meet individual needs, your loved one can remain as independent as possible, for as long as possible. Yet they will have access to the care they require at a moment's notice.
"That sense of community is so important, too," Wilson says. "It's nice when you're in a facility where if you don't want to be alone but you don't want to talk to people, you can still be around people. At home, it's quiet, it's lonely, it's isolating."
Although it is important to understand the differences between home care and assisted living, it is true that, in reality, most individuals who require home care will eventually require assisted living as well.
Home Care vs. Assisted Living Comparison Chart
The chart below highlights some of the key differences between home care and assisted living.