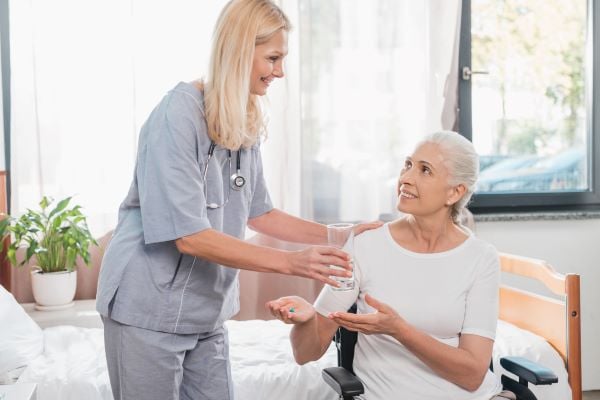 Although cost is far from the only factor that should be considered when deciding between home care and assisted living, it certainly is an important one.
You might be a bit surprised when you see the monthly cost of an assisted living apartment but comparing the two isn't an apples to apples comparison.
"People automatically assume home care is going to be much cheaper," says Brian Kraft, Executive Director at Highgate at Billings. "But depending on the number of hours a week they need, the cost is going to very quickly meet or exceed assisted living. I would want to ask myself: At what point will the cost of home care meet or exceed the cost of assisted living?"
To figure that out, you first need to determine your loved one's current living expenses.
Determining Current Expenses
The biggest expense associated with home care is not the hourly rate of the companion or home health aide — it is the day-to-day expenses required to pay for the home. Here are some often overlooked home care expenses that you should consider when comparing the price to assisted living:
Rent or mortgage

Utilities

Property tax, insurance, and HOA fees, if applicable

Additional services such as lawn care or security systems

Gas, tolls, or parking fees associated with traveling to your loved one's home or transporting them to medical appointments

Public transit, taxi fare, or shuttle bus service expenses for your loved one

Grocery costs

Home care costs

Personal care costs

Landscaping, snow removal, and exterior home maintenance

Interior home maintenance, cleaning services, laundry cost
Calculating the Cost of Home Care
Home care costs can be a little tricky to estimate. Primarily because those that need home care often need an increasing amount of care as time goes on. Sometimes the increase can be gradual, and sometimes it's fairly sudden. It primarily depends on the reason you considered home care in the first place. Calculating home care costs requires you to look at best and worst case scenario to truly see the big picture. Sometimes it's the costs associated with ensuring the maintenance and upkeep of the house occurs more than it is looking at the cost of the home support your loved one will receive for care.
Home care services can vary from a couple hours a week to 24/7 care. It can also be provided by a variety of professionals, depending on the kind of services needed. For example, if your loved one can generally remain independent in their day-to-day activities, they may not need a caregiver around the clock.
Keep in mind that many home care agencies have an established minimum number of hours per day that one of their licensed caregivers can spend at the home of a client, leaving families to seek companions or unlicensed caregivers to provide care if less than the minimum amount is needed.
Hiring a private caregiver is a lengthier process than hiring a home care agency. Checking into the amount of training the private caregiver has received, running a background check if they can't supply you with one they have on file, and checking references of others they have cared for to prevent theft or vulnerable adult situations with your loved one are steps that shouldn't be skipped.
Estimating the Cost of Assisted Living
What's the best way to estimate assisted living costs? It's easier than you might think. There are two parts to assisted living expenses: rent and care. A common mistake when comparing assisted living costs to other living options is misunderstanding the rental rate, and what's included. Assisted living communities often include:
Three meals served daily in the dining room

24-hour staffing

Housekeeping and linen services

Health promotion and exercise programs

Cultural, educational, and social activities

Scheduled transportation

Maintenance
Most of the time these are included in the rental rate. In addition to the rental rate, there may be a separate fee schedule for care and services your loved one needs like medication reminders, or help with personal care.
What won't you get if your loved one receives care in their own home? The opportunity to socialize with others their own age who have common interests, nutritious, delicious meals without the worry of grocery shopping or cooking, transportation for medical appointments, shopping or outings to name a few things.
Comparing the Value
There is a lot to add up, and many families discover that it may actually be less costly to bring their loved ones into an assisted living community. Why? Because in many cases, nearly every expense listed above is included in a single monthly fee.
Besides comparing cost, the benefits of living in a community setting can far outweigh those of your parent continuing to live in their own home. For example, if your parent is lonely, or becoming increasingly less active, group activities, scheduled outings and planned shopping trips can give your loved one back a feeling of independence where they once relied on others to do these things while living in their own home.
"A lot of times, with home care, you have someone coming in because that person is unable to get out and about. They're already being secluded and losing socialization. The great thing about living in a community is you have other people you can hang out with who are right there. That's the number one difference. We all need community," says Vanessa Rauser, a Registered Nurse and the Assistant Executive Director at Highgate at Bozeman.
Home Care vs. Assisted Living Cost Comparison Chart
The chart below highlights some of the key differences between the cost of home care and assisted living.
| | | |
| --- | --- | --- |
| Services Included | home Care | Assisted Living |
| Monthly mortgage or rent | No | Yes |
| Property tax | No | N/A |
| Property insurance | No | N/A |
| 24-hour security services | No | Yes |
| Three meals a day | No | Yes |
| Utilities | No | Yes |
| Housekeeping services | No | Yes |
| home care visitations | Yes | No |
| Personal care | No | Yes |
| 24-hour emergency call system | No | Yes |
| Landscaping/snow removal | No | Yes |
| Home maintenance | No | Yes |
| Trash removal | No | Yes |
| Social and entertainment programs | No | Yes |

Ultimately, this very personal choice rests with you and your family.
For more information about how to figure out how much help your loved one needs, download our eBook How to Decide: Home Care or Assisted Living.