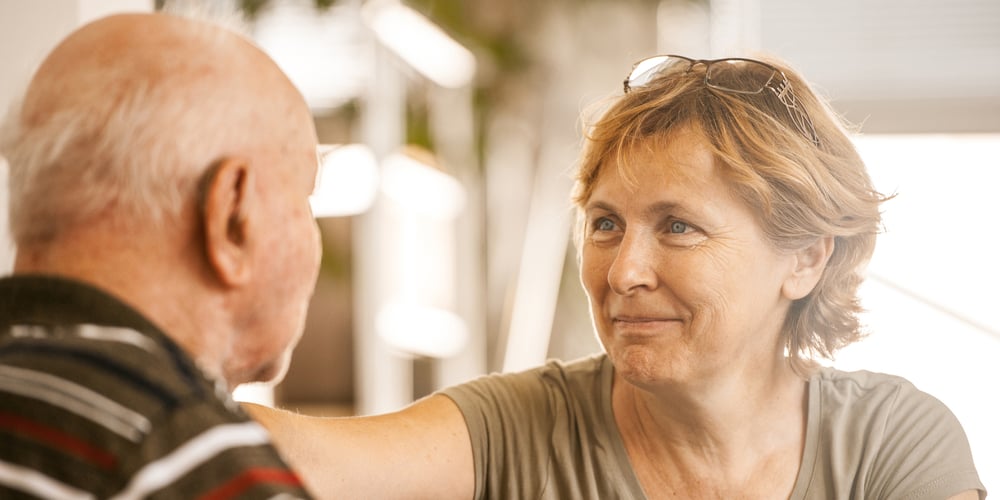 Often, a parent needing more assistance as they age is a gradual change. It might start with picking up groceries for your mom on your way home from work or taking your dad to a doctor's appointment. Whether due to a sudden health crisis, or a gradual decline in your parent's ability to care for themselves, there may come a point in time when living with your parent crosses your mind.
According to the National Alliance for Caregiving, nearly 1 in 3 care recipients live with a family caregiver. Although caregiving can be extremely rewarding, moving a loved one into your house, or moving in with an aging parent isn't the best decision for everyone. It can also have some hidden impacts on family dynamics, your own health, and even your finances. Here are some things to consider before you move in with an elderly parent or you ask them to move in with you.
Relationships
The most important thing to consider is how your relationships will be affected by caring for your loved one, especially if your parent is moving into your home. Social activities you once enjoyed can become difficult when you never know when you might have to switch back into "caregiver mode." Your marriage might be tested if the lack of privacy and your loved one's caregiving needs interfere with your time together. After a while, your spouse might start to resent this lifestyle change.
If you still have children in the home, they can be affected, too. Moving your loved one in will increase your responsibilities, and your stress level, immensely, and it could have a big impact on your parent-child relationship.
Consider how your mom or dad will feel, too. Although your parents are getting older and they might need a little more help than they once did, they are still adults. It can be challenging going from being the head of the household to taking on a secondary role in the home and feeling as if they're being parented by their children.
If you move into your parent's house, make sure you're ready to be the one shifting into that secondary role.
Here are some questions you might want to consider:
How well have we gotten along in the past? Are there unresolved issues between me and my parent? My spouse and my parent?

How do my spouse and children feel about moving my parent into our home, and how will it change our lives together?

Will your assisting them cause both our family more stress than relief?

What things will be easy for us to negotiate in living together, and what things will be hard?

What are the limits of my ability to care for my parent at home?

How will my siblings feel, and how much help will they give me in caring for mom or dad?

Will their friends come to visit them at my house, or will they be dependent on me for all her socializing?

What are my needs for privacy and alone time?
Before making a decision, it's a good idea to hold a family meeting so everyone involved can share their thoughts and ideas about the change.
Adapting the House
One thing many caregivers forget to take into consideration when caring for an elderly parent at home — whether in their home or yours — is the hazards a typical home can hold and the modifications necessary to make living conditions safer and more manageable.
For example, neither of your homes may be the best environment for your loved one if they have impaired mobility. You might need to install a wheelchair ramp or grab bars in the bathroom or may need to find a way to create a bedroom on the main floor if all other bedrooms require you to take stairs to get to them.
Other common home modifications include widening doorways to accommodate walkers or wheelchairs, lowering countertops and cabinets for accessibility, replacing the bathtub with a walk-in shower, or replacing carpeting with one that has a shorter nap.
You should also take into consideration space and privacy. Everyone needs their own space, but especially seniors. As people age, they suffer a lot of losses. If your dad is suddenly sharing a room with his grandson, it could feel like another loss. Ideally, if your parent moves in with you, they should have their own living space.
Here are some questions you might want to consider:
Does this mean remodeling our house or adding a bedroom or bathroom?

Where will my parent sleep?

Is the home safe for my parent, and, if not, what changes need to be made?

What assistive devices do I need?

Does my parent smoke or drink, and will that be a problem for me and my family?

Does my parent have a pet that will be coming with them, and how will I cope with caring for it?
Finances
Many caregivers assume moving in with their elderly parent will be financially beneficial. By combining households, there is only one set of utility bills and rent or mortgage payments. And if your parent moves in with you, there might be a profit from selling their house.
However, there are many financial disadvantages to living together, too. For example, if your parent sells their house, they could lose their homeowner's deduction on their taxes. Additionally, if you need to reduce the number of hours you're working to provide necessary care to your loved one, it can lead to a loss of income.
Make sure to factor in any home modifications you might need to make, such as adding a bathroom, bedroom, or an in-law suite. Adding ramps and retrofitting doorways and bathrooms can be expensive, too.
Here are some questions you might want to consider:
Can we afford the extra expense?

What will the financial arrangement be?

Should part of my parent's income go toward living expenses?

How do you handle separate bank and savings accounts and joint expenses?

How will my siblings feel about the financial arrangement?

Will my work situation need to change, and if so, how will I cover the bills?
Time
Although living with an aging parent might seem like a great opportunity to spend more time together, oftentimes family caregivers find that they have no time for themselves. On average, family caregivers spend 20 hours per week caring for their loved ones, while 13 percent provide 40 hours of care a week or more — and the majority of those caregivers don't live with their elderly parents.
The time you'll end up devoting to caring for your elderly parent can have an effect on the time and energy you'll have to spend on other things. For example, 66 percent of caregivers have had to make some adjustments to their work life, from reporting late to work to giving up work entirely; and 1 in 5 family caregivers have had to take a leave of absence.
Setting aside time for your nuclear family is important, too. But sometimes there simply are not enough hours in the day. It's critical, however, that you continue to be an active participant in your own life.
Here are some questions you might want to consider:
Will my parent need care during the day, and if so, how will it be provided?

How will I juggle my job, child care responsibilities, marriage, and taking care of my parent?

When in my day will I be able to make the phone calls needed to make arrangements for my parent?

Will I need to quit work or alter my schedule?

Will we take my parent with us on vacation or get respite care?

How do I make sure I have time for myself?
Care Needs
Depending on the kind of care your loved one needs, it might be challenging to adequately care for them at home. For example, if your loved one has a physical, mental, or chronic illness — which is generally when most people consider living with their aging parent — you might need to assist them with bathing, feeding, and transferring from their bed to a chair to the toilet. Other common tasks caregivers take on include administering medications, intravenous fluids or injections.
If your parent is struggling with memory loss or has been diagnosed with dementia, you will face even more challenging care needs, such as wandering and sundowning.
Even if your parent has no signs of chronic illnesses, you still have to anticipate how their health needs will change in six months, a year, or even two years. Always remember that there is a likelihood that your family member will need more and more assistance as time goes on.
Here are some questions you might want to consider:
Do I know what to expect over time as my parent's condition changes?

Will I need caregiving help for my parent?

Do I expect other family members to pitch in?

How comfortable am I with helping my parent bathe or changing their brief?

How is my health, and will I be able to take care of myself as well as my mother?

Am I willing to accept respite care to get a break?
In addition to asking yourself these questions, it's critical that you include your loved one in the process. Talk openly with them about how they feel about a change in living situation. You might discover that for parents who can't live alone but also won't thrive in a family setting, other options might work better.
For instance, moving to assisted living might offer your parent the support they need to remain independent while also allowing you to be the son or daughter again.
While moving a parent in with you might seem like a logical next step, some of the changes you are seeing might actually indicate it's time to consider assisted living. Take a look at this guide for more information.